Wire-tailed Swallow
Wire-tailed Swallow breeds in Africa south of the Sahara and in tropical southern Asia from the Indian subcontinent east to southeast Asia. It is mainly resident, but populations in Pakistan and northern India migrate further south in winter.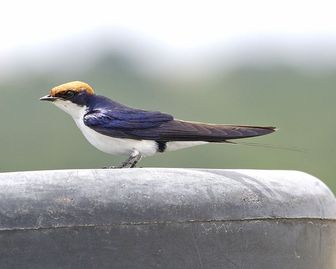 Picture of the Wire-tailed Swallow has been licensed under a Creative Commons
Attribution-Share Alike
.
Original source
: originally posted to Flickr as Wire-tailed swallow adult (Hirundo smithii)
Author
: Lip Kee YapPermission(Reusing this file)This image, which was originally posted to Flickr.com, was uploaded to Commons using Flickr upload bot on 05:08, 20 November 2008 (UTC) by JerryFriedman (talk). On that date it was licensed under the license below. This file is licensed under the Creative Commons Attribution-Share Alike 2.0 Generic license.You are free:to share – to copy, distribute and transmit the work
The Wire-tailed Swallow is classified as Least Concern. Does not qualify for a more at risk category. Widespread and abundant taxa are included in this category.

The Wire-tailed Swallow (Hirundo smithii) is a small passerine bird in the swallow family. Swallows are somewhat similar in habits and appearance to other aerial insectivores, such as the related martins and the unrelated swifts (order Apodiformes). Wire-tailed Swallow breeds in Africa south of the Sahara and in tropical southern Asia from the Indian subcontinent east to southeast Asia. It is mainly resident, but populations in Pakistan and northern India migrate further south in winter. More
* Wire-tailed Swallow (Hirundo smithii) Pair mating on a wire. Mahad, Raigad District, Konkan Division, Maharashtra, India (ssp filifera) Ryan Brookes 3 September 2008 28 weeks ago 3 * An adult looking at a raptor Chobe National Park, Botswana (ssp smithii) Laurent Demongin 30 September 2004 1 year ago 2. More
Distribution of Wire-tailed swallow in southern Africa, based on statistical smoothing of the records from first SA Bird Atlas Project (© Animal Demography unit, University of Cape Town; smoothing by Birgit Erni and Francesca Little). Colours range from dark blue (most common) through to yellow (least common). See here for the latest distribution from the SABAP2. Movements and migrations Little known, but it is thought be resident throughout its southern African range. More
For the purposes of our bird news services, Wire-tailed Swallow is classed as Ungraded: species which are unlikely to appear as wild birds in Britain or Ireland hide section Most recent photos of Wire-tailed Swallow (8) Unknown, Gambia Unknown, Gambia31/03/2010 Unknown, Gambia 31/03/2010 Bondla, India Bondla, India19/01/2010 Bondla, India 19/01/2010 Baga, Goa, India Baga, Goa, India28/11/2007 Baga, Goa, India 28/11/2007 Amboseli, Kenya Amboseli, Kenya09/04/2009 More
Results for: wire-tailed swallowTranslations 1 - 30 of 555 English English Finnish Finnish wire-tailed swallow jouhipääsky, Hirundo smithii swallow-tailed nightjar pääskykehrääjä, Uropsalis segmentata swallow-tailed kite amerikansirohaukka, Elanoides forficatus swallow-tailed hummingbird pääskypyrstökolibri, Eupetomena macroura swallow-tailed gull yölokki, Creagrus furcatus swallow-tailed cotinga pääskykotinga, Phibalura flavirostris white-tailed swallow More
The Wire-tailed Swallow is a small passerine bird in the swallow family. Swallows are somewhat similar in habits and appearance to other aerial insectivores. The populations in northern India migrate further south in winter. This bird is found in open country near water and human habitation. Wire-tailed Swallows are fast flyers and they generally feed on insects, especially flies, while airborne. More
| Angola Swallow | Wire-tailed Swallow | Red-rumped Swallow | Lesser Striped-Swallow | Cliff Swallow | Black Sawwing Wire-tailed Swallow - Hirundo smithii Wire-tailed Swallow Wire-tailed Swallow Wire-tailed Swallow Wire-tailed Swallow Wire-tailed Swallow Wire-tailed Swallow post a comment click on thumbnails for full image More
picture of the Wire-tailed Swallow on page 816. The Wire-tailed Swallow belongs to the family of birds classified as Hirundinidae. The map of the Kruger you see on this page shows the areas (coloured orange) where this bird has been identified. The basic information was provided by the Avian Demographic Unit based at UCT and I created the maps from that information ... More