Red-breasted Swallow
This is a bird of dry open country. In more wooded areas it is replaced by the similar Mosque Swallow. It builds a closed mud nest with a tubular entrance in a cavity or under bridges and similar structures. It will use deserted buildings, tree holes or caves, and has benefited from the construction of railway bridges and similar structures. Three eggs is a typical clutch.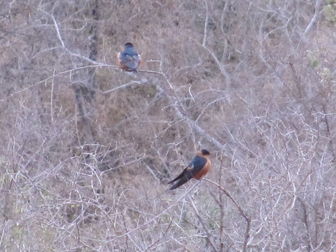 Picture of the Red-breasted Swallow has been licensed under a
GFDL
Original source
: Michaelprodgers
Author
: Michaelprodgers
Permission
: GNU Free Documentation License
The Red-breasted Swallow is classified as Least Concern. Does not qualify for a more at risk category. Widespread and abundant taxa are included in this category.

Red-breasted Swallow ( Cecropis semirufa) African Bird Club Checklist January 2008: Red-breasted Swallow ( Cecropis semirufa) Birdlife checklist version 00: Rufous-chested Swallow ( Hirundo semirufa) Birdlife checklist version 01: Rufous-chested Swallow ( Hirundo semirufa) Commission internationale pour les noms français des oiseaux (1993, révision 2009): Hirondelle à ventre roux ( Cecropis semirufa) Commission internationale pour les noms français des oiseaux (1993): Hirondelle à ventre roux ( Hirundo semirufa) More
Distribution of Red-breasted swallow in southern Africa, based on statistical smoothing of the records from first SA Bird Atlas Project (© Animal Demography unit, University of Cape Town; smoothing by Birgit Erni and Francesca Little). Colours range from dark blue (most common) through to yellow (least common). See here for the latest distribution from the SABAP2. More
Red-breasted Swallow Cecropis semirufa Willow Warbler Phylloscopus trochilus Icterine Warbler Hippolais icterina Rattling Cisticola Cisticola chiniana Grey-backed Cisticola Cisticola subruficapilla Zitting Cisticola Cisticola juncidis Desert Cisticola Cisticola aridulus Rufous-eared Warbler Malcorus pectoralis Black-chested Prinia Prinia flavicans Grey-backed Camaroptera Camaroptera brevicaudata Barred Wren-Warbler Calamonastes fasciolatus Yellow-bellied Eremomela Eremomela icteropygialis Burnt-necked Eremomela Eremomela usticollis Rockrunner Achaetops pycnopygius Long-billed Crombec Sylvietta rufescens More
Red-breasted Swallow (Hirundo semirufa) at Zambesi floodplains - Adult Photographer More
The Red-breasted Swallow (Hirundo semirufa) is also called Rufous-chested Swallow by some authors. The species is widespread and locally common across much of southern Africa. The bird shown here was in Kruger National Park, Mpumalanga Province, South Africa, in January, 2006. This shot was taken with a Canon EOS 1D Mark II & EF 500mm F/4L IS lens and 2X extender. 305 Loganberry Ct. More
a picture of the Red-breasted Swallow on page 816. The Red-breasted Swallow belongs to the family of birds classified as Hirundinidae. According to the Percy FitzPatrick Institute of African Ornithology the Red-breasted Swallow is also known by these other names: Rufous-chested Swallow. The map of the Kruger you see on this page shows the areas (coloured orange) where this bird has been identified. More