Red-chested Swallow
It was formerly considered a subspecies of the Barn Swallow, which it closely resembles. Red-chested Swallow differs in being slightly smaller than its migratory relative. It also has a narrower blue breast band, and the adult has shorter tail streamers. In flight, it looks paler underneath than Barn Swallow. Although the adult Red-chested Swallow is reasonably distinctive, juvenile can be confused with the juvenile Barn Swallow, which also has short tail streamers. However, juvenile Red-chested Swallow has a narrower breast band and more white in the tail.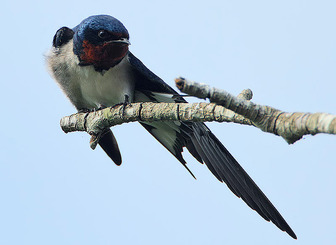 Picture of the Red-chested Swallow has been licensed under a Creative Commons
Attribution-Share Alike
.
Original source
: Steve Garvie from Dunfermline, Fife, Scotland
Author
: Steve Garvie from Dunfermline, Fife, Scotland
The Red-chested Swallow is classified as Least Concern. Does not qualify for a more at risk category. Widespread and abundant taxa are included in this category.

The Red-chested Swallow (Hirundo lucida) is a small non-migratory passerine bird found in Africa in West Africa, the Congo basin and Ethiopia. It has a long, deeply forked tail and curved, pointed wings.. It was formerly considered a subspecies of the Barn Swallow, which it closely resembles. Red-chested Swallow differs in being slightly smaller than its migratory relative. It also has a narrower blue breast band, and the adult has shorter tail streamers. In flight, it looks paler underneath than Barn Swallow. More
Barn Swallow • Red-chested Swallow • Angola Swallow • Pacific Swallow • Welcome Swallow • White-throated Swallow • Ethiopian Swallow • Wire-tailed Swallow • White-throated Blue Swallow • Pied-winged Swallow • White-tailed Swallow • Pearl-breasted Swallow • Blue Swallow • Black-and-rufous Swallow Ptyonoprogne Eurasian Crag Martin • Rock Martin • Dusky Crag Martin Delichon (house martins) Common House Martin • Asian House Martin • Nepal House Martin Cecropis Greater More
Red-chested Swallow (Hirundo lucida), but the latter has a narrower breast band and more white in the tail. Taxonomy - The Barn Swallow was described by Linnaeus in his Systema Naturae in 1758 as Hirundo rustica, characterised as H. rectricibus, exceptis duabus intermediis, macula alba notatîs. Hirundo is the Latin word for "swallow"; rusticus means "of the country. More
For the purposes of our bird news services, Red-chested Swallow is classed as Ungraded: species which are unlikely to appear as wild birds in Britain or Ireland hide section Most recent photos of Red-chested Swallow (1) Yundum, Western Division, Gambia Yundum, Western Division, Gambia02/12/2007 Yundum, Western Division, Gambia 02/12/2007 View all pictures of Red-chested Swallow View all pictures of Red-chested Swallow show section External Links (0) We currently have no external links for More
Red-chested Swallow Banded Martin Rock Martin Common Bulbul Mountain Greenbul Zanzibar Sombre Greenbul Northern Anteater Chat Sooty Chat Stonechat White-browed Scrub-Robin Cape Robin-chat Ruppell More