Greater Striped Swallow
This is a bird of dry open country, such as grassland, and has a preference for hills and mountains. It avoids more wooded areas, but is often found around human habitation.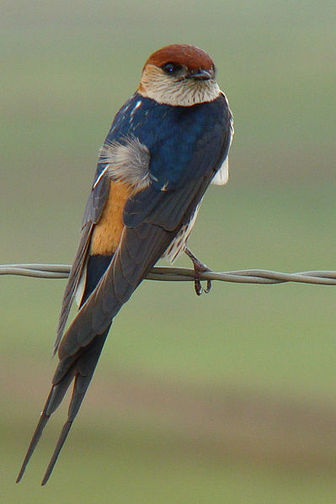 Picture of the Greater Striped Swallow has been licensed under a
GFDL
Original source
: Own work by uploader, http://bjornfree.com/galleries.html
Author
: Bjørn Christian TørrissenCamera location
Permission
: GNU Free Documentation License
The Greater Striped Swallow is classified as Least Concern. Does not qualify for a more at risk category. Widespread and abundant taxa are included in this category.

The Greater Striped Swallow Cecropis/Hirundo cucullata is a large swallow breeding in South Africa, Namibia and southern Zimbabwe. It is migratory wintering further north in Angola, Tanzania and southern Zaire. A bird of dry open country (such as the highveld grassland at Suikerbosrand where these photos were taken), Greater Striped Swallows are often found around human habitation where they nest and will tolerate a reasonably close approach. More
The Greater Striped Swallow builds a bowl-shaped mud nest with a tubular entrance on the underside of a suitable structure. The nest has a soft lining, and is often reused in later years. The nest may be build in a cave or under a rock overhang or fallen tree. This species has benefited from its willingness to use buildings, bridges, culverts and similar man-made structures. Given the choice, it will select a high nest site. More
Greater Striped Swallow • Lesser Striped Swallow • Rufous-chested Swallow • Mosque Swallow • Red-rumped Swallow • Striated Swallow • Striated Swallow Petrochelidon Red-throated Swallow • Preuss's Swallow • Red Sea Swallow • South African Swallow • Forest Swallow • Streak-throated Swallow • Fairy Martin • Tree Martin • Cliff Swallow • Cave Swallow • Chestnut-collared Swallow Retrieved from "http://en.wikipedia. More
this Greater Striped Swallow sitting on the barbed wire farm fence while his kin was sweeping all over the show chasing insects. The Greater Striped Swallow, like all the other swallows you get around here, are summer visitors to our part of the world. They are fairly widespread throughout South Africa and can usually be seen perched on trees and fences or gliding over open, rocky or urban terrain. They have a soft "chissik" call which can be heard while they are in flight. More
* Greater Striped Swallow Cecropis cucullata * Lesser Striped Swallow Cecropis abyssinica * Rufous-chested Swallow Cecropis semirufa * Mosque Swallow Cecropis senegalensis * Red-rumped Swallow Cecropis daurica * Striated Swallow Cecropis striolata More
Distribution of Greater striped swallow in southern Africa, based on statistical smoothing of the records from first SA Bird Atlas Project (© Animal Demography unit, University of Cape Town; smoothing by Birgit Erni and Francesca Little). Colours range from dark blue (most common) through to yellow (least common). See here for the latest distribution from the SABAP2. More
The Greater Striped Swallow is a common summer migrant. It is usually seen in pairs or small groups, and is most often seen close to the nest sites on a house or culvert, or some other man-made structure. The Greater Striped Swallow eats mainly aerial insects, but also some seeds. The call is quite musical and mellow: It consists of a chuckling phrase of 2-3 introductory notes, followed by a deep, gargled trill: crip trap triiirrrr. More
Stamps showing Greater Striped Swallow Cecropis cucullata Greater Striped Swallow Cecropis cucullata Distribution map for Greater Striped Swallow, range 181.025 Greater Striped Swallow IOC v2.4: 7042 Links will open countrypage in new window - Ciskei 17.08. More
The greater striped swallow has a call that is a soft twitter and gargle, and one that is well suited to this gentle bird. While most swallows have a quick, darting style of flight, this member of the family has a slower, more sedate flight. More
also a picture of the Greater Striped Swallow on page 816. The Greater Striped Swallow belongs to the family of birds classified as Hirundinidae. According to the Percy FitzPatrick Institute of African Ornithology the Greater Striped Swallow is also known by these other names: Larger Striped Swallow. The map of the Kruger you see on this page shows the areas (coloured orange) where this bird has been identified. More
Greater Striped Swallow, Greater Striped-Swallow Common Names in German: Kapschwalbe Description - Family Hirundinidae A Family of birds that is adapted to feeding on flying insects in the air : they have slender bodies, long pointed wings, short bills, strong bills, a wide gape , and great maneuverability and endurance. More