House Martin
The Common House Martin , sometimes called the Northern House Martin or, particularly in Europe, just House Martin, is a migratory passerine bird of the swallow family which breeds in Europe, north Africa and temperate Asia; and winters in sub-Saharan Africa and tropical Asia. It feeds on insects which are caught in flight, and it migrates to climates where flying insects are plentiful. It has a blue head and upperparts, white rump and pure white underparts, and is found in both open country and near human habitation. It is similar in appearance to the two other martin species of the Delichon genus, which are both endemic to eastern and southern Asia. It has two accepted subspecies.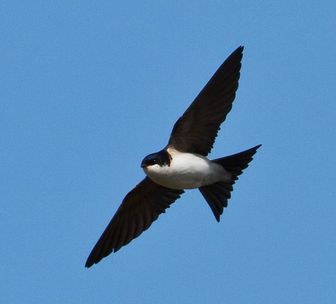 Picture of the House Martin has been licensed under a Creative Commons
Attribution
.
Original source
: House Martin - Delichon urbicum - BæjasvalaUploaded by Snowmanradio
Author
: Ómar RunólfssonOther versions
The House Martin is classified as Least Concern. Does not qualify for a more at risk category. Widespread and abundant taxa are included in this category.

The Common House Martin (Delichon urbicum), sometimes called the Northern House Martin or, particularly in Europe, just House Martin, is a migratory passerine bird of the swallow family which breeds in Europe, north Africa and temperate Asia; and winters in sub-Saharan Africa and tropical Asia. It feeds on insects which are caught in flight, and it migrates to climates where flying insects are plentiful. More
The House Martin was first described by Linnaeus in his Systema Naturae in 1758 as Hirundo urbica, but was placed in its current genus Delichon by Thomas Horsfield and Frederic Moore in 1854. Delichon is an anagram of the Ancient Greek term χελιδών (chelīdōn), meaning 'swallow', and the species name urbicum (urbica until 2004, due to a misunderstanding of Latin grammar) means 'of the town' in Latin. More
The house martin is a popular bird for many people. It lives in close association with humans and has likely benefited from this relationship and become more abundant than in former times. Western Bird Guide: common house-martin - Top Home > Library > Animal Life > Western Birds Delichon urbica 8″ (20 cm). Like a Tree Swallow with a white patch completely across the rump. More
Although declining in many localities the house martin remains a familiar bird. Its white rump, white feathered legs and shorter, less forked, tail distinguish it from the swallow. The house martin feeding zone is higher than that of the swallow. It can often be seen 'towering' after insects in association with swifts high in the air. Gliding and stalling, diving and climbing it spirals overhead displaying great grace and mastery of flight. On occasions house martins are attracted to hot-air balloons. More
* House martin (Delichon urbica) House martin (Delichon urbica) * * * REFERENCED IN * RELATED TO Aspects of the topic "house martin" are discussed in the following places at Britannica Assorted References * description (in martin (bird)) ... More
* House martin (Delichon urbica) House martin (Delichon urbica) * Marks of cadency, used to difference the arms of cadets of the same family. The label, the mark of … Marks of cadency, used to difference the arms of cadets of the same family. The label, the mark of … * AUDIO * Purple martins singing. More
house martin (Delichon urbica) See HIRUNDINIDAE. Cite this article Pick a style below, and copy the text for your bibliography. * MLA * Chicago * APA MICHAEL ALLABY. "house martin." A Dictionary of Zoology. 1999. Encyclopedia.com. 16 May. 2010 . MICHAEL ALLABY. "house martin." A Dictionary of Zoology. 1999. Encyclopedia.com. (May 16, 2010). http://www.encyclopedia.com/doc/1O8-housemartin.html MICHAEL ALLABY. More
VIEW TROLLEY House Martin - Taking Decor to a New Dimension House Martin - Taking Decor to a New Dimension You are here: HomeExteriors Interiors Bespoke GRP Products Creative GRP Solutions Secure Online Ordering at HM-Online.co. More
House Martin Gas Heating & Plumbing, Locks Heath, Southampton we keep your costs to a minimum, but at the same time as saving you money, we offer the most outstanding service and parts every time, no matter how big or small the job is, and no job is too big or small for us either. Boilers Replacements: House Martin Gas Heating & Plumbing, Locks Heath, Southampton have a strict policy of only fitting premium quality parts. More
House Martin Delichon urbica = LBAP home Status Factors Current Aims Everyone Links References HBP contact: Secretary : Alyson Pirie alyson.pirie@arco.co. More
Martin House Martin House Learning Center Better Community Housing of Trenton Doorway to Hope Clothing Store Trenton, NJ Donation Dinner Dance Father Brian McCormick Robert Donaldson Gloria Phillips Pearleen Waters Barbara Thompson Low-income housing Affordable housing Charities in Trenton, NJ setstats More
The house martin is a small bird with glossy blue-black upper parts and pure white under parts. It has a distinctive white rump with a forked tail and, on close inspection, white feathers covering its legs and toes. It spends much of its time on the wing collecting insect prey. The bird's mud nest is usually sites below the eaves of buildings. They are summer migrants and spend their winters in Africa. More
house martinhouse martin - common small European martin that builds nests under the eaves of housesDelichon urbicamartin - any of various swallows with squarish or slightly forked tail and long pointed wings; migrate around MartinmasDelichon, genus Delichon - a genus of Hirundinidae How to thank TFD for its existence? Tell a friend about us, add a link to this page, add the site to iGoogle, or visit webmaster's page for free fun content. More
House martin - Dictionary Definition and Overview = House martin : (noun) 1: common small European martin that builds nests under the eaves of houses Based on WordNet 2.0 - -Simonds. House car (Railroad), a freight car with inclosing sides and a roof; a box car. House of correction. See Correction. House cricket (Zol. More