Drakensberg Siskin
This species is sometimes considered to be conspecific with the Cape Siskin, Serinus totta of southern Cape Province, in which case the nominate western form is S. t totta, and the eastern form is S. t. symonsi.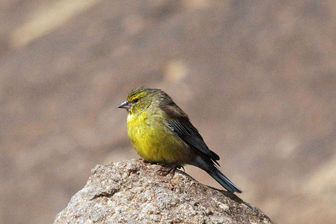 Picture of the Drakensberg Siskin has been licensed under a Creative Commons
Attribution
.
Original source
: Patty McGann
Author
: Patty McGann
The Drakensberg Siskin is classified as Least Concern. Does not qualify for a more at risk category. Widespread and abundant taxa are included in this category.

The Drakensberg Siskin, Serinus symonsi, is a small passerine bird in the finch family. It is an endemic resident breeder in the eastern Cape Province Transkei and western Natal in South Africa, and in Lesothoof. It is sometimes assigned to the genus Pseudochloroptila as Pseudochloroptila symonsi . This species is sometimes considered to be conspecific with the Cape Siskin, Serinus totta of southern Cape Province, in which case the nominate western form is S. t totta, and the eastern form is S. t. More
* Drakensberg Siskin/Sam Woods This bird was singing from on top of a large rock just across the border from South Africa in Lesotho. More
Anthus hoeschi and Drakensberg Siskin Pseudochloroptila symonsi can also be found. Commonly occurring species restricted to Lesotho and South Africa include African Rock Pipit Anthus crenatus, Sentinel Rock-Thrush Monticola explorator and Ground Woodpecker Geocolaptes olivaceus. Sehlabathebe National Park Lesotho's only National Park, Sehlabathebe is located on the eastern border of Lesotho where it links with South Africa's Ukhahlamba-Drakensberg Park. More
high altitude birds such as Drakensberg Siskin, Mountain Pipit, Orangebreasted Rockjumper and Bearded Vulture. Karoo species such as Sicklewinged Chat may be found juxtaposed with eastern species. Sehlabathebe is not all that far from where there have been recent sightings of Egyptian Vulture, and perhaps Rudd's Lark will be found in the vicinity. More
Drakensberg Siskin, Serinus symonsi of eastern Cape Province, western Natal and Lesotho in which case the nominate western form is S. t totta, and the eastern form is S. t. symonsi. This locally common but shy and unobtrusive siskin is found in the southwestern and southern Cape's rocky slopes, coastal cliffs and fynbos covered mountains. It also occurs in towns and the suburbs of Cape Town. Description The Cape Siskin averages 13 cm in length. More