Yellow-fronted Canary
This bird is a resident breeder in Africa south of the Sahara Desert. Its habitat is open woodland and cultivation. It nests in trees, laying 3–4 eggs in a compact cup nest.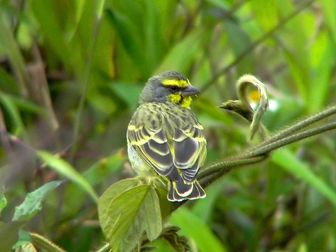 Picture of the Yellow-fronted Canary has been licensed under a Creative Commons
Attribution-Share Alike
.
Original source
: Flickr users CharlesLam
Author
: Flickr users CharlesLam
The Yellow-fronted Canary is classified as Least Concern. Does not qualify for a more at risk category. Widespread and abundant taxa are included in this category.

* Yellow-fronted Canary appears in Canada "I read articles posted on your website about the... * Greater Bird of Paradise sighted ON 12th April 2009, Gloria Seow sent in this... Related posts brought to you by Yet Another Related Posts Plugin. More
Yellow-fronted Canary appears in Canada - Posted by BESG on 20 September 09, Sunday Contributed by Keith Fillier & Summerian Turks "I read articles posted on your website about the Yellow-fronted Canary (Serinus mozambicus). I was amazed at the reports. "I have discovered a Yellow-fronted Canary at my bird feeder in the past week. I live in St. John's, Newfoundland, Canada. This is a very long way from its native habitat. More
The Yellow-fronted Canary (Serinus mozambicus) is a small passerine bird in the finch family. It is known elsewhere and in aviculture as the Green Singing Finch. This bird is a resident breeder in Africa south of the Sahara Desert. Its habitat is open woodland and cultivation. It nests in trees, laying 3–4 eggs in a compact cup nest. The Yellow-fronted Canary is 11–13 cm in length. The adult male has a green back and brown wings and tail. More
The Yellow-fronted Canary has a large range, estimated globally at 9,500,000 square kilometers. It is primarily found in Africa, though it has been introduced to the United States and Puerto Rico. This bird prefers Savanna, Shrubland, and Grassland ecological systems, though it can reside in rural gardens or on pasture or arable land. The population of the bird has not been determined but the species is described as common in many areas despite being heavily traded. More
Yellow-fronted Canary: Introduced to the Hawaiian Islands of Oahu, Molokai, and Hawaii at the end of the 1960's. Found in dry open woodlands and cultivated areas. Native to Africa south of the Sahara Desert. Breeding and Nesting Yellow-fronted Canary: Three to four blue-green eggs with fine brown speckling, more concentrated at larger end, are laid in a compact, open cup nest set in a tree. More
The Yellow-fronted Canary is 11–13 cm in length. The adult male has a green back and brown wings and tail. The underparts and rump are yellow, and the head is yellow with a grey crown and nape, and black malar stripe. The female is similar, but with a weaker head pattern and duller underparts. Juveniles are greyer than the female, especially on the head. More
Distribution of Yellow-fronted canary in southern Africa, based on statistical smoothing of the records from first SA Bird Atlas Project (© Animal Demography unit, University of Cape Town; smoothing by Birgit Erni and Francesca Little). Colours range from dark blue (most common) through to yellow (least common). See here for the latest distribution from the SABAP2. More
The colorful Yellow-fronted Canary is a member of the finch family. Forages in small flocks on the ground and in grass for seeds and insects. Appearance: Greenish-gray upperparts. Yellow underparts and rump. Yellow eyebrow and cheek. Dark malar stripe. Pale conical bill. Sexes similar, but female and juvenile are duller in color. 4.5 inches in length. Habitat: Dry open woodlands and cultivated areas. Native to Southern Africa. More
For the purposes of our bird news services, Yellow-fronted Canary is classed as ungraded: species which are unlikely to appear as wild birds in Britain or Ireland (Note that rarity levels are currently applied nationally and may not reflect local variations in abundance. More
The Yellow-fronted Canary is mostly greenish above, with dark feather centres which give the bird a mottled look no the back. The wing and tail feathers are blackish with prominent yellow feather edges. The crown and the nape and hindneck are greyish, and there is a broad yellow eye stripe above the eye, which has a dark line through it. The Yellow supercilium has the effect of creating a yellow forehead. There is also a dark, and distinct malar stripe. More
The Yellow-fronted Canary is a Southern African bird that belongs to the Fringillidae bird family group which includes birds such as Chaffinches, Canaries, Buntings. The description for the Yellow-fronted Canary (Latin name Crithagra mozambicus) can be found in the 7th Edition of the Roberts Birds of Southern Africa. The Crithagra mozambicus can be quickly identified by its unique Roberts identification number of 869 and the detailed description of this bird is on page 1118. More
The home range of the Yellow-fronted Canary is huge. It can basically be found in all parts of Africa south of the Sahara. It avoids real desert and densely forested areas but can often be found near human settlements such as orchards, plantation or edges of fields. The nutritional requirements for the Green singers can be easily satisfied. The Yellow-fronted Canary is a common, gregarious seedeater. In the wild grass-seeds are there main nutrition and insects are added for rearing the offspring. More
The Yellow-fronted Canary (Serinus mozambicus) is a small passerine bird in the finch family.Animals. Birds. Puzzle Postcard - E-mail this puzzle to a friend with your personal message and choice of puzzle cut. JigZoneShop - Traditional 'offline' jigsaw puzzles are not dead. More
The Yellow-fronted Canary is a common, gregarious seedeater. Its song is a warbled zee-zeree-chereeo. More
The Yellow-fronted Canary (Latin name Crithagra mozambicus) is described in Roberts Birds of Southern Africa, 7th Edition. This bird has a unique Roberts number of 869 and you will find a full description of this bird on page 1118 also a picture of the Yellow-fronted Canary on page 1136. The Yellow-fronted Canary belongs to the family of birds classified as Fringillidae. More