Pink-browed Rosefinch
The Pink-Browed Rosefinch is a species of finch in the Fringillidae family. It is found in Bhutan, China, India, Nepal, and Pakistan. Its natural habitats are boreal forests and subtropical or tropical dry forests.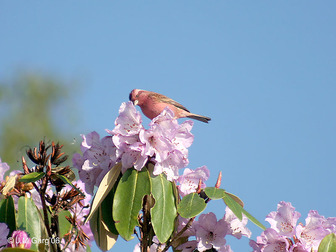 Picture of the Pink-browed Rosefinch has been licensed under a
GFDL
Original source
: Own work
Author
: J.M.Garg
Permission
: GNU Free Documentation License
The Pink-browed Rosefinch is classified as Least Concern. Does not qualify for a more at risk category. Widespread and abundant taxa are included in this category.

The Pink-Browed Rosefinch (Carpodacus rodochroa) is a species of finch in the Fringillidae family. It is found in Bhutan, China, India, Nepal, and Pakistan. Its natural habitats are boreal forests and subtropical or tropical dry forests. References - * BirdLife International 2004. Carpodacus rodochroa. 2006 IUCN Red List of Threatened Species. Downloaded on 10 July 2007. More
Pink-browed Rosefinch-male Forward | Print | Individual message | Show original | Report this message | Find messages by this author Mussoorie. 7 Feb2010. Best wishes, Arun P.Singh Pink-browed Rosefinch-aps2010.jpg 221K Download Forward You must Sign in before you can post messages.To post a message you must first join this group.Please update your nickname on the subscription settings page before posting. More
Pink-browed Rosefinch (Carpodacus rodochrous) is a resident in Himalayas. More