Red-cheeked Cordon-bleu
The Red-cheeked Cordon-bleu is a small gregarious bird which feeds mainly on grain and other seeds. It is frequently seen at open dry grassland and savanna habitats as well as around human habitation. The nest is a large domed grass structure with a side entrance in a tree, bush or thatch into which 4-5 white eggs are laid.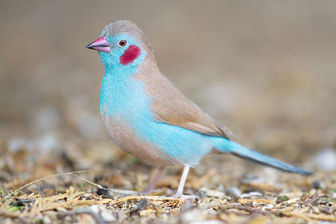 Picture of the Red-cheeked Cordon-bleu has been licensed under a Creative Commons
Attribution-Share Alike
.
Original source
: Own work
Author
: JJ Harrison (http://www.noodlesnacks.com/)Camera location
The Red-cheeked Cordon-bleu is classified as Least Concern. Does not qualify for a more at risk category. Widespread and abundant taxa are included in this category.

The Red-cheeked Cordon-bleu Uraeginthus bengalus is a common African waxbill, typically found in wooded savanna and rank grassland, and also in gardens, scrub, fields, and secondary, degraded habitats . Only the male has the distinctive red-cheek. Where this species overlaps with the more southerly Blue Waxbill/Cordon-bleu, it apparently shows a longer tail and females typically have less blue on the underparts. More
The Red-cheeked Cordon-bleu (Uraeginthus bengalus) is a small passerine bird. This estrildid finch is a resident breeding bird in drier regions of tropical sub-Saharan Africa. Red-cheeked Cordon-bleu has an estimated global extent of occurrence of 7,700,000 km². More
The Red-cheeked Cordon-bleu is a small gregarious bird which feeds mainly on grain and other seeds. It is frequently seen at open dry grassland and savanna habitats as well as around human habitation. The nest is a large domed grass structure with a side entrance in a tree, bush or thatch into which 4-5 white eggs are laid. Appearance - Ngorongoro, Tanzania The Red-cheeked Cordon-bleu is 12 cm in length. More
The Red-cheeked Cordon-bleu is a small gregarious bird which feeds mainly on grain and other seeds. Nesting / Breeding: The nest is a large domed grass structure with a side entrance in a tree, bush or thatch into which 4-5 white eggs are laid. Description: The Red-cheeked Cordon-bleu is 12cm in length. The adult male has uniformly brown upperparts, pale blue breast, flanks and tail and a yellow belly. More
This Red-cheeked Cordon-bleu was discovered and photographed by Terry Thomas on 08 November 2009 near Pond 7 at the Gilbert Water Ranch. This is a common cage bird and the second species of Cordon-bleu to be discovered at the Water Ranch! I am a little rusty on my Cordon-bleu identification (!), but there are only two species with a red bill: Blue-capped and Orange-cheeked. The red bill makes this bird a male. More