Red-headed Finch
It is found in Angola, Botswana, Lesotho, Namibia, South Africa and Zimbabwe.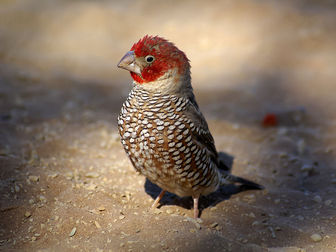 Picture of the Red-headed Finch has been licensed under a Creative Commons
Attribution-Share Alike
.
Original source
: Own work
Author
: Hans HillewaertPermission(Reusing this file)I, the copyright holder of this work, hereby publish it under the following license: This file is licensed under the Creative Commons Attribution-Share Alike 3.0 Unported license.You are free:to share – to copy, distribute and transmit the work
The Red-headed Finch is classified as Least Concern. Does not qualify for a more at risk category. Widespread and abundant taxa are included in this category.

The Red-headed Finch Amadina erythrocephala is a common species of estrildid finch found in Africa. It has an estimated global extent of occurrence of 1,600,000 km². It is found in Angola, Botswana, Lesotho, Namibia, South Africa and Zimbabwe. Common Names - The red headed finch is also known as the paradise Finch and the Red Headed weaver. More
red-headed finch, as its name implies, has a bright, blood red head. Lores are buffish. The lower throat through the belly is marked with black and white scalloping with some chestnut feathers in the middle belly and then off-white in the lower belly areas. Females lack red on the head but may carry a few red feathers. Juveniles are a paler version of the female. DISTRIBUTION Southwestern Angola, east to western Mozambique, south to South Africa. More
Distribution of Red-headed finch in southern Africa, based on statistical smoothing of the records from first SA Bird Atlas Project (© Animal Demography unit, University of Cape Town; smoothing by Birgit Erni and Francesca Little). Colours range from dark blue (most common) through to yellow (least common). See here for the latest distribution from the SABAP2. Predators and parasites It has been recorded as prey of Falco chicquera (Red-necked falcon). More
Red-headed Finch, but the chestnut belly and red throat of the Cutthroat, and the top of the head is a grizzled mix of the two. The hybrid's bill is most like that of the Red-headed Finch, being substantially heavier than that of the Cut-throat. Another hybrid that I photographed in about 1995 is shown on my website www.warwicktarboton.co. More
The Red-headed Finch is a Southern African bird that belongs to the Estrildidae bird family group which includes birds such as Waxbills, Firefinches, Twinspots. The description for the Red-headed Finch (Latin name Amadina erythrocephala) can be found in the 7th Edition of the Roberts Birds of Southern Africa. The Amadina erythrocephala can be quickly identified by its unique Roberts identification number of 856 and the detailed description of this bird is on page 1041. More
Social: The Red-headed Finch may be bred as single pairs or colony of three or more pairs. They are large finches and may not mix well in smaller species unless housed in a very large aviary. Housing: Aviary or Large flight only. Diet: A basic dry seed mix, grit mix and clean fresh water at all times. Fresh greens are a plus and provide extra protein during the breeding season. I use Bevos Bug Mix. More
also a picture of the Red-headed Finch on page 1057. The Red-headed Finch belongs to the family of birds classified as Estrildidae. According to the Percy FitzPatrick Institute of African Ornithology the Red-headed Finch is also known by these other names: Paradise Sparrow, Red-headed Amadina, Red-headed Weaver Finch. More