Rusty-collared Seedeater
It is found in Argentina, Bolivia, Brazil, Paraguay, and Uruguay. Its natural habitats are subtropical or tropical seasonally wet or flooded lowland grassland, swamps, and heavily degraded former forest.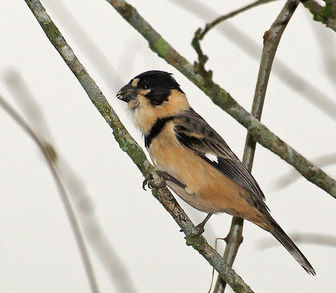 Picture of the Rusty-collared Seedeater has been licensed under a Creative Commons
Attribution-Share Alike
.
Original source
: COLEIRO-DO-BREJO ( Sporophila collaris )Uploaded by Snowmanradio
Author
: Dario Sanches from São Paulo, BrazilCamera location
The Rusty-collared Seedeater is classified as Least Concern. Does not qualify for a more at risk category. Widespread and abundant taxa are included in this category.

The Rusty-collared Seedeater (Sporophila collaris) is a species of bird in the Thraupidae family, formerly placed in the related Emberizidae. It is found in Argentina, Bolivia, Brazil, Paraguay, and Uruguay. Its natural habitats are subtropical or tropical seasonally wet or flooded lowland grassland, swamps, and heavily degraded former forest. References - * BirdLife International 2004. Sporophila collaris. 2006 IUCN Red List of Threatened Species. More
* Rusty-collared Seedeater, Sporophila collaris * Lesson's Seedeater, Sporophila bouvronides * Lined Seedeater, Sporophila lineola * Black-and-white Seedeater, Sporophila luctuosa * Yellow-bellied Seedeater, Sporophila nigricollis * Dubois' Seedeater, Sporophila ardesiaca – possibly a subspecies of S. nigricollis. More
Rusty-collared Seedeater Photo by Alec Earnshaw "Distribution of species: Texas, Mexico, Central America" * InfoNatura - Detailed Report on the Rusty-collared Seedeater Copyright 2004 Finchworld Inc. More
Rusty-collared Seedeater Sporophila collaris = Rio Grande do Sul, Brazil - Aug, 2004 More
A female Rusty-collared Seedeater was seen and we picked up our first Chaco Chachalacas sat under a tree. A Toco Toucan flew across and every bit of water seemed to have either a Wattled Jacana or a Black-capped Donacobius or both. Rufescent Tiger-herons were seen and our first male Scarlet-headed Blackbird was a stunner. Capped Heron. Photo by Steve Bird. More
recorded four nests of Rusty-collared Seedeaters during incubation (8 hrs), four nests with chicks 2-4 days of age (8 hrs), and six nests with chicks 7-9 days of age (20 hrs). We observed both members of the pair at all of these nests. We video recorded each nest throughout incubation during morning (between 0700 and 1100 hrs) and afternoon (between 1500 and 1900 hrs). We video recorded nests only during the morning for the chick stages. Data Analysis. More
Rusty-collared Seedeater, Sporophila collaris Emberizidae (BUNTINGS, SEEDEATERS & ALLIES) Rusty-collared Seedeater, Sporophila collaris This photo was taken in: Brazil The photo was taken by: Tom Stephenson , Brazil reports Birdwatching trip reports from Brazil Birdwatching trip reports from around the world Identification Notes: Submit Identification notes for this photo here More