Double-collared Seedeater
It is found in Argentina, Bolivia, Brazil, Paraguay, Peru, and Uruguay; also the southern border of Colombia on the Amazon River. Its natural habitats are subtropical or tropical moist shrubland, pastureland, and heavily degraded former forest.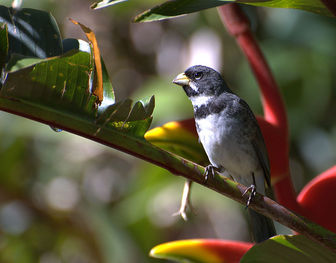 Picture of the Double-collared Seedeater has been licensed under a Creative Commons
Attribution-Share Alike
.
Original source
: originally posted to Flickr as COLEIRINHO (Sporophila caerulescens)
Author
: Dario SanchesPermission(Reusing this file)This image, which was originally posted to Flickr.com, was uploaded to Commons using Flickr upload bot on 09:02, 14 October 2009 (UTC) by Snowmanradio (talk). On that date it was licensed under the license below. This file is licensed under the Creative Commons Attribution-Share Alike 2.0 Generic license.You are free:to share – to copy, distribute and transmit the work
The Double-collared Seedeater is classified as Least Concern. Does not qualify for a more at risk category. Widespread and abundant taxa are included in this category.

View all pictures of Double-collared Seedeater View all pictures of Double-collared Seedeater show section External Links (0) We currently have no external links for this species. More
The Double-collared Seedeater (Sporophila caerulescens) is a species of bird in the Thraupidae family, the sparrows, New World sparrows, seedeaters, etc and their allies. It is found in Argentina, Bolivia, Brazil, Paraguay, Peru, and Uruguay; also the southern border of Colombia on the Amazon River. Its natural habitats are subtropical or tropical moist shrubland, pastureland, and heavily degraded former forest. More
double-collared seedeater Sporophila caerulescens that had been apprehended by Brazilian governmental authorities and sent to the Wildlife Screening Center in the state of Rio de Janeiro. MATERIALS AND METHODS RESULTS DISCUSSION REFERENCES Fig. 1 | Fig. 2 Financial support: CNPq, Faperj +Corresponding author. E-mail: lopescwg@ufrrj. More
The Double-collared Seedeater is found in many habitats. It has a wide range covering much of Brazil and neighbouring countries. It looks for grass seeds and can be seen near human habitation. The Double-collared Seedeater male is quickly recognised by its black chin and black collar which form its "double collar". The female is plain light brown and lacks chest stripes, which distinguishes it from the Blue-black Grassquit female. More
Double-collared Seedeater videos on the Internet Bird Collection Stamps (for Argentina) with RangeMap Double-collared Seedeater photo gallery VIREO Photo-High Res Photo-High Res; Article; Photo-no. 2 of 4 arthurgrosset–"South American Birds" Photo-High Res; Article oiseaux Colored Graphic; Article www.ao.com.br Didn't find what you were looking for. More
double-collared seedeater Sporophila caerulescens that had been apprehended by Brazilian governmental authorities and sent to the Wildlife Screening Center in the state of Rio de Janeiro. MATERIALS AND METHODS Among specimens of S. caerulescens (Passeriformes: Emberizidae) that were quarentined at the Wildlife Screening Center in the municipality of Serop More