Orange-breasted Bunting
The Orange-breasted Bunting is a species of bird in the Cardinalidae family. It is endemic to Mexico. Its natural habitats are subtropical or tropical dry forests and subtropical or tropical dry shrubland.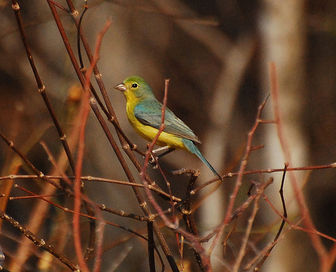 Picture of the Orange-breasted Bunting has been licensed under a Creative Commons
Attribution-Share Alike
.
Original source
: originally posted to Flickr as DSC_5629a
Author
: Jerry OldenettelPermission(Reusing this file)This image, which was originally posted to Flickr.com, was uploaded to Commons using Flickr upload bot on 22:04, 13 April 2008 (UTC) by Ltshears (talk). On that date it was licensed under the license below. This file is licensed under the Creative Commons Attribution-Share Alike 2.0 Generic license.You are free:to share – to copy, distribute and transmit the work
The Orange-breasted Bunting is classified as Least Concern. Does not qualify for a more at risk category. Widespread and abundant taxa are included in this category.

The Orange-breasted Bunting (Passerina leclancherii) is a species of bird in the Cardinalidae family. It is endemic to Mexico. Its natural habitats are subtropical or tropical dry forests and subtropical or tropical dry shrubland. References - * BirdLife International 2004. Passerina leclancherii. 2006 IUCN Red List of Threatened Species. Downloaded on 26 July 2007. * Encyclopedia of Life. Orange-breasted Bunting. More
Orange-breasted Buntings have yellow lores that contrast with the green forecrown and sides of the face, and yellow, or more strongly yellowish-green, underparts; the lores of Painted Buntings are not noticeablely pale or contrasting, and the underparts are dull green or yellowish-green. In Mexico and Central America, also take care not to confuse female Painted Bunting with female euphonias (Euphonia species). More
Orange-breasted Bunting is very common here though. A nice find was a single male Beautiful Hummingbird. We left the area in late morning and took the coast road to Puerto Angel. For those with more time on their hands: the coast road runs through some excellent thorn forest areas. If you can park by the road and walk up any of the overpasses, you could then walk along one of the farmer's roads into the forest and probably get some good birds. More
Rosita's Bunting, Orange-breasted Bunting and Red-breasted Chat • Our leader, Hector Gomez de Silva, is among the foremost birders in Mexico! Target birds: • Nava's Wren • Red-breasted Chat • Giant Wren • Bridled Sparrow • Rosita's Bunting • Belted Flycatcher • Russet-crowned Motmot • Oaxaca Sparrow • Ocellated Thrasher • Orange-breasted Bunting Trip Summary: • Moderate walking, some hill More