Red-cowled Cardinal
Its occurs in a wide range of dry to semi-humid open to semi-open habitats in north-eastern Brazil . It has been introduced to Rio de Janeiro and São Paulo, being locally common even in urban areas.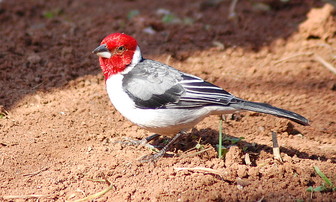 Picture of the Red-cowled Cardinal has been licensed under a Creative Commons
Attribution-Share Alike
.
Original source
: CARDEAL-DO-NORDESTE ( Paroaria dominicana)
Author
: Dario Sanches from SÃO PAULO, BRASIL
The Red-cowled Cardinal is classified as Least Concern. Does not qualify for a more at risk category. Widespread and abundant taxa are included in this category.

The Red-cowled Cardinal (Paroaria dominicana) is a bird species in the tanager family (Thraupidae). It was formerly placed in the Emberizidae and is not very closely related to the cardinals proper (Cardinalidae). Its occurs in a wide range of dry to semi-humid open to semi-open habitats in north-eastern Brazil (especially the Caatinga region). It has been introduced (probably by means of escaped caged individuals) to Rio de Janeiro and São Paulo, being locally common even in urban areas. More
The Red-cowled Cardinal (Paroaria dominicana) is a species of bird in the Emberizidae family. It is endemic to Brazil. Its natural habitats are subtropical or tropical dry forests and subtropical or tropical dry shrubland. http://en.wikipedia.org/wiki/Red-cowled_Cardinal The text in this page is based on the copyrighted Wikipedia article shown in above URL. It is used under the GNU Free Documentation License. You may redistribute it, verbatim or modified, providing that you comply with the terms of the GFDL. More
The red-cowled cardinal feeds mainly on seeds and small insects. It may learn to eat in artificial feeders and come very close to people. Very little is known about its ecology and behavior in the wild. When while birds are captured and kept in cages their health becomes very fragile and the mortality rates are very high. More