Yellow-billed cardinal
It occurs in Brazil, Paraguay, Bolivia and northern Argentina and introduced on the island of Hawai'i. It breeds in moist shrubland. The Yellow-billed Cardinal could be easily confused with the Red-crested Cardinal. The Yellow-billed Cardinal does not have a crest.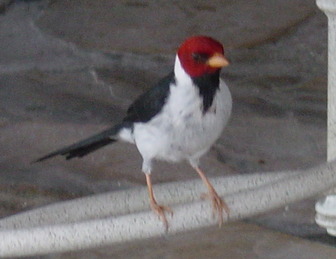 Picture of the Yellow-billed cardinal has been licensed under a
GFDL
Original source
: http://en.wikipedia.org/wiki/Image:YBCardinal1.JPG
Author
: KowloonesePermission(Reusing this file)copyright released to wikipedia by Kowloonese 13:55, 21 Feb 2004 (UTC)
Permission
: GNU Free Documentation License
The Yellow-billed cardinal is classified as Least Concern. Does not qualify for a more at risk category. Widespread and abundant taxa are included in this category.

The Yellow-billed Cardinal Paroaria capitata is a bird species in the tanager family (Thraupidae). It was formerly placed in the Emberizidae and is not very closely related to the cardinals proper (Cardinalidae). It occurs in Brazil, Paraguay, Bolivia and northern Argentina and introduced on the island of Hawai'i. It breeds in moist shrubland. The Yellow-billed Cardinal could be easily confused with the Red-crested Cardinal. The Yellow-billed Cardinal does not have a crest. More
The Yellow-billed Cardinal has a large range, estimated globally at 1,200,000 square kilometers. It is primarily found in the United States, Brazil, Bolivia, Uruguay, and Paraguay. This bird prefers Shrubland and Wetland ecological systems, though it can reside in heavily degraded former forests. More
The Yellow-Billed Cardinal, Paroaria capitata, is a common site on the Kona Coast of the Big Island of Hawai'i. This particular specimen was observed foraging near the Waikoloa Resort. The Yellow-billed Cardinal is placed in Tanager family, and is not closely related to the cardinals proper. The species was introduced to the island of Hawai'i from South America some time ago, and they had been confined to the Kona Coast. More
Yellow-billed Cardinal: Native to South America and increasing in numbers on Hawaii, has bright red head, black upperparts and incomplete white collar that nearly meets at the back of the neck. White underparts, black chin and throat. Yellow bill, legs and feet are brown-pink. Undulating flight. Range and Habitat Yellow-billed Cardinal: Introduced to the island of Hawaii. They are common on the Kona Coast. Native to Brazil, Paraguay, Bolivia, and Argentina. More
The Yellow-billed Cardinal is common and also known as the Brazilian Cardinal. BUY IT NOW Go to Purchase Information for explanation of options. More
Yellow-billed cardinal in Na'alehu = Yellow-billed cardinal in Na'alehu by Kaleomokuokanalu.This yellow-billed cardinal (paroaria capitata) was shot at the Punalu'u Bake Shop's Botanical Garden in Na'alehu on the Big Island of Hawai'i. In Hawaii, it can only be found on the Big Island. To take full advantage of Flickr, you should use a JavaScript-enabled browser and install the latest version of the Macromedia Flash Player. More
The Yellow-billed Cardinal, Paroaria capitata, is a bird found in Brazil, Paraguay and northern Argentina. It breeds in moist shrubland. More