Thick-billed Seed-Finch
The Thick-billed Seed-finch is a species of bird in the Thraupidae family, but was until recently placed in Emberizidae. It is found widely in shrubby and grassy areas from southern Mexico, through Central America, to the Chocó in Colombia and Ecuador. It is replaced by the closely related Chestnut-bellied Seed-finch in South America east of the Andes, as well as the valleys of Cauca and Magdalena in Colombia. The two have often been considered conspecific as the Lesser Seed-finch .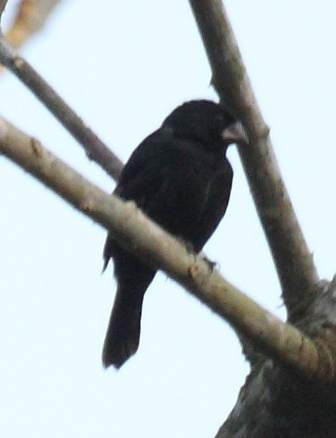 Picture of the Thick-billed Seed-Finch has been licensed under a Creative Commons
Attribution-Share Alike
.
Original source
: originally posted to Flickr as Thick-billed Seedfinch
Author
: Dominic SheronyPermission(Reusing this file)This image, which was originally posted to Flickr.com, was uploaded to Commons using Flickr upload bot on 17:53, 21 April 2010 (UTC) by Howcheng (talk). On that date it was licensed under the license below. This file is licensed under the Creative Commons Attribution-Share Alike 2.0 Generic license.You are free:to share – to copy, distribute and transmit the work
The Thick-billed Seed-Finch is classified as Least Concern. Does not qualify for a more at risk category. Widespread and abundant taxa are included in this category.

Identifying Variable and Thick-billed Seed-Finches in Costa Rica = People on birding trips to Costa Rica usually don't have the seedeaters and seed finches at the top of their target lists. Now if they looked like some of those fantastic, brightly colored, and beautifully patterned finches that provoke "oohs and aahs" among birders in Africa and Australia, the story would be different. More
The Thick-billed Seed-finch (Oryzoborus funereus) is a species of bird in the Thraupidae family, but was until recently placed in Emberizidae. It is found widely in shrubby and grassy areas from southern Mexico, through Central America, to the Chocó in Colombia and Ecuador. It is replaced by the closely related Chestnut-bellied Seed-finch in South America east of the Andes, as well as the valleys of Cauca and Magdalena in Colombia. The two have often been considered conspecific as the Lesser Seed-finch (Oryzoborus angolensis). More
The Thick-billed Seed-finch (Oryzoborus funereus) is a species of bird in the Emberizidae family. It is found in Belize, Colombia, Costa Rica, Ecuador, Guatemala, Honduras, Mexico, Nicaragua, and Panama. Its natural habitats are subtropical or tropical moist lowland forests and heavily degraded former forest. http://en.wikipedia.org/wiki/Thick-billed_Seed-finch The text in this page is based on the copyrighted Wikipedia article shown in above URL. It is used under the GNU Free Documentation License. More