Greater Racket-tailed Drongo
The Greater Racket-tailed Drongo, Dicrurus paradiseus, is a medium-sized Asian bird which is distinctive in having elongated outer tail feathers with webbing restricted to the tips. They are placed along with other drongos in the family Dicruridae. They are conspicuous in the forest habitats often perching in the open and by attracting attention with a wide range of loud calls that include perfect imitations of many other birds. It has been suggested that these imitations may help in the formation of mixed-species foraging flocks, a feature seen in forest bird communities where many insect feeders forage together. These drongos will sometimes steal insect prey caught or disturbed by other foragers in the flock. They are diurnal but are active well before dawn and late at dusk. Owing to their widespread distribution and distinctive regional variation, they have become iconic examples of speciation by isolation and genetic drift.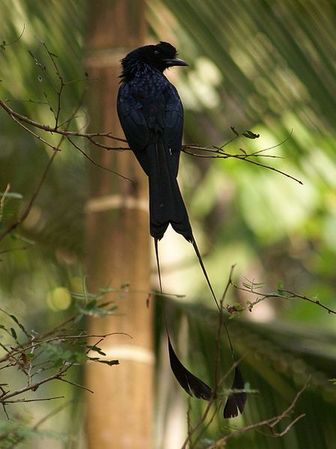 Picture of the Greater Racket-tailed Drongo has been licensed under a Creative Commons
Attribution-Share Alike
.
Original source
: originally posted to Flickr as Greater Racket-tailed Drongo and uploaded to commons at Dicrurus_paradiseus_-Kerala_-India-6.jpg
Author
: derivative work: Snowmanradio (talk)
The Greater Racket-tailed Drongo is classified as Least Concern. Does not qualify for a more at risk category. Widespread and abundant taxa are included in this category.

species of woodpeckers and the Greater Racket-tailed Drongo in the lowland forest. When a woodpecker landed on a tree trunk, the drongo would perch on a nearby horizontal branch just below it. The drongo often sallies forth for a flushed arthropod. When the woodpecker moves to another tree, the drongo followed. The drongo on the tree trunk reported by Gloria may be going for an insect flushed by a woodpecker. It may also be collecting nesting materials. More
The Greater Racket-tailed Drongo has a reputation of being aggressive and fearless. It will attack much larger birds, including raptors, especially when they are brooding chicks. These birds have been known to also attack people walking near or below an active nest. Goh Si Guim was once attacked in the Bukit Timah Nature Reserve and live to tell his tale. Drongos also indulge in kleptoparasitism, snatching food from smaller birds as well as mammal species. More
The Greater Racket-tailed Drongo, Dicrurus paradiseus, is a medium-sized Asian bird which is distinctive in having elongated outer tail feathers with webbing restricted to the tips. They are placed along with other drongos in the family Dicruridae. They are conspicuous in the forest habitats often perching in the open and by attracting attention with a wide range of loud calls that include perfect imitations of many other birds. More
The Greater Racket-tailed Drongo is a resident breeder throughout its range. The breeding season in India is April to August. Their courtship display may involve hops and turns on branches with play behaviour involving dropping an object and picking it in mid air. Their cup nest is built in the fork of a tree and the usual clutch is three to four eggs. The eggs are creamy white with blotches of reddish brown which are more dense on the broad end. More
The Greater Racket-tailed Drongo is a resident breeder in tropical southern Asia from Kashmir, India and Sri Lanka east to Indonesia. This species is usually found in broadleaved forest. Three or four eggs are laid in a cup nest in a tree. Description These are aggressive and fearless birds, 32 cm in length, and will attack much larger species if their nest or young are threatened. More
The Greater Racket-tailed Drongo, Dicrurus paradiseus, is a medium-sized Asian bird. The drongos are passerines restricted to the Old World tropics. They were previously classed as the family Dicruridae, but that has been much enlarged to include a number of largely Australasian groups, such as the Australasian fantails, monarchs and paradise flycatchers. These are aggressive and fearless birds, 32 cm in length, and will attack much larger species if their nest or young are threatened. More
Greater Racket-tailed Drongo (Dicrurus paradiseus)Greater Racket-tailed Drongo (Dicrurus paradiseus)This is the platurus subspecies with a smaller, shorter crest. The most conspicuous and w... Uploaded Sep 6, 2008 / 0 comments / Flickr URL Greater Racket-tailed Drongo (Dicrurus paradiseus)Greater Racket-tailed Drongo (Dicrurus paradiseus)Juvenile. This is the platurus subspecies with a smaller, shorter crest. The most conspi... More