Square-tailed Drongo
The Square-tailed Drongo is a common resident breeder in much of Africa south of the Sahara. These insect-eating birds are usually found in forests or dense bush. Two to three eggs are laid in a cup nest in a fork high in a tree.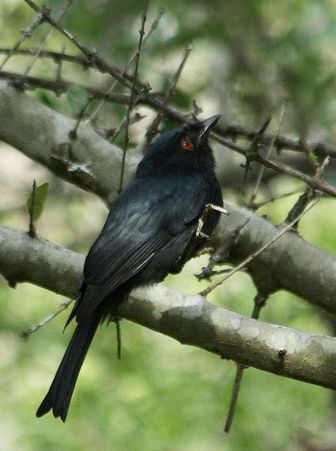 Picture of the Square-tailed Drongo has been licensed under a Creative Commons
Attribution-Share Alike
.
Original source
: Square-tailed Drongo (Dicrurus ludwigii)
Author
: Alan Manson
The Square-tailed Drongo is classified as Least Concern. Does not qualify for a more at risk category. Widespread and abundant taxa are included in this category.

The Square-tailed Drongo, Dicrurus ludwigii, is a drongo. The drongos are small passerine birds of the Old World tropics. They were previously classed as the family Dicruridae, but that has been much enlarged to include a number of largely Australasian groups, such as the Australasian fantails, monarchs and paradise flycatchers. The Square-tailed Drongo is a common resident breeder in much of Africa south of the Sahara. These insect-eating birds are usually found in forests or dense bush. More
The Square-tailed Drongo has short legs and sits very upright whilst perched prominently, like a shrike. It flycatches or take prey from the ground. The call is a harsh cherit-cherit. Photo from United States Fish and Wildlife Service References - Search Wikimedia Commons Wikimedia Commons has media related to: Dicrurus ludwigii * BirdLife International (2004). Dicrurus ludwigii. 2006. More
Square-tailed DrongoThis species is similar to the Fork-tailed Drongo, but is smaller, and the shorter tail lacks the deep fork which gives the latter species its name. Fork-tailed is also typically found in more open habitat. The Square-tailed Drongo has short legs and sits very upright whilst perched prominently, like a shrike. It flycatches or take prey from the ground. More
The Square-tailed Drongo has short legs and sits very upright whilst perched prominently, like a shrike. It fly-catches or take prey from the ground. The call is a harsh cherit-cherit. More
Distribution of Square-tailed drongo in southern Africa, based on statistical smoothing of the records from first SA Bird Atlas Project (© Animal Demography unit, University of Cape Town; smoothing by Birgit Erni and Francesca Little). Colours range from dark blue (most common) through to yellow (least common). See here for the latest distribution from the SABAP2. More
a picture of the Square-tailed Drongo on page 705. The Square-tailed Drongo belongs to the family of birds classified as Dicruridae. According to the Percy FitzPatrick Institute of African Ornithology the Square-tailed Drongo is also known by these other names: Least Drongo. The map of the Kruger you see on this page shows the areas (coloured orange) where this bird has been identified. More
The square-tailed Drongo is the nearest relative, but they are easily distinguished from each other by the marked difference in tail feathers. The Drongo builds a straddled open nest at the end of a bough. The nest is rather like a hammock, sagging slightly in the middle to accommodate the three or four eggs. Drongo eggs vary in size and colour. They may be as much as 27.5 x 18.5 mm or as small as 25 x 17mm. More
Post subject: Square-tailed drongoNew postPosted: Mon Oct 06, 2008 2:07 pm Offline Senior Virtual Ranger Senior Virtual Ranger User avatar Award: Birder of the Year (2008) Joined: Wed Sep 06, 2006 3:33 pm Posts: 1933 Location: St Anderton's pits The Square-tailed drongo, Dicrurus ludwigii, is the smallest of drongos. More
* Square-tailed Drongo-Cuckoo (Surniculus lugubris including brachyurus, musschenbroeki. This has white bars on vent and outer undertail, tail only notched with slightly flared tips. In flight a white wing-stripe is visible from below. This is found in South East Asia and is a summer visitor to the Himalayas from Kashmir to eastern Bangladesh. More