Fork-tailed Drongo
The Fork-tailed Drongo is a common and widespread resident breeder in Africa south of the Sahara. These insect-eating birds are usually found in open forests or bush. Two to four eggs are laid in a cup nest in a fork high in a tree.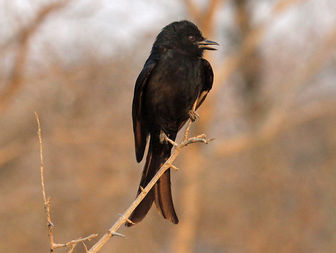 Picture of the Fork-tailed Drongo has been licensed under a
GFDL
Original source
: Own work
Author
: Dick Daniels (http://carolinabirds.org/)
Permission
: GNU Free Documentation License
The Fork-tailed Drongo is classified as Least Concern. Does not qualify for a more at risk category. Widespread and abundant taxa are included in this category.

A Fork-tailed Drongo mobbing a Steppe Eagle (close relative of Tawny Eagle) - A Fork-tailed Drongo mobbing a Steppe Eagle (close relative of Tawny Eagle) Birds | Fork-tailed Drongo | Lake Natron | Maasailand | Rift Valley | Steppe Eagle» 21 comments A Fork-tailed Drongo mobbing a Steppe Eagle - A Fork-tailed Drongo mobbing a Steppe Eagle (Steppe Eagle is a close relative of Tawny Eagle) Birds | Fork-tailed Drongo | Lake More
The Fork-tailed Drongo, Dicrurus adsimilis, also called the Common Drongo, African Drongo or Savanna Drongo, is a drongo, a type of small passerine bird of the Old World tropics. The species was earlier considered to cover Asia, but the Asian species is now called the Black Drongo (Dicrurus macrocercus). They are members of the family Dicruridae. The Fork-tailed Drongo is a common and widespread resident breeder in Africa south of the Sahara. These insect-eating birds are usually found in open forests or bush. More
This species is similar to the Fork-tailed Drongo, but is smaller, and the shorter tail lacks the deep fork which gives the latter species its name. Fork-tailed is also typically found in more open habitat. The Square-tailed Drongo has short legs and sits very upright whilst perched prominently, like a shrike. It flycatches or take prey from the ground. The call is a harsh cherit-cherit. More
* What do feed an insectivorous bird a Fork-tailed drongo in captivity? * How did the word drongo originate? » More Mentioned in * Square-tailed * Drongos (Dicruridae) (zoology) * Northern Black Flycatcher * Drongo * Asian Drongo-cuckoo * Sibley-Monroe checklist 13 * List of birds of The More
of the Fork-tailed Drongo, but it is now considered a full species. Geographically, the Fork-tailed Drongo is restricted to Africa, while the Black Drongo is an Asian species. Black DrongoSeven subspecies have been named but many of them are parts of clines and intergrade with each other. The race albirictus of northern India is larger than the Sri Lankan race minor while the nominate race of peninsular India is intermediate in size. Race cathoecus is found in Thailand, Hong Kong and China. More
Fork-tailed DrongoThe Fork-tailed Drongo, Dicrurus adsimilis, is a drongo, a type of small passerine bird of the Old World tropics. They were previously classed as the family Dicruridae, but that has been much enlarged to include a number of largely Australasian groups, such as the Australasian fantails, monarchs and paradise flycatchers. Distribution / Range The Fork-tailed Drongo is a common and widespread resident breeder in Africa south of the Sahara. More
Distribution of Fork-tailed drongo in southern Africa, based on statistical smoothing of the records from first SA Bird Atlas Project (© Animal Demography unit, University of Cape Town; smoothing by Birgit Erni and Francesca Little). Colours range from dark blue (most common) through to yellow (least common). See here for the latest distribution from the SABAP2. Food Highly adaptable, it eats a variety of animal prey, especially insects but also other birds and fish. More
The Fork-tailed Drongo is completely glossy black, with a longish tail, which is deeply forked and flares wider towards the end. The primary wing feathers are paler, showing as a pale patch when the bird is in flight. This is a common species of open savannah, thornveld, edges of riverine woodland and forest; alien plantations, parks and gardens. More
The Fork-tailed Drongo is a bird with an attitude – it is a rapacious eagle in a small passerine's body. It is the very first bird to wake up in the morning, and can be heard calling before the ground-hornbills or spurfowl stir; late at night, it can still be seen, hawking insects around street lights. More
Birds | Fork-tailed Drongo | Lake Natron | Maasailand | Rift Valley | Steppe Eagle» thumbnail | full | big_thumbnail | original | printer friendly version zQpiDdKnJFGbb Submitted by zusecon on Sat, 2010-05-15 05:45. More
Fork-tailed Drongo | Dicrurus adsimilis = The Fork-tailed Drongo is a Southern African bird that belongs to the Dicruridae bird family group which includes birds such as Drongos. The description for the Fork-tailed Drongo (Latin name Dicrurus adsimilis) can be found in the 7th Edition of the Roberts Birds of Southern Africa. The Dicrurus adsimilis can be quickly identified by its unique Roberts identification number of 541 and the detailed description of this bird is on page 684. More
Fork-Tailed Drongo - Dicrurus adsimilis Travel Writer: EcoTravel Africa � These birds are often seen perched on conspicuously open sites such as a fence post or a dead branch, and also on the backs of large game mammals. The fork-tailed drongo feeds off the insects that are disturbed as the mammals graze. More
The Fork-tailed Drongo, Dicrurus adsimilis, also called the Common Drongo, African Drongo or Savanna Drongo, is a drongo, a type of small passerine bird of the Old World tropics. It is taken close to Mopani restcamp.here. Thank you for looking. Overexposed 1 stop. ISO 250. PP in Bridge and PS CS. More
Fork-tailed Drongo (Dicrurus adsimilis) by Derek Solomon from Zambia XC39302 :: Fork-tailed Drongo (Dicrurus adsimilis) = Recording data Recordist Derek Solomon Date 26-06-05 Time 06:30 Country Zambia Location South Luangwa National Park Home Longitude E31.45'0" Latitude S13. More