Scimitar-billed Woodcreeper
The Scimitar-billed Woodcreeper is a species of bird in the Dendrocolaptinae subfamily. It is in the monotypic genus Drymornis. It is found in Argentina, Bolivia, Brazil, Paraguay, and Uruguay. Its natural habitats are subtropical or tropical dry forests and subtropical or tropical dry shrubland.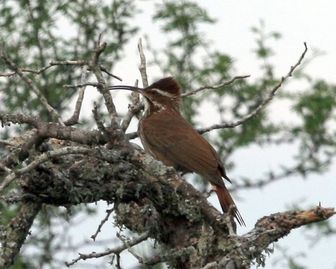 Picture of the Scimitar-billed Woodcreeper has been licensed under a Creative Commons
Attribution-Share Alike
.
Original source
: originally posted to Flickr as Scimitar-billed Woodcreeper (Drymornis bridgesii)
Author
: Lip Kee YapPermission(Reusing this file)This image, which was originally posted to Flickr.com, was uploaded to Commons using Flickr upload bot on 14:11, 18 November 2008 (UTC) by Snowmanradio (talk). On that date it was licensed under the license below. This file is licensed under the Creative Commons Attribution-Share Alike 2.0 Generic license.You are free:to share – to copy, distribute and transmit the work
The Scimitar-billed Woodcreeper is classified as Least Concern. Does not qualify for a more at risk category. Widespread and abundant taxa are included in this category.

Scimitar-billed Woodcreeper - Drymornis bridgesii Scimitar-billed Woodcreeper Drymornis bridgesii San Jos More
Scimitar-billed Woodcreeper (Drymornis bridgesii) (Eyton, 1850) summary taxon grid map Wikipedia NatureServe Google: Web|Scholar ITIS Birdlife Google|Flickr Xeno-Canto - photo: nikorimages Photo powered by flickr.com. More
The Scimitar-billed Woodcreeper (Drymornis bridgesii) is a species of bird in the Dendrocolaptinae subfamily. It is in the monotypic genus Drymornis. It is found in Argentina, Bolivia, Brazil, Paraguay, and Uruguay. Its natural habitats are subtropical or tropical dry forests and subtropical or tropical dry shrubland. References - * BirdLife International 2004. Drymornis bridgesii. 2006 IUCN Red List of Threatened Species. Downloaded on 25 July 2007. More
* 8 1 3 4 8 11 Scimitar-billed Woodcreeper (Drymornis bridgesii) * 5 2 1 2 8 12 Long-billed Woodcreeper (Nasica longirostris) * 7 1 1 5 8 13 Cinnamon-throated Woodcreeper (Dendrexetastes rufigula) * 0 8 15 Bar-bellied Woodcreeper (Hylexetastes stresemanni) * 2 1 1 8 14 Red-billed Woodcreeper (Hylexetastes perrotii) * 5 1 1 3 8 18 White-throated Woodcreeper (Xiphocolaptes albicollis) * 6 1 3 2 More
Scimitar-billed Woodcreeper (Drymornis bridgesii) = French: Grimpar porte-sabre German: Degenschnabel-Baumsteiger Spanish: Trepatroncos Chinchero Other common names: Bridges's Woodcreeper, Scimitar-billed/Bridges's Woodhewer Taxonomy: Nasica bridgesii Eyton, 1849, interior of Bolivia; error = Mendoza, Argentina. May be ancestral to all other Dendrocolaptidae; syrinx structure differs from that of all others, and genus is one of very few not infested by Platyacarus feather mites. More
Scimitar-billed Woodcreeper Drymornis bridgesii = Described by: Eyton (1849) Alternate common name(s): Bridge's Woodcreeper, Scimitar-billed Woodhewer, Bridge's Woodhewer Old scientific name(s): None known by website authors Photographs Barra do Quara More
Scimitar-billed Woodcreeper (Drymornis bridgesii) Source Collection Flickr Image Use creative commons This media file is licensed under the Creative Commons Attribution-NonCommercial-NoDerivs License - Version 2.0. Copyright © 2006 Lip Kee Yap About This Page Page copyright © 2007 Page: Tree of Life Drymornis bridgesii. Scimitar-billed Woodcreeper. More
Original File Name: Scimitar-billed Woodcreeper (Drymornis bridgesii).jpg Resolution: 800x640 File Size: 150972 Bytes Date: 2006:04:03 05:04:28 Camera: Canon EOS 20D (Canon) F number: f/5. More
The Scimitar-billed Woodcreeper is unusual for the subfamily in living in highly arid and open habitats, and in being predominately a ground forager. The woodcreepers are generally forest birds of Central and South America. Most species occur in rainforests, with the centre of diversity of the subfamily being the Amazon Basin. More
Scimitar-billed Woodcreeper Drymornis bridgesii 2009 IUCN Red List Category (as evaluated by BirdLife International - the official Red List Authority for birds for IUCN): Least Concern Justification This species has an extremely large range, and hence does not approach the thresholds for Vulnerable under the range size criterion (Extent of Occurrence 30% decline over ten years or three generations). More
SCIMITAR-BILLED WOODCREEPER Drymornis bridgesii CHACO Unique is the only word, for this weird-looking woodcreeper. In fact woodcreeper is a bit of a misnomer. Though he does occasionally creep, you are far more likely to see him hopping around on the ground, using his long bill to select the tastiest morsels from amongst the vegetation. Click on the images to enlarge them.FIGURE 1 - Adult ventral, Laguna Capit More
Scimitar-billed Woodcreeper (Drymornis bridgesii), retains many morphological characters, especially those of the limb muscles, that are primitive among woodcreepers (see Morphology). DNA-DNA hybridization data, coupled with phylogenetic analyses of various morphological and molecular characters, consistently yield results suggesting that all dendrocolaptid genera are monophyletic to the exclusion of furnariids. In contrast, the Furnariidae appear not to be monophyletic with respect to woodcreepers. More
Scimitar-billed Woodcreeper Drymornis bridgesii = Barra do Quara More
Scimitar-billed Woodcreeper (Drymornis bridgesii) by Alvaro Riccetto. More
* Scimitar-billed Woodcreeper, Drymornis bridgesii * Genus Lepidocolaptes * White-striped Woodcreeper, Lepidocolaptes leucogaster * Streak-headed Woodcreeper, Lepidocolaptes souleyetii * Narrow-billed Woodcreeper, Lepidocolaptes angustirostris * Spot-crowned Woodcreeper, Lepidocolaptes affinis * Montane Woodcreeper, Lepidocolaptes lacrymiger * Scaled Woodcreeper, Lepidocolaptes squamatus More