Andean Cock-of-the-rock
The species exhibits marked sexual dimorphism; the male has a large disk-like crest and scarlet or brilliant orange plumage, while the female is significantly darker and browner. Gatherings of males compete for breeding females with each male displaying its colourful plumage, bobbing and hopping, and making a variety of calls. After mating, the female makes a nest under a rocky overhang, incubates the eggs, and rears the young, all by herself.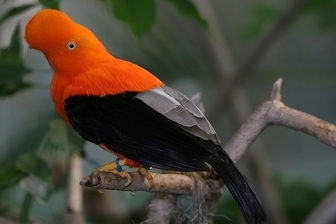 Picture of the Andean Cock-of-the-rock has been licensed under a Creative Commons
Attribution
.
Original source
: Jerry Thompson
Author
: Jerry Thompson
The Andean Cock-of-the-rock is classified as Least Concern. Does not qualify for a more at risk category. Widespread and abundant taxa are included in this category.

The Andean Cock-of-the-rock (Rupicola peruvianus) is a medium-sized passerine bird of the Cotinga family native to Andean cloud forests in South America. The plural is Andean Cocks-of-the-rock. It is widely regarded as the national bird of Peru. The species exhibits marked sexual dimorphism; the male has a large disk-like crest and scarlet or brilliant orange plumage, while the female is significantly darker and browner. More
The Andean Cock-of-the-rock is the national bird of Peru. They are found in tropical and subtropical rainforests close to rocky areas, where they build their nests. Like some other cotingids, they have a complex court behaviour, performing impressive lek displays. The males are magnificent birds, not only because of their bright orange or red colors, but also because of their very prominent fan-shaped crests. The far duller females are overall brownish. More
The male Andean cock-of-the-rock has a bright red-orange head, neck, breast, and shoulders. It has a black body and gray wings, and a large disk-shaped crest of feathers that extend over its bill. The female is a brownish-orange over her whole body and has a smaller crest. Range The Andean cock of the rock is found in cloud forests in the Andes Mountains in Columbia, Venezuela, Ecuador, Peru, and Bolivia. More
The male Andean Cock-of-the-Rock bird presents his mating display in an area minutes from the lodge. This display area is the avian equivalent of a singles bar, and the males must perform an elaborate dance to attract females. The Cock-of-the-Rock Lodge has exclusive access to this site where guests can observe this strange ritual from a blind 15 feet away. From here, the blazing-red males strut, bow and squawk in a frantic attempt to prove that they are the most attractive mate. More
Andean cock-of-the-rock will only dance in trees, rather than on the ground as well. FEEDING ECOLOGY AND DIET Like most cotingas, cocks-of-the-rock consume fruits primarily, but will consume more animal matter as fruits become scarce. Captive individuals are known to eat small lizards (Anolis sp.) and baby laboratory mice (Mus sp.). More
Videos and images Male Andean cock-of-the-rock perched on branch Male Andean cock-of-the-rock perched on branch Species related by - * Family group * Habitat * Conservation status * * View image slideshow * Link to this image * Email to a friend * More
Female Andean cock-of-the-rock feeds chick in nest© kevinschafer.com Female Andean cock-of-the-rock sitting on nest© Mike Read / naturepl.com Female Andean cock-of-the-rock© M. Watson / www.ardea.com Male Andean cock-of-the-rock perched on branch© M. Watson / www.ardea.com Male Andean cock-of-the-rock perched on branch© Tom and Pam Gardner / www.flpa-images.co.uk Andean cock-of-the-rock in natural habitat© Patricio Robles Gil / Sierra Madre Male Andean cock-of-the-rock portrait© kevinschafer. More
The Andean Cock-of-the-rock, Rupicola peruviana is a spectacular, medium-sized passerine which is known to be pretty shy and not easily spotted. They emit a loud querulous "uankk?" when disturbed or in flight. They average 32 cm (12 More
The Andean Cock-of-the-rock is a bird in the Cotinga family native to the Andean cloud forests of South America. The male has a large disk-like crest and brilliant scarlet or orange plumage. The males compete with eachother for breeding females, who are more brown in color, by displaying their colorful feathers while bobbing and hopping around. More
The Andean Cock-of-the-rock is a medium-sized, approximately 32 cm (12½ in) long, passerine which exhibits marked sexual dimorphism. The male has a large disk-like crest and scarlet or brilliant orange plumage. It has black tail and wings, and pale grey scapulars. The female is significantly darker and browner than the male and has a shorter crest. The bill is yellowish in the male, and dark with a small yellow tip in the female. More
The Andean Cock-of-the-Rock is Peru's national bird. One of the most famous birds of Peru with stunning head-dress of orange-red feathers that remind some of the orange-red fringe that Incas used to wear as a badge of his rank. More
The Andean Cock-of-the-Rock is the national bird of Peru. While they do spend time in the canopy, they mostly live near the rainforest floor. Natives of the Rainforest eat their meat and use the feathers for the costumes that they use in their special dances. They build their nests on cliffs or in caves. Usually the female lays two eggs. Males are about 11 inches long. The females are a little smaller. More
The Andean Cock-of-the-rock is a medium sized bird, living in the Andes, from Venezuela South to Bolivia. It's one of the most spectacular birds, with strikingly bright colours. Spottingthis beautiful bird is not very common, though, as they're extremely shy and don't usually fly near humans. More
world More
ground of the Andean Cock-of-the-Rock, which has become famous among scientists, tourists and the international press, as there is no other spot in the world where so many of these spectacular blazing red birds can be seen so easily. From our observation blind, which is within 30-feet of the narrow switchback road that runs through the center of the reserve, we will watch as between 6-20 or more male birds display at a traditional mating ground, 15-feet in front of the blind. More
The Andean Cock-of-the-rock is a medium sized bird that measures approximately 30 cms (12 inches) in length. Males have brilliant orange plumage and a large disc-like crest. Their tails and wings are black in colour and their wings have a row of pale grey feathers along the inside edge, so when they are folded they appear to have stripes down their back. Females are chestnut in colour and they have a much shorter crest. More
Andean Cock-of-the-rock - Rupicola peruvianus6324 vuesibirdcollection * Cock of the Rock, Manu, Peru1:10 * Ajouter à la file d'attente Ajoutée à la file d'attente Cock of the Rock, Manu, Peru3266 vuesPrattincole * For Bird Lovers... More