Alpine Chough
This bird has glossy black plumage, a yellow bill, red legs, and distinctive calls. It has a buoyant acrobatic flight with widely spread flight feathers. The Alpine Chough pairs for life and displays fidelity to its breeding site, which is usually a cave or crevice in a cliff face. It builds a lined stick nest and lays three to five brown-blotched whitish eggs. It feeds, usually in flocks, on short grazed grassland, taking mainly invertebrate prey in summer and fruit in winter; it will readily approach tourist sites to find supplementary food.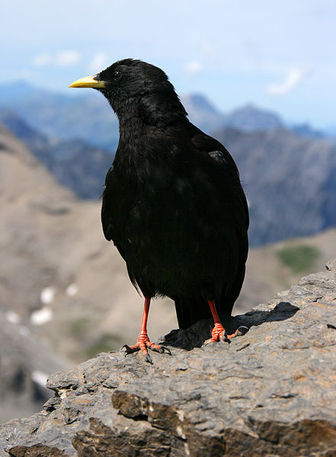 Picture of the Alpine Chough has been licensed under a Creative Commons
Attribution
.
Original source
: Alpine Chough, Schilthorn, Switzerland
Author
: Jim Higham from UKCamera location
The Alpine Chough is classified as Least Concern. Does not qualify for a more at risk category. Widespread and abundant taxa are included in this category.

The Alpine Chough pairs for life and displays fidelity to its breeding site, which is usually a cave or crevice in a cliff face. It builds a lined stick nest and lays three to five brown-blotched whitish eggs. It feeds, usually in flocks, on short grazed grassland, taking mainly invertebrate prey in summer and fruit in winter; it will readily approach tourist sites to find supplementary food. More
The Alpine Chough was described as Corvus graculus by Linnaeus in the 1766 edition of the Systema Naturae. Although Corvus is the crow genus to which the choughs' closest relatives belong, they were considered sufficiently distinctive to be moved to the new genus, Pyrrhocorax, by English ornithologist Marmaduke Tunstall in his 1771 Ornithologia Britannica, The genus name is derived from Ancient Greek πύρρος (purrhos), "flame-coloured", and κόραξ (korax), "raven". More
The Alpine Chough is also found in Corsica and Crete, and the Red-billed Chough has populations in Ireland, the UK, the Isle of Man, and two areas of the Ethiopian Highlands. Both species are non-migratory residents throughout their range, only occasionally wandering to neighbouring countries. More
Alpine Chough determination Similar species Corvidae Alpine Chough | Azure-Winged Magpie | Carrion Crow | Chough | Daurian Jackdaw | Hooded Crow | House Crow | Jackdaw | Jay | Magpie | Raven | Rook | Siberian Jay | Spotted Nutcracker | source: youtube Links to European databases Alpine Chough EU More
For the purposes of our bird news services, Alpine Chough is classed as ungraded: species which are unlikely to appear as wild birds in Britain or Ireland (Note that rarity levels are currently applied nationally and may not reflect local variations in abundance. More
The Alpine Chough is a common resident of the alps. It can be observed mainly above the tree line. During the winter months it can be seen also near villages in the valleys. The Alpine Chough benefited a lot by tourism. Therefore it should not be difficult to enjoy Alpine Choughs at very close range at Mountain tops or at guesthouses during the summer months. More
Aspects of the topic alpine chough are discussed in the following places at Britannica. Assorted References * description (in chough (bird)) ...Pyrrhocorax pyrrhocorax), of sea cliffs and rocky uplands from the British Isles to China, and the alpine chough (P. graculus), of high mountains from Morocco and Spain to the Himalayas. More
alpine chough in symmetry = alpine chough in symmetry by GavinBell.An alpine chough in flight, captured in symmetry to the mountain behind. Same picture in black and white. To take full advantage of Flickr, you should use a JavaScript-enabled browser and install the latest version of the Macromedia Flash Player. Comments view profile kokeshi Pro User says: this is wonderful Posted 58 months ago. More
Mary Malone's dæmon, the alpine chough was described as a "Black bird with red legs and a bright yellow beak, sightly curved. A bird of the mountains." Serafina Pekkala told Mary Malone of her dæmon, since Mary was never in a world where dæmons were openly visible. She also told Mary how to see dæmons. Retrieved from "http://www.hisdarkmaterials.org/srafopedia/index. More
where jet-black Alpine choughs soar against a backdrop of seemingly unassailable peaks.Choughed to be on top of Europe; Fiona Ennys watches the world's ... More
Alpine chough in Aravis = Alpine chough in Aravis Photo Information Copyright: Christian POURRE (TAZ) Gold Star Critiquer/Silver Workshop Editor/Gold Note Writer (10926) Genre: Animals Medium: Color Date Taken: 2006-02-21 Categories: Birds Camera: Canon EOS 350D, Canon EF-S 17-85 USM IS Macro Exposure: f/18. More
Alpine chough one of the smaller crows, Monedula pyrrhocorax or Pyrrhocorax alpinus, related to the common chough, but smaller and with a yellow bill. It inhabits the mountainous regions of northern Europe. Science, Feb. 8, 1901, p. 232. GNU Webster's 1913 (1) 1. noun A bird of the Crow family (Fregilus graculus) of Europe. More
sound of alpine chough - Audio - Mouse over the speaker at the bottom of the screen to hear the sound of "alpine chough" other translations of alpine chough - Other Translations Contents - * 1 English * 1.1 Pronunciation * 1.2 Noun * 1. More
Alpine chough lands badly (1)134 vuesLordMickyofDownton * Choughs Old Head of Kinsale 9th March 20070:17 * Ajouter à la file d'attente Ajoutée à la file d'attente Choughs Old Head of Kinsale 9th March 2007404 vuesHarry75 * Aerobatic Display of The Black Knights Part 23:26 * Ajouter à la file d'attente Ajoutée More