Azure-hooded Jay
The jays travel in groups of two to ten individuals and may join mixed-species flocks. It is a secretive species and therefore difficult to observe in the wild. As an omnivore, this jay eats berries, seeds, and small, dead animals. Females lay three to four eggs, and the young fledge after twenty days. This species is listed as Least Concern, meaning it is not threatened with extinction.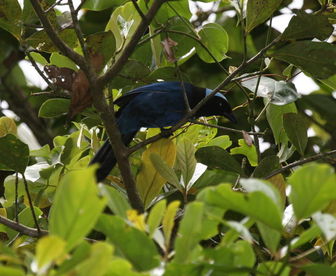 Picture of the Azure-hooded Jay has been licensed under a Creative Commons
Attribution
.
Original source
: Azure-hooded JayUploaded by Richard001
Author
: Cole Wolf from Albuquerque, NM, USA
The Azure-hooded Jay is classified as Least Concern. Does not qualify for a more at risk category. Widespread and abundant taxa are included in this category.

The Azure-hooded Jay, Cyanolyca cucullata, is a species of bird in the Corvidae family. It is found in Middle America. Its natural habitat is subtropical or tropical moist montane forest. This species is known to have four subspecies. It is 11 to 12 inches (28 to 30 cm) in length and is dark blue with a black head and upper chest. The back of the head and neck are sky blue with a white border. More
Azure-hooded Jay has been listed as one of the Natural sciences good articles under the good article criteria. If you can improve it further, please do so. If it no longer meets these criteria, you can delist it, or ask for a reassessment. More
The Azure-hooded Jay is found at mid-elevations from southeastern Mexico to western Panama. The bright sky blue hood that gives the species its name can be difficult to see as birds forage in thick vegetation of the subcanopy and edges of humid montane forest. They are best detected by their explosive calls, given while traveling in pairs or small flocks of 3 - 5 individuals. Near the nest, however, Azure-hooded Jays can be surprisingly quiet. More
The Azure-hooded Jay has four subspecies. Cyanolyca cucullata mitrata is found in eastern Mexico, from San Luis Potosí to north central Oaxaca. This subspecies was initially treated as a separate species by Ridgway, but it was later merged into the Azure-hooded Jay. C. c. guatemalae ranges from southern Mexico in Chiapas to central Guatemala. C. c. hondurensis resides in western Honduras. C. c. cucullata, the nominate subspecies, is found in Costa Rica and western Panama. More
Azure-hooded Jay The Azure-hooded Jay (Cyanolyca cucullata) is a species of bird in the Corvidae family. It is found in Costa Rica, Guatemala, Honduras, Mexico, and Panama. Its natural habitat is subtropical or tropical moist montanes. See more at Wikipedia.org... More
Results for: azure-hooded jayTranslations 1 - 30 of 74 English English Finnish Finnish azure-hooded jay sinilakkinaakka, Cyanolyca cucullata azure taivaansininen azure tit valkopäätiainen, Parus cyanus azure jay huppunärhi, Cyanocorax caeruleus azure kingfisher papuansinikalastaja, Alcedo azurea azure gallinule amazonianliejukana, Porphyrio flavirostris azure yarn asuurilanka More