Forest Raven
The Forest Raven is 50–52 cm in length with glossy black plumage and a white iris. It has a proportionately larger bill and shorter tail than the other mainland corvid species and is the sole representative of the genus Corvus in Tasmania. The call is a deep korr-korr-korr-korr with a similarly drawn out last note to the Australian Raven.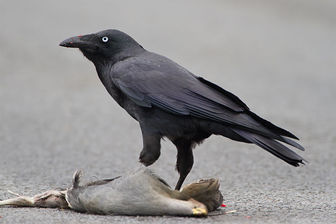 Picture of the Forest Raven has been licensed under a Creative Commons
Attribution-Share Alike
.
Original source
: Own work
Author
: JJ Harrison (http://www.noodlesnacks.com/)
The Forest Raven is classified as Least Concern. Does not qualify for a more at risk category. Widespread and abundant taxa are included in this category.

The Forest Raven is the only corvid (crow or raven) that occurs in Tasmania. Facts and figures Research Species: No Minimum size: 50 cm Maximum size: 53 cm Average size: 52 cm Average weight: 650 g Breeding season: July to September on the mainland; later in Tasmania Clutch size: Four to five Incubation: 20 days Calls Slow baritone 'korr...korr... More
The Forest Raven (Corvus tasmanicus) is a large all-black species of the crow genus native to Southeastern Australia and Tasmania. Contents - * 1 Description * 1.1 Subspecies * 2 Distribution and habitat * 3 Behaviour * 3.1 Diet * 3. More
Forest Raven Art Studio has found a new home. To find the new website, please follow the link below. www.forestraven. More
Forest Ravens, and today, in two different venues, I managed to make some improvement. While processing the shots, I realised that far from being black, seen in the right light, they're a rather nice, shiny, dark royal blue. For some time I believed, wrongly, that they were a Tasmanian endemic, perhaps the latin name corvus tasmanicus suggested that. I can recall photographing a very co-operative 'crow' on Wilson's Promontory some years back. More
Photo Wanted The Forest Raven (Corvus tasmanicus) is a large Australian species (50-52 cm in length) that inhabits the island state of Tasmania as well as other parts of south-eastern Australia. It has a proportionately larger bill and shorter tail than the other mainland corvid species and is the sole representative of the genus Corvus in Tasmania. An outlying population exists in a small area in the tablelands of north-eastern New South Wales. More
The Forest Raven inhabits a wide range of habitat within Tasmania such as woods, open interrupted forest, mountains, coastal areas, farmland and town and city fringes. It is also found in southern Victoria from the Otway Ranges east through Wilsons Promontory into Gippsland. Of concern is the fact that, in its present stronghold — the state of Tasmania — the Forest Raven is one of only four native birds that have no legal protection outside national parks and other reserves. More
race of the Forest Raven is the largest corvid in Australia. Photo: 868203-D 868203-D ... Forest Raven - a brown-eyed juvenile of the New England race., Tea Gardens N.S.W. More
The Forest Raven (Corvus tasmanicus) is a large all-black species of the crow genus native to Southeastern Australia and Tasmania. Description The Forest Raven is 50-52 cm in length with glossy black plumage and a white iris. It has a proportionately larger bill and shorter tail than the other mainland corvid species and is the sole representative of the genus Corvus in Tasmania. The call is a deep "korr-korr-korr-korr" with a similarly drawn out last note to the Australian Raven. More
The Forest Raven is 50-52 cm in length with glossy black plumage and a white iris. It has a proportionately larger bill and shorter tail than the other mainland corvid species and is the sole representative of the genus Corvus in Tasmania. The call is a deep "korr-korr-korr-korr" with a similarly drawn out last note to the Australian Raven. Subspecies An outlying population exists in a small area in the tablelands of north-eastern New South Wales. More
Forest Raven - Definition = Scientific classification Domain: Eukaryota Kingdom: Animalia Subkingdom: Metazoa Phylum: Chordata Class: Aves Order: Passeriformes Family: Corvidae Genus: Corvus Species: tasmanicus More