Sinaloa Crow
It occurs on the Pacific slope from southern Sonora south to central Nayarit. The crow inhabits coastal regions where it forages on the seashore, semi-desert, open woodlands, river banks and hills up to 300 metres or more. It is very common around coastal towns and villages.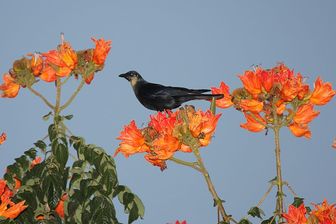 Picture of the Sinaloa Crow has been licensed under a Creative Commons
Attribution-Share Alike
.
Original source
: Flickr: Sinaloa Crow (Corvus sinaloae)
Author
: Dominic SheronyPermission(Reusing this file)This image, which was originally posted to Flickr.com, was uploaded to Commons using Flickr upload bot on 07:08, 9 July 2011 (UTC) by DreamOfShadows (talk). On that date it was licensed under the license below. This file is licensed under the Creative Commons Attribution-Share Alike 2.0 Generic license.You are free:to share – to copy, distribute and transmit the work
The Sinaloa Crow is classified as Least Concern. Does not qualify for a more at risk category. Widespread and abundant taxa are included in this category.

Sinaloa Crow of the Pacific slope; in fact, the two are considered conspecific by some. Identification The Tamaulipas Crow is a small crow, very shiny in appearance, black overall but with a purplish tint above and purplish to bluish-green gloss underneath. The bill is small and short. Its call is much like that of the Fish Crow, but Fish Crows are not found in this region. More
The Sinaloa Crow (Corvus sinaloae) is a crow native to western Mexico. Visually, it is nearly identical to and the same length (34-38 cm) as the Tamaulipas Crow (Corvus imparatus). It has the same purple-glossed, silky, black plumage with a black bill, legs, and feet. The two species differ markedly in voice. It occurs on the Pacific slope from southern Sonora south to central Nayarit. More
* The Tamaulipas Crow is the counterpart of the Sinaloa Crow of the Pacific slope; in fact, the two are considered conspecific by some. * The voice of this Crow is unusual and unlike most other species of the genus Corvus. It has a low croaking sound rather like a frog and a call that is described as a soft "gar-lik". * Unknown north of the U.S. More
the Tamaulipas Crow and Sinaloa Crow of Mexico and forms a species group with them. The Dominican local name for the palm crow is cao, which is onomatopoeic of the simple and repetitive call of this bird. There it is locally common, mainly in mountain pine forests and also around the area of the lake Enriquillo. Copyright: Wikipedia. This article is licensed under the GNU Free Documentation License. It uses material from Wikipedia. More
Sinaloan Crows, Sinaloa Crows aka Mexican Crows = Sinaloan CrowThe Sinaloan Crow or Sinaloa Crow (Corvus sinaloae) is a crow native to western Mexico. It is both visually identical to and the same length (34-38 cm) as the Tamaulipas Crow (Corvus imparatus) to which it is very closely related except that the tail is very slightly longer. It has the same silky plumage that is very glossy with black bill, legs and feet. More
the Tamaulipas Crow and Sinaloa Crow of Mexico and forms a species group with them. Coyote_icon.jpg This animal article is a stub. You can help Wikipedia by expanding it (http://www.wordiq.com/definition/Palm_Crow). Copyright 2010 WordIQ.com - Privacy Policy :: Terms of Use :: Contact Us :: About Us This article is licensed under the GNU Free Documentation License. It uses material from the this Wikipedia article. More