Daurian Jackdaw
It is the same size or perhaps slightly smaller than the latter species, with the same proportions and identical habits. The principal difference is its plumage; many but not all adults of this species have large areas of creamy white on the lower parts extending up around the neck as a thick collar. The head, throat, wings and tail are glossy black and the ear coverts are grizzled grey. Darker adults and young birds resemble Eurasian Jackdaws, though Daurian Jackdaws have a black iris, unlike the distinctive grey-white iris of the Eurasian Jackdaw.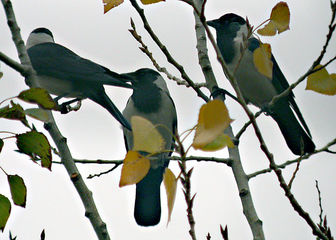 Picture of the Daurian Jackdaw has been licensed under a Creative Commons
Attribution-Share Alike
.
Original source
: Originally from zh.wikipedia; description page is/was here.
Author
: Original uploader was Snowyowls at zh.wikipedia
The Daurian Jackdaw is classified as Least Concern. Does not qualify for a more at risk category. Widespread and abundant taxa are included in this category.

The Daurian Jackdaw (Corvus dauuricus) is a member of the Corvidae or crow family of birds. It is closely related to the Eurasian Jackdaw. The name derives from the Dauria region of eastern Russia. It is the same size or perhaps slightly smaller (32 cm in length) than the latter species, with the same proportions and identical habits. More
The Daurian jackdaw, of eastern Asia, is similar but paler, with a more common colour phase in which the foreback, neck, and belly are white. Originally nesting in hollow trees or cliffs, jackdaws have adapted to urban life and nest on churches, castles, and other old buildings. Like other crows, they are omnivorous and noisy. More
The Daurian Jackdaw (Corvus dauuricus) is a member of the Corvidae or crow family of birds. It is closely related to the Eurasian Jackdaw. More
The Daurian Jackdaw (Corvus dauuricus) is a member of the crow family of birds. It is closely related to the Eurasian Jackdaw. Description It is the same size or perhaps slightly smaller (32 cm in length) than the latter species, with the same proportions and identical habits. The principal difference is its plumage; this species have large areas of creamy white on the lower parts extending up around the neck as a thick collar. More
Daurian Jackdaw determination Similar species Corvidae Alpine Chough | Azure-Winged Magpie | Carrion Crow | Chough | Daurian Jackdaw | Hooded Crow | House Crow | Jackdaw | Jay | Magpie | Raven | Rook | Siberian Jay | Spotted Nutcracker | source: J. More
For the purposes of our bird news services, Daurian Jackdaw is classed as Mega: species which have not yet occurred in the British Isles or are exceedingly rare, or are otherwise highly desirable. show section Products featuring Daurian Jackdaw (1) BWPi DVD-ROM 2.0 (DRBWP: £135.95) show section External Links (0) We currently have no external links for this species. More
Aspects of the topic Daurian jackdaw are discussed in the following places at Britannica. Assorted References * jackdaw (in jackdaw (bird)) ...and blotched. The bird's cry sounds like its name: "chak." The species ranges from the British Isles to central Asia; eastward it is replaced by the white-breasted, white-collared Daurian jackdaw (C. dauuricus). More
RECENT SIGHTINGS OF DAURIAN JACKDAW IN KAZAKHSTAN - About 10 Daurian Jackdaws (Corvus dauuricus) have been regularly seen near a rubbish dump by Alexeevka village (east of Almaty). Sergey Shmygalev first spotted them feeding together with Rooks, Hooded Crows and Eurasian Jackdaws at the beginning of February 2010. Then Oleg Belyalov, Fedor Karpov, Andrey Kovalenko and Svetlana Annenkova observed some birds at the beginning of March. Andrey Kovalenko kindly provided us with photographs. More
the Daurian jackdaw (Corvus dauricus), which is found in Siberia, Mongolia, and China. It is quite similar in appearance and habits to C. monedula, but the Daurian jackdaw has a black iris, and many of the Daurian jackdaws have large areas of creamy white on the lower parts, extending up around the neck. This article, however, will be limited to discussion of C. monedula. More
Not only has the Daurian Jackdaw a broad collar of a pure white, but the lower parts of the body are white also. The Eurasian Jackdaw is the smallest as well as one of the best known in the UK of the Corvidae family (Crow and its relatives). Although the Jackdaw is much less numerous than the ROOK, it inhabits the outskirts of even large towns as well as the country. More
The Daurian Jackdaw stayed at Katwijk aan Zee till May 6th, then it moved to Den Haag (Zuid-Holland), where it stayed from May 13th till May 15th. Later it became known the Jackdaw was already seen at Hargen (Noord-Holland) on May 1st (cf Dutch Birding 17: 130 & 132, 1995 and Dutch Birding 18: 226-231, 1996). More