Australian Raven
It is omnivorous and has adapted well to urban environments and is a common city bird in Sydney and Canberra.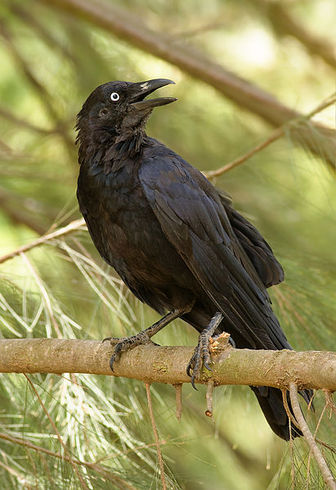 Picture of the Australian Raven has been licensed under a Creative Commons
Attribution-Share Alike
.
Original source
: Own work
Author
: JJ Harrison (http://www.noodlesnacks.com/)Camera location
The Australian Raven is classified as Least Concern. Does not qualify for a more at risk category. Widespread and abundant taxa are included in this category.

Australian Raven at nest. Australian Raven at nest. Photo: Purnell Collection © Australian Museum Australian Raven. Image from: John Gould (1804-81) The birds of Australia 1840-48. 7 vols. 600 plates Artists: J. Gould and E. Gould; Lithographer: E. Gould. Australian Raven. Image from: John Gould (1804-81) The birds of Australia 1840-48. 7 vols. 600 plates Artists: J. Gould and E. Gould; Lithographer: E. Gould. Photo: Research Library © Australian Museum Australian Raven. Australian Raven. More
The Australian Raven (Corvus coronoides) is the largest Australian member of the genus Corvus and one of three Australian species commonly known as ravens. It is a more slender bird than the Common Raven of the Northern Hemisphere but is otherwise similar. It has all-black plumage, beak and legs with a white iris, as do the other Corvus members in Australia and some species from the islands to the north. It is distinguished by its prominent throat hackles and grey bases of its black feathers. More
It is likely some Australian Ravens were recorded as Little Ravens in the survey. However, the Little Raven's behaviour and living patterns differ from those of the Australian Raven, and therefore they do not compete with each other. The calls of the two birds also differ. The Australian Raven has a long sorrowful ending to its call whereas the Little Raven has not. The Australian Raven has obvious hackles, that is, feathers standing out on the throat. More
Description: The Australian Raven Corvus coronoides, male is 50-56cm long, while the female looks similar she is a few cm shorter. They are the same size as the Forest Raven, but larger than the Little Raven which is only 40-45 cm long. The area at the base of the lower bill is bare, on the Australian Raven but feathered on the other Ravens. More
Australian Ravens are black with white eyes in adults. The feathers on the throat (hackles) are longer than in other species, and a bird tends to extend these when calling, while holding its head and body in a horizontal position. Australian Ravens are usually seen in pairs. Another aid to identification of this species is the absence of wing-flicking while calling. Young birds resemble the adults, but have dark eyes, shorter throat hackles and often the presence of a pink, fleshy gape. More
At 52 cm (20 in) in length, the adult Australian Raven is an all black bird with black feet and beak and a white iris. The plumage is glossy with a blue-purple to blue-green sheen, greenish over the ear coverts, depending on light. The underparts are not glossy. Its throat feathers (hackles) are longer than those of other species. It can be distinguished from the two species of crow occurring in Australia by the grey base of the feathers, which is white in the latter species. More
Australian Raven Size: 50cm Habitat: Found in Central QLD, NSW, VIC, SA and southern WA, found in most habitats excluding closed forest. Consumes carrion, insects and cereal grains. Notes: Black bird with long throat hackles and white eye. Breeds in Winter. For more information on Australian Raven see references. Images have been uploaded in low resolution for storage efficiency, ( they do not reflect the true image quality). Original images are high quality photographic files. More
Australian RavenThe Australian Raven (Corvus coronoides) is the largest member of the genus Corvus and one of three commonly known as ravens in Australia. It is a more slender bird than the Common Raven of the Northern Hemisphere but is otherwise similar. Like the other Corvus members in Australia and some species from the islands to the north, it has a white iris. More
Results for: australian ravenTranslations 1 - 30 of 31 English English Finnish Finnish australian raven australiankorppi, Corvus coronoides raven korppi little raven pikkukorppi, Corvus mellori fan-tailed raven lyhytpyrstökorppi, Corvus rhipidurus forest raven tasmaniankorppi, Corvus tasmanicus common raven korppi, Corvus corax chihuahuan raven aavikkokorppi, Corvus More
Here's an Australian raven (Corvus coronoides) for you. Although they aren't quite as heavy as the American raven, they're still very handsome and have more of a bluish sheen to their feathers. Ravens do eat things that aren't carrion. They also eat insects and small verterbrates and occasionally they even hunt another bird. Once in Canberra I saw a raven attacking a pidgeon. More
The Australian Raven is a black bird with white eyes in adults. The hackles on the neck (the throat feathers) are longer than in other species of crows. Australian Ravens usually live in pairs. Immatures are similar to adults but have dark eyes. More
The Australian Raven (Corvus coronoides) is the largest member of the genus Corvus found in Australia. It is more slender than the Common Raven of the Northern Hemisphere but is otherwise similar. Like the other Corvus members in Australia and some species from the islands to the north, it has a white iris distinguished in this species by having a light blue ring around the pupil. The totally black feathers have a beautiful blue or bluish purple gloss in bright light. More
Currawong, Australian Raven, Kookaburra on my balcony = portantwas 15 vidéos S'abonnerModifier l'abonnement Chargement… 4827 vues 4827 vues portantwas — 19 février 2008 — My balcony has a great view, so birds come and sit lookout. Here's a compilation of three of the regulars - Curr... portantwas — 19 février 2008 — My balcony has a great view, so birds come and sit lookout. More
The Australian Raven is striking in its shiny black plumage and it More