Grey Shrike-thrush
Of medium size and lacking bright colours, the Grey Shrike-thrush—usually just thrush in casual conversation—has an extraordinary gift for ringing melody, unmatched by any other Australasian species save perhaps the two lyrebirds and its northern relative, the Sandstone Shrike-thrush.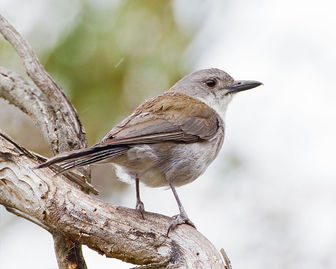 Picture of the Grey Shrike-thrush has been licensed under a Creative Commons
Attribution-Share Alike
.
Original source
: Own work
Author
: Noodle snacks (http://www.noodlesnacks.com/)Camera location
The Grey Shrike-thrush is classified as Least Concern. Does not qualify for a more at risk category. Widespread and abundant taxa are included in this category.

The Grey Shrike-thrush is evaluated as Least Concern on the IUCN Red List of Threatened Species. Grey Shrike-thrush.oggPlay video Kobble Creek, SE Qld, Australia, April 2008 Grey Shrike-thrush foraging for food and nesting materials subspecies strigata References - * BirdLife International (2004). Colluricincla harmonica. 2006. IUCN Red List of Threatened Species. IUCN 2006. www.iucnredlist.org. Retrieved on 12 May 2006. More
Grey Shrike-thrush at nest in hollow tree. Grey Shrike-thrush at nest in hollow tree. Photo: M Seyfort © Australian Museum Grey Shrike-thrush, in nest. Grey Shrike-thrush, in nest. Photo: W Longmore © Australian Museum Grey Shrike-thrush. Image from: John Gould (1804-81) The birds of Australia 1840-48. 7 vols. 600 plates Artists: J. Gould and E. Gould; Lithographer: E. Gould. Grey Shrike-thrush. Image from: John Gould (1804-81) The birds of Australia 1840-48. 7 vols. 600 plates Artists: J. Gould and E. More
Grey Shrike-thrush Size: 24cm Habitat: Found throughout Australia excepting our most arid regions, this bird feeds on insects, lizards and small mammals. Found in forest, scrublands, parks and gardens. Notes: Grey bird with lighter underbelly, black bill, black eye. Breeds Winter-Spring-Summer. For more information on Grey Shrike-thrush see references. Images have been uploaded in low resolution for storage efficiency, ( they do not reflect the true image quality). Original images are high quality photographic files. More
Lateral view of a Grey Shrike-thrush in the Gammon Ranges (click on image for larger version) Near-frontal view of a Grey Shrike-thrush checking who is crawling through the underbrush (click on image for larger version) Grey Shrike-thrush in our former garden (click on image for larger version) Grey Shrike-thrush in our former garden (click on image for larger version) More
The Grey Shrike-thrush is an inhabitant of forests and woodlands, and an altitudinal migrant. It has one of the most melodious songs of any Australian bird - hence the name harmonica. The photograph is of an immature bird. They are fairly quiet when in suburban gardens in the non-breeding season where they forage for insects in the branches of medium to large trees. Most birds arrive in Canberra in April and May. More
The Grey Shrike-thrush is best known for its lovely song. Birdwatchers call this bird the "GST". Grey Shrike-thrush - Colluricincla harmonica Photo: Katoomba, Blue Mountains NSW Grey Shrike-thrush - Colluricincla harmonica Artwork: John Gould, 'The Birds of Australia', 1848. Original Scanned Image. Return to Australian Birds Return to Site Map Website by Grey Shrike-thrush - Colluricincla harmonica Linkworks® 2005-2010. This page was last modified on the 18th of March, 2010. More
The Grey Shrike-thrush, Colluricincla harmonica is one of the best-loved and most distinctive songbirds of Australasia. It is moderately common to common in most parts of Australia, but absent from the driest of the inland deserts. It is also found in New Guinea. More
Identification: The grey shrike-thrush has a mid-grey body with a brownish wash on the back and wings. The male has a white patch in front on the eye whereas the female has a lightly streaked throat and breast. Call/Song: Makes a frequently heard ring whistle whit-whit-whit as well as a beautiful clear melodious song that varies considerably. More
Current topic : Grey Shrike-thrush - View Index - Search for : 1 : Grey Shrike-thrush {| border="1" cellspacing="0" align="right" cellpadding="2" style = "margin-left: 0. More
The Grey Shrike-thrush occurs in a range of habitats from forest and woodland, scrub and gardens. Diet The Grey Shrike-thrush searches for insects, spiders and small skinks among leaf litter on the ground, around fallen logs and on the limbs and trunks of trees. Fruits and seeds may occasionally be eaten. Breeding Grey Shrike-thrush are monogamous and may inhabit the same area throughout their life. More
The Grey Shrike-Thrush is a resident breeding bird species in our garden here in Murray Bridge, South Australia. We really enjoy its beautiful call with its rich tones and far carrying sound. This species is known for its call, but the pair resident in out garden is not all that vocal, even when breeding. In fact, during nesting they are almost silent around here, which tends to be the opposite in many other places. More
The Grey Shrike-thrush can also be found larger offshore islands and in southern New Guinea. This bird is a forager, mainly on the ground around fallen logs, but also on the limbs and trunks of trees, looking for insects, spiders, small mammals, frogs and lizards and occasionally fruit and seeds to eat. The Grey Shrike-thrush usually mates for life and inhabit the same areas throughout this time. Breeding territories of up to ten hectares are maintained. More