Bower's Shrike-thrush
Its natural habitats are subtropical or tropical moist lowland forests and subtropical or tropical moist montanes.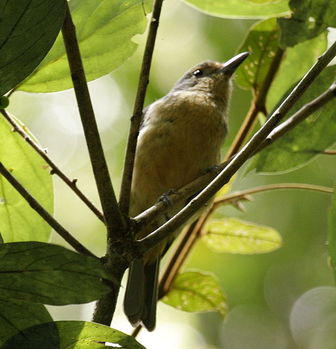 Picture of the Bower's Shrike-thrush has been licensed under a Creative Commons
Attribution-Share Alike
.
Original source
: AvicedaCamera location
Author
: AvicedaCamera location
The Bower's Shrike-thrush is classified as Least Concern. Does not qualify for a more at risk category. Widespread and abundant taxa are included in this category.

The Bower's Shrike-thrush (Colluricincla boweri) is a species of bird in the Colluricinclidae family. It is endemic to Australia. Its natural habitats are subtropical or tropical moist lowland forests and subtropical or tropical moist montanes. References - * BirdLife International 2004. Colluricincla boweri. 2006 IUCN Red List of Threatened Species. Downloaded on 25 July 2007. More
The Bower's Shrike-thrush is a species of bird in the Colluricinclidae family. Many birds in this family such as the Grey and Sandstone shrike-thrush sing songs that are considered to be some of the most beautiful in the avian world. Physical Description The Bowers Shrike-thrush is a small shrike. Like its relatives, it is long-tailed, and perches quite upright. The adult male's upper parts and crown are darkish brown. More
For the purposes of our bird news services, Bower's Shrike-Thrush is classed as Ungraded: species that are unlikely to appear as wild birds in Britain or Ireland hide section Most recent photos of Bower's Shrike-Thrush (1) Paluma, Queensland, Australia Paluma, Queensland, Australia14/11/2009 Paluma, Queensland, Australia 14/11/2009 View all pictures of Bower's Shrike-Thrush View all pictures of Bower's Shrike-Thrush show section External Links (0) We currently have no external links for this species. More