Ashy Prinia
The Ashy Prinia or Ashy Wren-Warbler , is a small warbler. This prinia is a resident breeder in the Indian subcontinent, western Myanmar and Sri Lanka. It is a familiar bird of urban gardens and farmland in many parts of India and its small size, distinctive colours and upright tail make it easy to identify.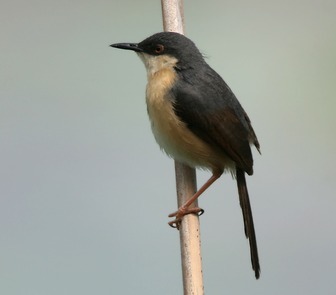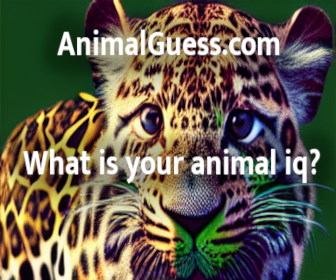 Picture of the Ashy Prinia has been licensed under a
GFDL
Original source
: J.M.Garg
Author
: J.M.Garg
Permission
: GNU Free Documentation License
The Ashy Prinia is classified as Least Concern. Does not qualify for a more at risk category. Widespread and abundant taxa are included in this category.

The Ashy Prinia or Ashy Wren-Warbler (Prinia socialis), is a small warbler. This prinia is a resident breeder in the Indian subcontinent, western Myanmar and Sri Lanka. It is a familiar bird of urban gardens and farmland in many parts of India and its small size, distinctive colours and upright tail make it easy to identify. More
Ashy Prinia Prinia socialis in Hyderabad, India. Plain Prinia Prinia inornata in Kolkata, West Bengal, India. Grey-breasted Prinia Prinia hodgsonii in Shamirpet, Rangareddy district, Andhra Pradesh, India. Search Wikimedia Commons Wikimedia Commons has media related to: Prinia The prinias are a genus of small insectivorous birds belonging to the passerine bird family Cisticolidae. They are often also alternatively classed in the Old World warbler family, Sylviidae. More
Like most warblers, the Ashy Prinia is insectivorous. The song is a repetitive tchup, tchup, tchup or zeet-zeet-zeet. It also makes a sound like "electric sparks" which is believed to be produced by the wings or possibly the beak. It is most easily distinguished by the loud snapping noise it makes during flight. How this noise is produced we do not know for certain. Reid was of opinion that the bird snapped its long tail. More
Ashy Prinia Prinia socialis - Mystery Bird of the month - June 2002 Yellow-bellied Prinia Prinia flaviventris Yes this indeed is what this bird is as you can see from the second picture. Nobody got it correct this month although 6 opted for Plain Prinia and 3 for Jungle Prinia. More
Tags: Ashy Prinia, Ashy Wren-Warbler, bird, birds, Bondel, Canon EF 400mm f/5.6 L USM, Canon EOS 5D mark II, Prinia socialis Posted in Nature, Photography, Wildlife | Comments (2) 2 Responses to "Ashy Prinia" 1. shiva Says: August 1st, 2009 at 9:44 AM I feel little white body of the bird is over exposed, the background makes it hard to get the best exposure of white. More
Ashy Prinia (Prinia socialis) at Hodal I IMG 9173.jpgAshy Prinia (Prinia ... 164,435 bytes Ashy Prinia (Prinia socialis) at Secunderabad, AP W IMG 6577.jpgAshy Prinia (Prinia ... 167,416 bytes Ashy Prinia (Prinia socialis) at Secunderabad, AP W IMG 6578.jpgAshy Prinia (Prinia ... 156,736 bytes Ashy Prinia (Prinia socialis) at Secunderabad, AP W IMG 6580.jpgAshy Prinia (Prinia ... More
* Ashy Prinia, Prinia socialis * Tawny-flanked Prinia, Prinia subflava * Plain Prinia, Prinia inornata * Pale Prinia, Prinia somalica * River Prinia, Prinia fluviatilis * Black-chested Prinia, Prinia flavicans * Karoo Prinia, Prinia maculosa * Drakensberg Prinia, Prinia hypoxantha * Sao Tome Prinia, Prinia molleri * Banded Prinia, Prinia bairdii More
Ashy Prinia (Prinia socialis) nest- front view in West Indian Elm (Guazuma ulmifolia) in Hyderabad, AP W IMG 7498.jpgAshy Prinia (Prinia ... 162,690 bytes Ashy Prinia (Prinia socialis) nest- side view in West Indian Elm (Guazuma ulmifolia) in Hyderabad, AP W IMG 7491.jpgAshy Prinia (Prinia ... 155,228 bytes Ashy Prinia- Bhopal I3 IMG 0798.jpgAshy Prinia- Bhopal ... 130,395 bytes Ashy Prinia- Hodal, Distt. Faridabad I IMG 0824.jpgAshy Prinia- Hodal, ... More
* Ashy Prinia (Prinia socialis) Adult perched on a twig. Mahad, Raigad District, Konkan Division, Maharashtra, India Ryan Brookes 20 July 2009 28 weeks ago 3.7 * Bird perched on a twig The Nilgiris District, Tamil Nadu, India (ssp Socialis) vasanthan.p.j 27 June 2009 45 weeks ago 3. More
Tags: Ashy Prinia (Prinia socialis), birds, Bondel, Canon EF 400mm f/5.6 L USM, Canon EOS 5D mark II, Kenko extension tube set Posted in Nature, Photography, Wildlife | Comments (4) 4 Responses to "More Ashy Priniae" 1. Pratap Says: September 30th, 2009 at 7:11 PM Second shot is awesome! 2. More
Ashy Prinia sitting on a high perch & signing at different notes. * * Add Video To Your Social Bookmarks Bookmark and Share Add comment - Something to say?.... More
Ashy Prinia Prinia socialis socialis - Adult calling Ashy Prinia Photographer : More
Ashy Prinia View in original album Photo Properties summary details Make NIKON CORPORATION Model NIKON D300S Aperture Value f/8 Color Space Uncalibrated Exposure Bias Value 0 EV Exposure Program Manual Flash No Flash Focal Length More
Ashy Prinias ( Prinia socialis ) Family : Cisticolidae Ashy Prinia ( Prinia socialis ) Family : Cisticolidae Paddy-Feild Pipit ( Anthus rufulus ) Family : Motacillidae Blue-Tailed Bee-Eater ( Merops philippinus ) Family : Meropidae Shikra ( Accipiter badius ) Family : Accipitridae Spoted Dove ( Streptopelia chinensis ) Family : Columbidae More
Ashy Prinia at Madiwala lake - Bangalore has many species of birds, fast depleting because of the city's exponential growth. We start a new series to get you started with bird watching in the city. By Saurabh Mittal 13 Jan 2009, Citizen Mattersbookmark email print Bangalore, one the fastest growing cities in India, has been known as the Garden City. The city boasts of congenial climate that birds thrive in. More