Wailing Cisticola
The northern subspecies C. l. distinctus of Uganda, Kenya and northern Tanzania is sometimes regarded as a separate species, Lynes's Cisticola.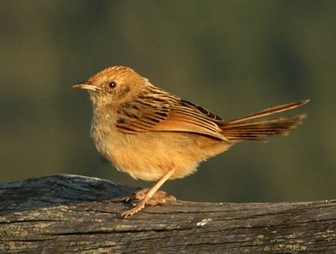 Picture of the Wailing Cisticola has been licensed under a Creative Commons
Attribution-Share Alike
.
Original source
: Alan Manson
Author
: Alan Manson
The Wailing Cisticola is classified as Least Concern. Does not qualify for a more at risk category. Widespread and abundant taxa are included in this category.

The Wailing Cisticola (Cisticola lais) is a species of bird in the Cisticolidae family. It is found in Angola, Kenya, Lesotho, Malawi, Mozambique, South Africa, Swaziland, Tanzania, Uganda, Zambia, and Zimbabwe. Its natural habitat is subtropical or tropical high-altitude grassland. The northern subspecies C. l. distinctus of Uganda, Kenya and northern Tanzania is sometimes regarded as a separate species, Lynes's Cisticola. References - * BirdLife International 2004. Cisticola lais. More
Distribution of Wailing cisticola in southern Africa, based on statistical smoothing of the records from first SA Bird Atlas Project (© Animal Demography unit, University of Cape Town; smoothing by Birgit Erni and Francesca Little). Colours range from dark blue (most common) through to yellow (least common). See here for the latest distribution from the SABAP2. Food It ears a variety of invertebrates, doing most of its foraging in dense undergrowth with grass and shrubs. More
The Wailing Cisticola (Latin name Cisticola lais) is described in Roberts Birds of Southern Africa, 7th Edition. This bird has a unique Roberts number of 670 and you will find a full description of this bird on page 830 also a picture of the Wailing Cisticola on page 912. The Wailing Cisticola belongs to the family of birds classified as Cisticolidae. The map of the Kruger you see on this page shows the areas (coloured orange) where this bird has been identified. More
png Search for photos of Wailing Cisticola in the BirdForum Gallery Retrieved from "http://www.birdforum.net/opus/Wailing_Cisticola" Categories: Birds | Cisticola Advertisement * This page was last modified 21:31, 19 April 2010. * This page has been accessed 2,583 times. * Privacy policy * About Opus * Disclaimers Search the net with ask. More
Wailing Cisticola Cisticola lais 2009 IUCN Red List Category (as evaluated by BirdLife International - the official Red List Authority for birds for IUCN): Least Concern Justification This species has an extremely large range, and hence does not approach the thresholds for Vulnerable under the range size criterion (Extent of Occurrence 30% decline over ten years or three generations). More
Wailing Cisticola Cisticola lais = Qwantani, Sterkfontein Dam, Free State, South Africa - Jan 8, 2006 More
Wailing Cisticola The Wailing Cisticola (Cisticola lais) is a species of bird in the Cisticolidae family. It is found in Angola, Kenya, Lesotho, Malawi, Mozambique, South Africa, Swaziland, Tanzania, Uganda, Zambia, and Zimbabwe. Its natural habitat is subtropical or tropical high-altitude grassland. See more at Wikipedia.org... More
of Wailing Cisticola were heard on the cool slopes. Day 2 - 3 October 2006 Mountain weather is unpredictable and thick mist blanketed the mountain until after 9:00 when we were afforded a few brief breaks in the gloom along the road to Sentinel. White-necked Ravens, Wailing Cisticola and Long-billed Pipit were in evidence on the mountain. More