Red-faced Cisticola
The race C. e. lepe, found in Angola and possibly the south-east of the Democratic Republic of Congo, is sometimes regarded as a separate species, the Lepe Cisticola.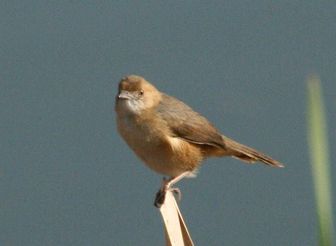 Picture of the Red-faced Cisticola has been licensed under a Creative Commons
Attribution-Share Alike
.
Original source
: Alan Manson
Author
: Alan Manson
The Red-faced Cisticola is classified as Least Concern. Does not qualify for a more at risk category. Widespread and abundant taxa are included in this category.

The Red-faced Cisticola (Cisticola erythrops) is a species of bird in the Cisticolidae family. It is found in Angola, Benin, Botswana, Burkina Faso, Burundi, Cameroon, Central African Republic, Republic of the Congo, Democratic Republic of the Congo, Ivory Coast, Ethiopia, Gabon, Gambia, Ghana, Guinea, Kenya, Liberia, Malawi, Mali, Mauritania, Mozambique, Namibia, Nigeria, Rwanda, Senegal, Sierra Leone, South Africa, Sudan, Swaziland, Tanzania, Togo, Uganda, Zambia, and Zimbabwe. Its natural habitats are subtropical or tropical seasonally wet or flooded lowland grassland and swamps. More
Distribution of Red-faced cisticola in southern Africa, based on statistical smoothing of the records from first SA Bird Atlas Project (© Animal Demography unit, University of Cape Town; smoothing by Birgit Erni and Francesca Little). Colours range from dark blue (most common) through to yellow (least common). See here for the latest distribution from the SABAP2. Food It eats a variety of insects, doing most of its foraging low down in the undergrowth. More
a picture of the Red-faced Cisticola on page 865. The Red-faced Cisticola belongs to the family of birds classified as Cisticolidae. The map of the Kruger you see on this page shows the areas (coloured orange) where this bird has been identified. The basic information was provided by the Avian Demographic Unit based at UCT and I created the maps from that information ... More