Pale-crowned Cisticola
At 9-10cm. this is a small, streak backed cisticola with short or medium tail which may get longer in the breeding season.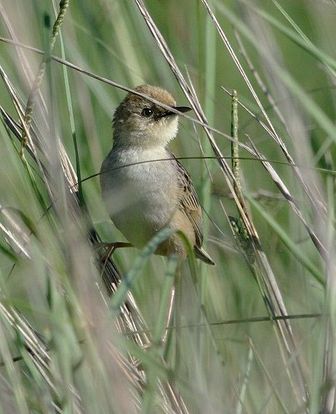 Picture of the Pale-crowned Cisticola has been licensed under a Creative Commons
Attribution-Share Alike
.
Original source
: Alan Manson
Author
: Alan Manson
The Pale-crowned Cisticola is classified as Least Concern. Does not qualify for a more at risk category. Widespread and abundant taxa are included in this category.

from the Pale-crowned Cisticola in having a pale rufous (not buff) crown and forehead in the breeding season. The pectoral patches become darker in the breeding season, but even then they may not be easy to see. Voice - The voice is stonechat-like in quality with harsh 'tssk tssk' or 'szisk szisk' notes given in display flight. References - 1. More
Distribution of Pale-crowned cisticola in southern Africa, based on statistical smoothing of the records from first SA Bird Atlas Project (© Animal Demography unit, University of Cape Town; smoothing by Birgit Erni and Francesca Little). Colours range from dark blue (most common) through to yellow (least common). See here for the latest distribution from the SABAP2. Food It mainly eats insects and small spiders, doing most of its foraging at the bases of grass tufts. More
Other than these two records, Pale-crowned Cisticolas have been recorded along the escarpment and on the coastal plain of N. KZN. Closest records to Gauteng are from Dullstroom area. Gaps in Knowledge: Currently, the lack of more records from the well-monitored Marievale BS, would seem to indicate that that record should be attributed to vagrancy. The Devon birds were territorial and seemed to be breeding, which indicates that they might be localized residents – possibly extending their breeding range in wet years. More
such as this Pale-crowned Cisticola , are known to exhibit some of the most fascinating breeding displays of any passerines. During the spring and summer months, the male Pale-crowned Cisticola attains a brighter plumage and performs remarkable aerial displays high above his territory. Whilst calling continually, he circles to such heights that he often becomes invisible to the naked eye. Eventually he tumbles back towards the earth, emitting unusual wing clicks. Of the world More
Pale-crowned Cisticola, Mountain Wagtail, African Pygmy-Kingfisher, Scaly-throated Honeyguide, Greater Honeyguide and Lesser Honeyguide, Habitats Coastal evergreen forest, bush and grassland mosaic, streams, dams, marshes. Facilities Facilities include good gravel roads, walking trails, picnic sites and toilets, and a small hutted camp. More
Wing-snapping Cisticola, Pale-crowned Cisticola, African Rock Pipit, Yellow-breasted Pipit, Swee Waxbill and Forest Canary. Habitats Habitats include high-altitude grassland, vleis/wetlands, river valleys, rocky hillsides, mountains and cliffs, high-altitude mist belt forest and cultivated lands. Facilities A network of gravel roads and tracks allows access to most habitats, although road conditions may vary considerably, particularly after summer thunderstorms. More
Wing-snapping Cisticola, Pale-crowned Cisticola, Mountain Wagtail and African Pygmy-Kingfisher. For more information and bookings 'phone 033-845-1000. 5. Umdoni Park - One of South Africa's best kept birding secrets; Umdoni (name of the large water-berry trees found along the estate's watercourses and swampy areas) affords truly outstanding coastal forest birding opportunities. More