White-throated Dipper
The head of the adult White-throated Dipper is brown, the back slate-grey mottled with black, looking black from a distance, and the wings and tail are brown. The throat and upper breast are white, followed by a band of warm chestnut which merges into black on the belly and flanks. The bill is almost black, the legs and irides brown. C. c. cinclus has a black belly band.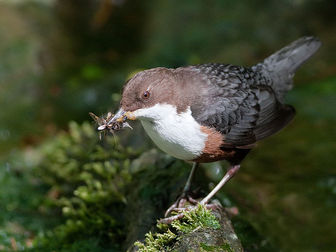 Picture of the White-throated Dipper has been licensed under a Creative Commons
Attribution
.
Original source
: DipperUploaded by snowmanradio
Author
: Mark MedcalfOther versions
The White-throated Dipper is classified as Least Concern. Does not qualify for a more at risk category. Widespread and abundant taxa are included in this category.

White-throated Dipper standing in frozen river; Waterspreeuw zittend in bevroren rivier Date: Saturday, August 4 2007 Filename: AGAMI White-throated Dipper Finland 2006 Markus Varesvuo leuku_mv_0142. More
The Cyprus race of the White-throated Dipper is extinct. In the Atlas Mountains dippers are claimed to have aphrodisiacal properties. In parts of Scotland and Germany, until the beginning of the 20th century, bounties were paid for killing dippers because of a misguided perception that they were detrimental to fish stocks through predation on the eggs and fry of salmonids. Despite threats to local populations, the conservation status of most dipper species is considered to be of least concern. More
The head of the adult White-throated Dipper (gularis and aquaticus) is brown, the back slate-grey mottled with black, looking black from a distance, and the wings and tail are brown. The throat and upper breast are white, followed by a band of warm chestnut which merges into black on the belly and flanks. The bill is almost black, the legs and irides brown. C. c. cinclus has a black belly band. The young are greyish brown and have no chestnut band. More
The White-throated Dipper is found in most European countries with suitable habitat, and its patchy distribution continues across Asia to the Pacific Ocean. These remarkable birds resemble very large chunky wrens with white breasts. With their short, strong wings they have little trouble swimming under water or even walking along the bottom searching for food. They are sedentary and solitary - and most races only move from their breeding territories in extreme winter conditions. More
White-throated DipperThe White-throated Dipper (Cinclus cinclus) is an aquatic passerine bird found in Europe and the Middle East, also known as the European Dipper or just Dipper. The species is divided into several subspecies on colour differences, especially of the pectoral band. The nominate Black-bellied Dipper, C. c. cinclus, has no chestnut on the lower breast. It breeds in northern Europe and wanders to milder regions in winter. It has been recorded from the United Kingdom on many occasions. More
White-throated Dipper in flight Finland March Koskikara lennossa Cinclus cinclus. 2010:03:13 12:41:14 199. White-throated Dipper in flight Finland March Koskikara lennossa Cinclus cinclus. 2010:03:13 12:05:36 339. . More
White-throated Dipper is an amazing bird, unique by its behaviour. To hear its melodious song with the sweet noise of the running current in background is something superb. Dipper is the soul of the mountain torrents, displaying its white breast from rock to rock, and challenging the fast-flowing waters. More
The White-throated Dipper is Norway's national bird. More
I have never seen a White-throated Dipper and this is a wonderful introduction. The colors, details, pose, setting are all superb. More
A fine capture of this pretty White-throated Dipper from a great POV with excellent details and nice composition. More
The White-throated Dipper (Cinclus cinclus) is an aquatic passerine bird found in Europe and the Middle East, also known as the European Dipper or just Dipper. The species is divided into several subspecies on colour differences, especially of the pectoral band. More
* White-throated Dipper (Cinclus cinclus) on Hebden Water0:33 * Ajouter à la file d'attente Ajoutée à la file d'attente White-throated Dipper (Cinclus cinclus) on Hebd... More
A white-throated dipper of the british ... redshouldervids — 4 août 2008 — Videod in Upper Dove Dale in the Derbyshire Dales, England in June 1995. A white-throated dipper of the british race (Cinclus cinclus gularis) catches Mayflies (Ephemeroptera) and takes them to its young in a nest concealed in the root ball of a fallen Crack Willow (Salix fragilis). The bird repeatedly took the same route to the nest. More