Green-winged Saltator
Its natural habitats are subtropical or tropical moist lowland forests and heavily degraded former forest.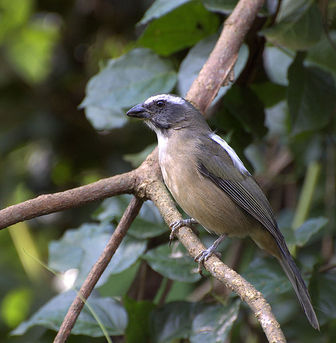 Picture of the Green-winged Saltator has been licensed under a Creative Commons
Attribution-Share Alike
.
Original source
: TRINCA-FERRO-VERDADEIRO (Saltator similis)
Author
: Dario Sanches from SÃO PAULO, BRASIL
The Green-winged Saltator is classified as Least Concern. Does not qualify for a more at risk category. Widespread and abundant taxa are included in this category.

The Green-winged Saltator (Saltator similis) is a species of cardinal (bird) in the Cardinalidae family. It is found in Argentina, Bolivia, Brazil, Paraguay, and Uruguay, and ranges into the southern cerrado and the pantanal. Its natural habitats are subtropical or tropical moist lowland forests and heavily degraded former forest. References - * BirdLife International 2004. Saltator similis. 2006 IUCN Red List of Threatened Species. More
* Green-winged Saltator Saltator similis * Orinocan Saltator Saltator orenocensis * Black-cowled Saltator Saltator nigriceps * Golden-billed Saltator Saltator aurantiirostris * Thick-billed Saltator Saltator maxillosus * Masked Saltator Saltator cinctus * Black-throated Saltator Saltator atricollis * Rufous-bellied Saltator Saltator rufiventris Footnotes - 1. More
* Name: Green-winged Saltator, Saltator similis similis More
A Green-winged Saltator seen in Itatiaia. Note buff, not white, throat and long white eyebrow. The Green-winged Saltator is found in Brazil and surrounding countries.More photos... More
Green-winged SaltatorThe following is a full list of Saltator species: * Lesser Antillean Saltator Saltator albicollis : The Lesser Antillean Saltator is a songbird traditionally placed in the family Cardinalidae, but as it seems it is closer to the tanagers (Thraupidae). It is found in Dominica, Martinique, Saint Kitts and Nevis, Saint Lucia, and Trinidad and Tobago. More
The Green-winged Saltator is a secretive and hard to observe bird generally encountered in humid forests where he skulks amongst the vegetation. Many birders incorrectly identify the greenish-backed juvenile of the more widespread Greyish Saltator as this species when confronted with it for the first time, but note the much longer white eyebrow of this species which extends well beyond the eye. More
Green-winged Saltator Saltator similis = Argentina - Aug, 2006 More
Green-winged Saltator Saltator similis = Described by: d'Orbigny; Lafresnaye (1837) Alternate common name(s): None known by website authors Old scientific name(s): None known by website authors Photographs Chapada Diamantina, Bahia, Brazil - Jul, 2002 More
Green-winged Saltator - Saltator similis Saltator olive = Saltator olive Gallery : © Philippe Wolfer Site web : Oiseaux d'Argentine Order : Passériformes Family : Cardinalidae Species : Green-winged Saltator Age : Adult Reference: phvo82403 Other pictures Date taken : 2010 Apr Geographic data Country : Argentina (ar) Region : Provincia de Corrientes More