Ultramarine Grosbeak
The Ultramarine Grosbeak is a species of cardinal in the Cardinalidae family. It is found in a wide range of semi-open habitats in eastern and central South America, with a disjunct population in northern South America. The male closely resembles the Blue-black Grosbeak, while the females are quite different.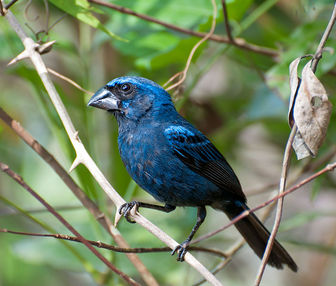 Picture of the Ultramarine Grosbeak has been licensed under a Creative Commons
Attribution-Share Alike
.
Original source
: AZULÃO Cyanoloxia brissonii )Uploaded by Snowmanradio
Author
: Dario Sanches from São Paulo, Brazil
The Ultramarine Grosbeak is classified as Least Concern. Does not qualify for a more at risk category. Widespread and abundant taxa are included in this category.

The Ultramarine Grosbeak (Cyanocompsa brissonii) is a species of cardinal in the Cardinalidae family. It is found in a wide range of semi-open habitats in eastern and central South America, with a disjunct population in northern South America. The male closely resembles the Blue-black Grosbeak, while the females are quite different. References - * BirdLife International 2004. Cyanocompsa brissonii. 2006 IUCN Red List of Threatened Species. More
The Ultramarine Grosbeak (Cyanocompsa brissonii) is a species of cardinal (bird) in the Cardinalidae family. It is found in Argentina, Bolivia, Brazil, Colombia, Paraguay, Uruguay, and Venezuela. Its natural habitats are subtropical or tropical dry forests, subtropical or tropical moist lowland forests, and subtropical or tropical dry shrubland. http://en.wikipedia.org/wiki/Ultramarine_Grosbeak The text in this page is based on the copyrighted Wikipedia article shown in above URL. It is used under the GNU Free Documentation License. More
cross your legs, male Ultramarine Grosbeaks at least are not likely to be confused. Females on the other hand are big and brown, the largest of a group of unrelated brown birds with massive bills that all essentially share the same plumage pattern. By the way, should you come across one of these birds injured, wear gloves before you touch it. They bite hard!!FIGURE 1 - Adult male, Bah More
Male Ultramarine Grosbeak in Burgers Desert of Burgers Zoo in Arnhem, the Netherlands. Mannetje Ultramarijnbisschop in Burgers Desert van Burgers Zoo in Arnhem, Nederland.) The Ultramarine Grosbeak (Cyanocompsa brissonii, old Passerina brissonii) is a species of cardinal (bird) in the Cardinalidae family. It is found in Argentina, Bolivia, Brazil, Colombia, Paraguay, Uruguay, and Venezuela. More