Gray-chinned Minivet
It is found in Bangladesh, Bhutan, Cambodia, China, India, Indonesia, Laos, Malaysia, Myanmar, Nepal, Taiwan, Thailand, and Vietnam. Its natural habitat is subtropical or tropical moist lowland forests.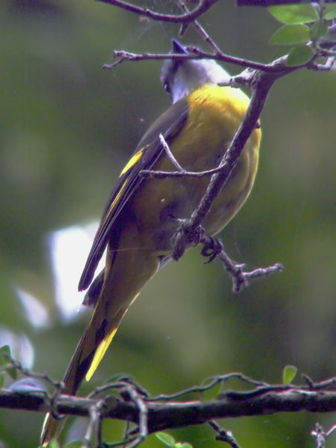 Picture of the Gray-chinned Minivet has been licensed under a Creative Commons
Attribution-Share Alike
.
Original source
: Flickr here
Author
: Flickr user CharlesLam . Photo uploaded to commons by user ltshears
The Gray-chinned Minivet is classified as Least Concern. Does not qualify for a more at risk category. Widespread and abundant taxa are included in this category.

Gray-chinned Minivet has black areas replaced by dark gray-brown, the lower back and rump are greenish-yellow, and the wing patch and underparts are bright yellow. The Gray-chinned Minivet prefers open forest, forest edge and secondary growth. It feeds on insects, foraging in the canopy of the forest, picking prey from the terminal foliage, and also making short flights to capture flying termites and other insects. More
Gray-chinned Minivet Pericrocotus solaris = Described by: Blyth (1846) Alternate common name(s): Grey-chinned Minivet, Grey-throated Minivet, Gray-throated Minivet, Yellow-throated Minivet, Mountain Minivet Old scientific name(s): Pericrocotus montanus Photographs Frasers Hill, Malaysia - Apr, 2002 More
Gray-chinned Minivet, Pericrocotus solaris Campephagidae (CUCKOO-SHRIKES) Gray-chinned Minivet, Pericrocotus solaris This photo was taken in: Thailand Notes on this photo: Male The photo was taken by: Peter Ericsson Thailand Reports Reports from birdtours.co. More
Gray-chinned Minivet Pericrocotus solaris = Taipei, Taiwan - Nov, 2006 More
* female gray-chinned minivet female gray-chinned minivet 灰喉山椒鳥 in the high canopy of acacias near New Garden City, Xindian, Taipei, Taiwan wet lowland broad Taiwan phormosa 10 October 2008 1 year ago 3.8 * A male in a leafless tree. More
* Gray-chinned Minivet, Pericrocotus solaris * Genus Hemipus * Bar-winged Flycatcher-shrike, Hemipus picatus * Black-winged Flycatcher-shrike, Hemipus hirundinaceus References - 1. ^ a b Clancey, P.A. (1991). Forshaw, Joseph. ed. Encyclopaedia of Animals: Birds. London: Merehurst Press. pp. 176. ISBN 1-85391-186-0. 2. More
Gray-chinned Minivet , Pericrocotus solaris - fairly common in appropriate habitat; mostly mid-elevation. BULBULS Collared Finchbill, Spizixos semitorques - 2, Tsengwen Dam area. STYAN'S BULBUL , Pycnonotus taivanus - More than 100 in Kenting area. Light-vented Bulbul , Pycnonotus sinensis - common almost everywhere. Black Bulbul, Hypsipetes leucocephalus - common in wooded habitats. More
Gray-chinned Minivet, taken at Butterfly Valley Resort, Hualien County, TAIWAN To take full advantage of Flickr, you should use a JavaScript-enabled browser and install the latest version of the Macromedia Flash Player. Comments view profile cupi says: always my fave ... great shot .... Posted 34 months ago. More