Ashy Minivet
It is 18.5–20 cm long. The male is grey above and whitish below. It has a black cap with a white forehead and there is a white band across the flight-feathers. The outer tail feathers are white. The bill and feet are black. The female's cap is grey apart from a black band between the bill and eye and a narrow white band above it. The call is a high-pitched, metallic trill.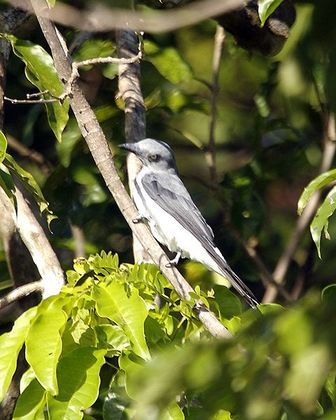 Picture of the Ashy Minivet has been licensed under a Creative Commons
Attribution-Share Alike
.
Original source
: Ashy Minivet (Pericrocotus divaricatus)
Author
: Lip Kee Yap from Singapore, Republic of SingaporeCamera location
The Ashy Minivet is classified as Least Concern. Does not qualify for a more at risk category. Widespread and abundant taxa are included in this category.

Immature Ashy Minivet in a mixed species foraging flock - Posted by BESG on 28 February 10, Sunday Contributed by Dato' Dr Amar-Singh HSS "Three Ashy Minivets (Pericrocotus divaricatus divaricatus) as part of a mixed foraging party of a pair of Dark-necked Tailorbird (Orthotomus atrogularis atrogularis), Olive-winged Bulbuls (Pycnonotus plumosus plumosus), and others (got distracted by Miniverts and missed the rest - possibly Crimson and Ruby-cheeked Sunbirds and Green Ioras). More
The Ashy Minivet (Pericrocotus divaricatus) is a passerine bird of eastern Asia belonging to the minivet genus Pericrocotus in the cuckoo-shrike family Campephagidae. While most of the minivets have shades of yellow, orange and red in their plumage, this species has only greys, whites and blacks. The male is distinctive with a white face and black nape although females can be confused with the female of the Brown-rumped Minivet. They forage in the canopy, often along with other minivets and join mixed-species foraging flocks. More
A sighting of one male and three female Ashy Minivets on 19 May 2007 at Mamushi Rock in Shari was reported in issue #29 (2008) of the Bulletin of the Shiretoko Museum (Kenkyuu Houkoku). This represents the first confirmed sighting of an Ashy Minivet in the Okhotsk region, so we have added it to our Checklist. The Ashy Minivet breeds in southwestern Japan and is a rare summer visitor to Hokkaido where it appears most often on Teuri Island, in the Japan Sea off the west coast. More
The sighting of Ashy Minivet is an important record for North East India. The Grimmett's book does not show any dots or crosses in the map for this region. More
The Ashy Minivet (Pericrocotus divaricatus) is a passerine bird of eastern Asia belonging to the minivet genus Pericrocotus in the cuckoo-shrike family Campephagidae. Ashy-crowned Sparrow-lark The Ashy-crowned Sparrow-lark, Eremopterix grisea also known as the Ashy-crowned Finch-lark, is a passerine bird which is a resident breeder in South Asia from Pakistan through peninsular India down to Sri Lanka. More
Ashy Minivet (Pericrocotus divaricatus) is a winter visitor in India. More