Polynesian Triller
It is 15 to 16 cm long. The plumage varies geographically; some populations are contrastingly black and white while others have more grey or brown coloration.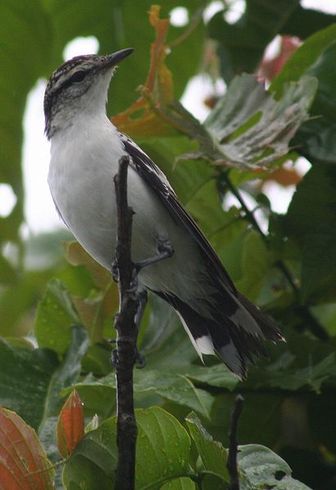 Picture of the Polynesian Triller has been licensed under a
GFDL
Original source
: Own work
Author
: Duncan Wright
Permission
: GNU Free Documentation License
The Polynesian Triller is classified as Least Concern. Does not qualify for a more at risk category. Widespread and abundant taxa are included in this category.

The Polynesian Triller (Lalage maculosa) is a passerine bird belonging to the triller genus Lalage in the cuckoo-shrike family Campephagidae. It has numerous subspecies distributed across the islands of the south-west Pacific. It is 15 to 16 cm long. The plumage varies geographically; some populations are contrastingly black and white while others have more grey or brown coloration. It is a noisy bird with a nasal, rasping call. The song is short and high-pitched. More
For the purposes of our bird news services, Polynesian Triller is classed as ungraded: species which are unlikely to appear as wild birds in Britain or Ireland (Note that rarity levels are currently applied nationally and may not reflect local variations in abundance. More
like Polynesian Trillers and this is not illustrated in the field guide Birds of The Solomons, Vanuatu and New Caledonia (Doughty et al, 1999). As well, the field guide states that both species are common throughout Vanuatu, which is not the case; Long-tailed Trillers are more widespread and common than Polynesian Trillers. Table 1 presents some differences that may helpful in identifying trillers in Vanuatu. More