Ground Cuckooshrike
Ground Cuckoo-shrikes are not listed as threatened on the Australian Environment Protection and Biodiversity Conservation Act 1999.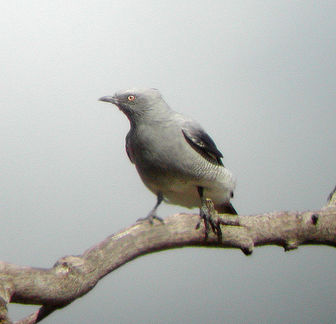 Picture of the Ground Cuckooshrike has been licensed under a Creative Commons
Attribution-Share Alike
.
Original source
: Aviceda
Author
: Aviceda
The Ground Cuckooshrike is classified as Least Concern. Does not qualify for a more at risk category. Widespread and abundant taxa are included in this category.

Ground Cuckooshrike (Coracina (Pteropodocys) maxima) - North of Deniliquin 26.1 241. Black-faced Cuckooshrike (Coracina novaehollandiae) - Moorooduc Quarry 21.1, Deniliquin 25.1, Gulpa State Forest 27.1 242. White-winged Triller (Lalage (sueurii) tricolor) - North of Deniliquin 26.1, Warby Range 28.1, Mount Pilot 29.1 243. Willie-wagtail (Rhipidura leucophrys) - Belmont 20.1, Werribee 20.1, Braeside Park 21.1, Swan Lake 21.1, Deniliquin 25.1, Deniliquin 26.1, North of Deniliquin 26.1, Gulpa State Forest 27.1, Deniliquin 27. More
there they were: a couple of Ground Cuckooshrikes just in the trees near the road, happily preening each other! Marvelous birds! Never give up, so we drove on to another spot that I visited with Warwick for Black Falcon and within 10 minutes a flock of raptors showed, including Whistling Kites, Wedges and two ... Black Falcons! Very far away, high and difficult to see but obvious showing the horizontally held wings while soaring. More