Eastern wattled cuckoo-shrike
The Eastern Wattled Cuckoo-shrike is a species of bird in the Campephagidae family. It is found in Cameroon, Central African Republic, Republic of the Congo, Democratic Republic of the Congo, Gabon, and Nigeria. Its natural habitat is subtropical or tropical moist lowland forests.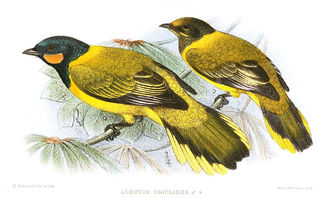 The Eastern wattled cuckoo-shrike is classified as Data Deficient (DD), inadequate information to make a direct, or indirect, assessment of its risk of extinction.

The Eastern Wattled Cuckoo-shrike (Campephaga oriolina) is a species of bird in the Campephagidae family. It is found in Cameroon, Central African Republic, Republic of the Congo, Democratic Republic of the Congo, Gabon, and Nigeria. Its natural habitat is subtropical or tropical moist lowland forests. References - * BirdLife International 2004. Campephaga oriolina. 2006 IUCN Red List of Threatened Species. Downloaded on 25 July 2007. More