Grey-backed Sparrow-Lark
The Grey-backed Sparrow-lark is a species of lark in the Alaudidae family. It is found in Angola, Botswana, Democratic Republic of the Congo, Lesotho, Namibia, South Africa, Zambia, and Zimbabwe. Its natural habitats are subtropical or tropical dry shrubland and subtropical or tropical dry lowland grassland.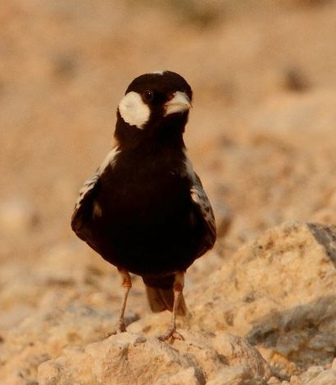 Picture of the Grey-backed Sparrow-Lark has been licensed under a Creative Commons
Attribution-Share Alike
.
Original source
: Alan Manson
Author
: Alan Manson
The Grey-backed Sparrow-Lark is classified as Least Concern. Does not qualify for a more at risk category. Widespread and abundant taxa are included in this category.

Grey-backed Sparrow-lark Eremopterix verticalis verticalis The Karoo, Sept and Dec 2006, and the Agulhas Plains, April 2007 One of three species of sparrow-lark occurring in southern Africa, the Grey-backed Sparrow-lark is a SW African endemic found from coastal Angola throughout Zimabwe and Namibia, and down to the Cape. In South Africa it is perhaps most commonly found in the Karoo, where it can be easily seen feeding along the gravel roads that cut through the region. More
The Grey-backed Sparrow-lark (Eremopterix verticalis) is a species of lark in the Alaudidae family. It is found in Angola, Botswana, Democratic Republic of the Congo, Lesotho, Namibia, South Africa, Zambia, and Zimbabwe. Its natural habitats are subtropical or tropical dry shrubland and subtropical or tropical dry lowland grassland. References - * BirdLife International 2004. Eremopterix verticalis. 2006 IUCN Red List of Threatened Species. Downloaded on 24 July 2007. More
Mystery Bird: Grey-Backed Sparrow-Lark, Eremopterix verticalis - Topic Categories: Birding • Education • Mystery Birds • Photography • Teaching Posted on: July 10, 2009 9:59 AM, by "GrrlScientist" tags: Grey-Backed Sparrow-Lark, Eremopterix verticalis, birds, mystery bird, bird ID quiz Grey-Backed Sparrow-Lark, Eremopterix verticalis, photographed in Swakopmund, Namibia, Africa Image: Dennis Paulson, April 2007 . More
* Grey-backed Sparrow-lark, Eremopterix verticalis * Chestnut-headed Sparrow-lark, Eremopterix signata * Fischer's Sparrow-lark, Eremopterix leucopareia * Ashy-crowned Sparrow-lark, Eremopterix grisea * Genus: Ammomanes * Bar-tailed Lark, Ammomanes cincturus * Rufous-tailed Lark, Ammomanes phoenicurus * Desert Lark, Ammomanes deserti More
Grey-backed Sparrow-Lark Eremopterix verticalis African Red-eyed Bulbul Pycnonotus nigricans Banded Martin Riparia cincta Barn Swallow Hirundo rustica Pearl-breasted Swallow Hirundo dimidiata White-throated Swallow Hirundo albigularis Rock Martin Ptyonoprogne fuligula Brown-throated Martin Riparia paludicola Greater Striped Swallow Cecropis cucullata Lesser Striped Swallow Cecropis abyssinica Red-breasted Swallow Cecropis semirufa Willow Warbler Phylloscopus trochilus Icterine Warbler Hippolais icterina Rattling Cisticola Cisticola chiniana Grey-backed Cisticola Cisticola More
Grey-backed Sparrow-lark Eremopterix verticalis 2009 IUCN Red List Category (as evaluated by BirdLife International - the official Red List Authority for birds for IUCN): Least Concern Justification This species has an extremely large range, and hence does not approach the thresholds for Vulnerable under the range size criterion (Extent of Occurrence 30% decline over ten years or three generations). More
Grey-backed Sparrow-lark Eremopterix verticalis Fairly common throughout in suitable habitat. A near-endemic to Southern Africa being also found in w. Angola and southwest Zambia. Barn Swallow Hirundo rustica Seen in small numbers on almost every day. Pearl-breasted Swallow Hirundo dimidiata Two seen from the car on our way to Kamanjab on 7 April. Greater Striped Swallow Hirundo cucullata Two on the 30th of March near Swartfontein guest farm. More
Grey-backed Sparrow-Lark Eremopterix verticalis In Etosha, 100+ between Namutoni & Halali on 19th, 40 between Halali & Okaukuejo on 20th & 100 at Okaukuejo waterhole on 21st. At Brandberg, 15 on 25th. White-throated Swallow Hirundo albigularis One at Windhoek Sewage Works on 29th. Pearl-breasted Swallow Hirundo dimidiata 3 between Okaukuejo & Hobatere on 21st & 3 near Otjitotongwe on 24th. Greater-striped Swallow Hirundo cucullata One at Windhoek Sewage Works on 29th. More