Raso Lark
The Raso Lark is restricted to one small island in the Cape Verde group, although historically it is believed to have ranged over two other islands, Branco and Sao Vicente Island; all three of these islands were joined in the last Ice Age. Branco island itself has no permanent water and has never been inhabited by people, a fact that has probably saved the lark from extinction until now.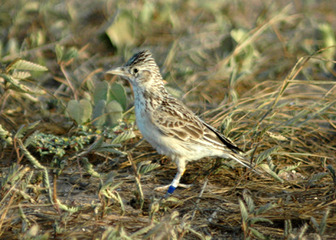 Picture of the Raso Lark has been licensed under a
GFDL
Original source
: Justin Welbergen
Author
: Justin Welbergen
Permission
: GNU Free Documentation License
The Raso Lark is classified as Critically Endangered (CR), facing an extremely high risk of extinction in the wild.

The Raso Lark (Alauda razae) is a small passerine bird with a highly restricted range, being found only on Raso islet in the Cape Verde Islands. This critically endangered member of the Alaudidae lives in highly arid terrain, and is considered one of the least known birds in the western Palaearctic region, due to its remoteness and the lack of much ornithological study on the archipelago as a whole. More
coast of Africa, the diminutive Raso lark is perilously close to extinction. The plumage of this species is a mixture of creamy white, black and brown streaks on the upperparts and breast, becoming uniform creamy white on the underparts (2). The head is crowned with a short, erectile crest, while the bill is thick and robust, and slightly longer in the male (2) (3). More
Conservation measures underway Raso Lark has been officially protected under Cape Verde law since 19556 and in 1990, Raso was declared a national park2. To date there has been no enforcement of these laws on the ground3. Surveys have revealed the absence of cats on the island. Annual population monitoring has been carried out since 2001, and future research is planned to understand the conditions needed to enable successful breeding9. The practicalities and desirability of a possible translocation project are being investigated9. More
The Raso Lark is restricted to one small island in the Cape Verde group, although historically it is believed to have also ranged over two other islands, Branco Island and Sao Vicente Island; all three of these islands were joined in the last Ice Age. The island itself has no permanent water and has never been inhabited by people, a fact that has probably saved the lark from extinction until this point. More
The picture for the Raso Lark bird is gone i was wondering when someone is going to fix this! thanks in advance.RollyGem 16:20, 3 May 2007 (UTC) Retrieved from "http://en.wikipedia. More
The Raso Lark is one of the most remote, understudied and endangered birds on the planet. They live only on Raso Island, a part of the Cape Verde Islands. More
The Raso lark Alauda razae is one of the rarest and most threatened birds in the world. It is confined to the tiny island of Raso (7 km2) in the Cape Verde Islands of the east Atlantic, and may have the smallest range of any land bird in the world. Until recently, its status and ecology were virtually unknown, due largely to the difficulty of reaching Raso. More
The Raso Lark is a Critically Endangered species endemic to the island of Raso in the Cape Verde Islands. World Birdwatch 24(4) See Also Raso Lark factsheet Biodiversity in Africa's Protected Areas ... World governments fail to deliver on 2010 ... A month is a long time in BirdLife - April ... Global outlook for biodiversity: massive loss ... More
Raso Lark is found in the following countries: 1. Cape Verde Site Developed & Maintained by Shah Jahan & Sajna A Iqbal Design By FSquares COPYRIGHT (C) TheBirdsISaw.COM. ALL RIGHTS RESERVED. 2007. More
| Raso Lark in English Use Babylon to translate to various languages Copyright © 1997-2007 Babylon. More
Africa, and one species (the Raso Lark) endemic to the islet of Raso in the Cape Verde Islands. These birds are 14-18 cm long and live in cultivation, heath, natural steppe and other open habitats. Their characteristic songs are delivered in flight. They are fairly undistinguished: streaked brown above and pale below, with a short, blunt,... More
Amongst the rarest of land birds are the Raso lark, of which perhaps only a hundred survive on Raso island an unpopulated islet west of Sao Nicolau. Migrants from across the Atlantic include green-winged teal, sandpipers (two variants) and lesser scaup, which may be seen on the unihabited islets or on Sao Vicente.. More
Raso Lark, copyrght Chris Batty Raso Lark, copyrght Chris Batty Raso Lark, copyrght Chris Batty Raso Lark, copyrght Chris Batty Hoopoe Lark, copyright Chris Batty Hoopoe Lark, copyright Chris Batty Hoopoe Lark, copyright Chris Batty Hoopoe Lark, copyright Chris Batty Target birds Common Quail (endemic form conturbans) São Nicolau: At least five singing along the approach road to the More
of Raso Lark Alauda razae with Notes on Threats and Foraging Behaviour." Bird Conservation International 9 (1999): 43–46. Riley, Steve. "Crested Lark Using 'Anvil'." British Birds 82 (1989): 30–31. Ryan, Peter G., Ian Hood, Paulette Bloomer, Joris Komen, and Timothy M. Crowe. "Barlow's Lark: A New Species in the Karoo Lark Certhilauda albescens Complex of Southwest Africa." Ibis 140 (1998): 605–619. Ryan, Peter G., and Paulette Bloomer. "The Long-Billed Lark Complex: A Species Mosaic in Southwestern Africa." Auk 116 (1999): 194–208. More
Raso lark - endemic for one island in the world 01-MAR-2004 Raso lark - endemic for one island in the world Canon EOS 1Ds 1/640s f/8.0 at 400.0mm iso100 full exif other sizes: small medium original previous | next Type your message and click Add Comment It is best to login or register first but you may post as a guest. Enter an optional name and contact email address. More