Virginia Rail
Adults are mainly brown, darker on the back and crown, with orange-brown legs. They have long toes, a short tail and a long slim reddish bill. Their cheeks are grey, with a light stripe over the eye and a whitish throat.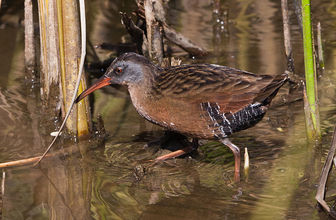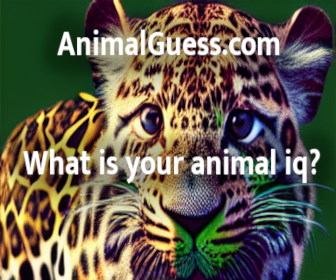 Picture of the Virginia Rail has been licensed under a Creative Commons
Attribution
.
Original source
: Virginia Rail, Rallus limicola, Morro Bay, CA 05 Sept 2011Uploaded by snowmanradio
Author
: Mike Baird from Morro Bay, USACamera location
The Virginia Rail is classified as Least Concern. Does not qualify for a more at risk category. Widespread and abundant taxa are included in this category.

The Virginia Rail, Rallus limicola, is a small waterbird, of the family Rallidae. Adults are mainly brown, darker on the back and crown, with orange-brown legs. They have long toes, a short tail and a long slim reddish bill. Their cheeks are grey, with a light stripe over the eye and a whitish throat. Their breeding habitat is marshes from Nova Scotia to California and North Carolina, also in Central America and South America. More
Virginia Rail Range MapView dynamic map of eBird sightings Field MarksHelp - * Adult breedingPopOutZoom In Adult breeding * © 2004 Cornell Lab of Ornithology, Patagonia Lake, Arizona, May 2000 Similar Species - * Clapper Rail and King Rail similarly marked, but much larger, with More
* Virginia Rail Species Account - Cornell Lab of Ornithology * Virginia Rail Information and Photos - South Dakota Birds and Birding * Virginia Rail photo gallery VIREO; (with picture: egg clutch) * Virginia Rail videos on the Internet Bird Collection This entry is from Wikipedia, the leading user-contributed encyclopedia. More
Note: The most common survey method for Virginia Rails is to broadcast tape-recorded calls and listen for a rail to respond with its own call. Nests are located by wading through emergent vegetation in a zig-zag pattern. In several articles, a passive sampling problem exists in the methodology of surveys. The incidence function may not be a reliable method for determining the "area sensitivity" of species if sampling effort increases with the size of the habitat block surveyed (Johnson, D. H. 2001. More
Breeding Population: We failed to record Virginia rail on any of the random census plots in 1979-1980. Habitat: Most Virginia rails encountered in the study area are associated with dense emergent vegetation along the perimeter of wetlands, such as hardstem bulrush, cattail and common reed. Faanes (1982) reported that Virginia rail on a central North Dakota study area was restricted almost exclusively to dense emergent vegetation associated with permanent wetlands. More
Virginia Rail & Chick feeding in marsh = naturpro 40 vidéos S'abonnerModifier l'abonnement Chargement… 40 vues 40 vues naturpro — 29 mars 2009 — Virginia Rail & chick feeding in marsh naturpro — 29 mars 2009 — Virginia Rail & chick feeding in marshCatégorie : Sport Tags :Virginia rail chick feeding birding Chargement… J'aime Enregistrer dans Partager E-mail Skyrock Facebook Twitter MySpace Live Spaces Blogger orkut Buzz reddit Digg Chargement… Connectez-vous ou inscrivez-vous dès More
Virginia Rails-To-Trails map to zoom in and see the trails. More
did not take in, the Virginia rail's name would have been more appropriate than it is today; for it is by no means a local bird, as its name might imply, and neither on the coast nor in the interior, north and south, is it rare. Short of wing, with a feeble, fluttering flight when flushed from the marsh, into which it quickly drops again, as if incapable of going farther, this small land lover can nevertheless migrate immense distances. More
Aspects of the topic Virginia rail are discussed in the following additional content sources. * Magazines * High time For Rails. Bay Nature, January 2007 Expand Your Research: Try searching magazines and ebooks for "Virginia rail". No results found. - Type a word or double click on any word to see a definition from the Merriam-Webster Online Dictionary. More
février 2008 — A glimpse of a Virginia rail at the Celery Farm Natural Area, Allendale, NJCatégorie : Animaux Tags :Virginia Rail Chargement… J'aime Enregistrer dans Partager E-mail Skyrock Facebook Twitter MySpace Live Spaces Blogger orkut Buzz reddit Digg Chargement… Connectez-vous ou inscrivez-vous dès maintenant ! Publier un commentaire Répondre Chargement… Résultats pour : Chargement… File d'attente (0) Chargement… * Virginia Rail0:35 More
North American RangeThe Virginia Rail is a medium-sized bird of both fresh and salt water marshes. It has a long, slightly decurved bill and a short, upturned tail. The body, legs, and bill are reddish in color, and the cheeks are gray. The flanks are banded black and white. Juveniles are blackish-brown above with black or gray mottled underparts. More
Like other rails, the Virginia Rail has large feet for walking over soggy ground, and claw-like appendages at the bend of wing for clambering. This rail prefers not to be seen and rarely vocalizes outside the breeding season. Range & Distribution The Virginia Rail breeds from the west coast of the United States throughout the upper Midwest and lower Canada, to the mid-Atlantic Coast, and north into the Canadian Maritimes. More
Virginia Rail: Black Rails has red eyes, white spots on back, and barred flanks. . Home | Search | Browser | Expert | Forum | Store | My Whatbird | Help | Site Map © 2002 - 2007 www.whatbird.com All rights reserved. No part of this web site may be reproduced without written permission from Mitch Waite Group. Privacy Policy site stats Quantcast Percevia® Registered in the U.S. Patent and Trademark Office. More
and secretive Virginia Rail whom we spotted beside a marshy pool in the Pt. Reyes Area. Our wonderful day in Marin County treated us to the thrill of a darling muskrat family and an exciting bobcat…true wonders. We consider the Virginia Rail to be a real birder's sighting, as most folks would simply pass by his habitat and never see him. He hides in the reeds and his marbled, black and brown plumes really blend into this environment. More
but like many wetland birds, Virginia rail numbers have declined in correlation with our loss of wetlands. - Virginia Rail Rallus limicola At-a-Glance • Incubation: 18-20 days • Clutch Size: 6-13 eggs • Young Fledge: 25 days after hatching • Typical Foods: insects, fish, aquatic invertebrates, and seeds Description Virginia rails have rusty colored underparts, barred flanks, and gray cheeks. The bill is long, reddish, and slightly downcurved. More
The Virginia Rail is a secretive bird, a relative of coots and cranes. And it's a bird you'll more often hear than spy. The rail takes its name from its narrow body – "as skinny as a rail" – an adaptation to its favorite marshy habitats. A Virginia Rail walks hidden, squeezing through dense reeds and grasses. The call of a male Yellow Rail sounds like someone tapping two small stones together. You can count yourself lucky if you have actually seen a Virginia Rail. More
The Virginia Rail - Very nice photograph (taken in the nearby Anza-Borrego Desert State Park) presented on the "Bird Photography.com" Web site. Rail Project Update - Radio-tagging and tracking marsh birds project displayed by the "San Francisco Bay Bird Observatory" site. Click the links at the bottom of their page for photographs and more information. More
See wood ducks on pond, with Virginia rails, common yellowthroats and marsh wrens in cattails.Woods Creek Wildlife Area; Birders' Top Spots by The Seattle Times (Seattle, WA)Mountain quail, Virginia rail, pileated woodpecker,For birders in pursuit, no winging it by The Register-Guard (Eugene, OR)Check for Virginia rails, American bitterns, occasional yellow-headed blackbirds. More
Behavior at Wakodahatchee: The Virginia Rail is one of the most, if not the most, elusive bird at Wakodahatchee. Al Liberman preformed a minor miracle by capturing these photographs. The best time to find them is early in the morning during the winter. The Virginia Rail is migratory, and is only present during the winter. Search around the edges of the Bulrush stands, and in thick Fireflag near open mudflats (especially around 13). The Virginia Rails are often heard before they are seen... More