Spotted crake
Their breeding habitat is marshes and sedge beds across temperate Europe into western Asia. They nest in a dry location in marsh vegetation, laying 6-15 eggs. This species is migratory, wintering in Africa and Pakistan.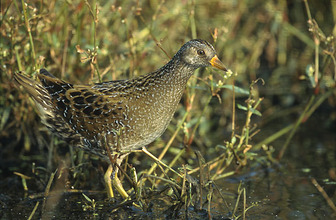 Picture of the Spotted crake has been licensed under a
GFDL
Author
: : Marek Szczepanek
Permission
: GNU Free Documentation License
The Spotted crake is classified as Least Concern. Does not qualify for a more at risk category. Widespread and abundant taxa are included in this category.

Immature Spotted Crakes are similar, but the blue-grey is replaced by brown. The downy chicks are black, as with all rails. These birds probe with their bill in mud or shallow water, also picking up food by sight. They mainly eat insects and aquatic animals. Spotted Crakes are very secretive in the breeding season, and are then mostly heard rather than seen. They are then noisy birds, with a distinctive repetitive whiplash-like call. They can be easier to see on migration. More
* Porzana porzana Linnaeus, 1766 - Spotted Crake (breeds in Eurasia, winters in Africa and India) * Porzana fluminea Gould, 1843 - Australian Spotted Crake * Porzana carolina Linnaeus, 1758 - Sora (North America) * Porzana spiloptera Durnford, 1877 - Dot-winged Crake (Argentina, Brazil, Uruguay) * Porzana albicollis Vieillot, 1819 - Ash-throated Crake (South America) * Porzana fusca Linnaeus, More
The Spotted Crake (Porzana porzana) is a small waterbird, of the family Rallidae. Their breeding habitat is marshes and sedge beds across temperate Europe into western Asia. They nest in a dry location in marsh vegetation, laying 6-15 eggs. This species is migratory, wintering in Africa and Pakistan. At 19-22.5 cm length, Spotted Crakes are slightly smaller than Water Rails, from which they are readily distinguished by the short straight bill, yellow with a red base. More
Wagtail, then the Spotted Crake in Somerset (I failed on Monday it was spooked for ages). The Catterpilla is a species of Hawk Moth I understand but don't quote me. John 2 September 2009 20:39 Wilma said... More
Immature Spotted Crakes are similar, but the blue-grey is replaced by brown. The downy chicks are black, as with all rails. The only confusion species is the Sora, a rare vagrant from North America. However, that species lacks the breast spotting and has an unstreaked crown stripe. These birds probe with their bill in mud or shallow water, also picking up food by sight. They mainly eat insects and aquatic animals. More
Spotted CrakeThe Spotted Crake (Porzana porzana) is a small waterbird of the family Rallidae, which includes rails, crakes, coots, and gallinules. The Spotted is one of the species to which the Agreement on the Conservation of African-Eurasian Migratory Waterbirds (AEWA) applies. Distribution / Habitat: Their breeding habitat is marshes and sedge beds across temperate Europe into western Asia. This species is migratory, wintering in Africa and India. More
Spotted Crake 2889 Porzana porzana Gruiiformes Rallidae at Sandwell valley. For more info go to http://worldbirds.page.tl/BIRDS-AND-BIRDING. More
For the purposes of our bird news services, Spotted Crake is classed as Scarce: broadly speaking, species that are covered in British Birds' annual review of scarce species (and forms of similar rarity). More
Distinguishing Features - The Spotted crake is a small member of the Rail family. Colouration: olive-brown upper parts streaked wth white and a grey, white-speckled breast. Spotted Crake Habitat The spotted crake nests over practically all of Europe, up to southern Scandinavia and western Russia, except the far north. In September to October it leaves its breeding grounds for wintering sites in southwestern Europe and the Mediterranean. When migrating, spotted crakes fly by night. More
Aspects of the topic spotted crake are discussed in the following places at Britannica. Assorted References * description (in crake (bird)) ...in which the bill is short and conical. The name is chiefly European but can be extended to New World rails of this type. The most widespread genus is Porzana (13 species), typified by the spotted crake (P. More
Spotted Crake August 2006 © Ivan Lakin Back | Home More
Spotted Crake at Eakring Flash September 2001 ..... The area's first ever Spotted Crake, delighted well over 200 admirers during it's lengthy stay, frequently showing for lengthy periods at a time. It's residence from August 16-September 15th, makes it the longest staying of any Nottinghamshire Spotted Crake. ..... The initial sighting was just a very brief view of a Crake-like bird diving into thick vegetation. More
Spotted Crake has a beautiful mottled pattern. Predominant colors are light blue and white against a reddish brown. The Spotted Crake has a head of clear crystal and a mirrored beak. Introduced in 2001..... Read More List: $225.00 Ours: $189.00 You Save: $36. More
the Spotted Crake is a remarkably simple, yet sophisticated design. Handblown by iittala of Finland. Price: $225.00 You Might Also Be Interested In..... Summer Finch by Toikka - limited supply SKU: 34553 Price: $225.00 Bullfinch by Toikka SKU: CT3140 Price: $315. More
The spotted crake is only the size of a starling. Breeding adults have a brown back with dark streaks, a blue-grey face and an olive-brown breast - all covered with white flecks and spots. The under tail is a warm buff colour. Spotted crakes tend to skulk in thick cover and walk with their body close to the ground and tail flicking. They swim with a jerky action like that of the moorhen. More
try for the Spotted Crake that had been reported there at 'The Lake' for the last three days. I arrived to find persistent rain and thankfully I had gone prepared with wellies, fleece, waterproof coat and a large umbrella. More
Spotted Crake on the Menu for Sparrowhawk Birdwatchers at the London Wetland Centre last weekend were horrified when they witnessed a rare bird they had come to see being devoured by a Sparrowhawk in front of their eyes. More
Spotted Crakes are very secretive in the breeding season and are then mostly heard rather than seen. They are then noisy birds with a distinctive repetitive whiplash-like 'hwuit hwuit' call. The word crake stems from the Middle English 'crow' and is probably a corruption of the Old Norse word 'kraka'. It may also originate from the Old English word 'crá' meaning 'croaking'. Earliest: Latest: October 1891 at Patchway. Highest Count: One on all dates. More
spotted crakespotted crake - Eurasian rail of swamps and marshesPorzana porzanacrake - any of several short-billed Old World railsgenus Porzana, Porzana - spotted crakes How to thank TFD for its existence? Tell a friend about us, add a link to this page, add the site to iGoogle, or visit webmaster's page for free fun content. More
The spotted crake nests over practically all of Europe except the far north, but it is absent in Spain, Portugal and Ireland. In September to October it leaves its breeding grounds for wintering sites in southwestern Europe and the Mediterranean, and especially in northwestern and eastern Africa where thousands of birds stay in the Upper Nile region. When migrating, spotted crakes fly by night. They inhabit lakes and ponds bordered with thick vegetation, marshes, swamps and overgrown river deltas. More
Spotted Crake songs of 2 birds Porzana porzana (0:23) Niels Krabbe XC25555 14-07-1997, Denmark Spotted Crake song Porzana porzana (0:11) Niels Krabbe XC25686 14-05-1982, Denmark Spotted Crake song Porzana porzana (0:59) Patrik Åberg XC26784 25-04-2007, Sweden Spotted Crake male song Porzana porzana (1:02) More