Hawaiian coot
The first reference to a coot in the Hawaiian Islands was by Andrew Bloxam, who saw it, although he did not collect a specimen, while in the islands in 1825 as the naturalist on board HMS Blonde. He mistook it for the Eurasian Coot, Fulica atra. It is now considered either to be a separate species, Fulica alai, or a subspecies of the American Coot, Fulica americana alai.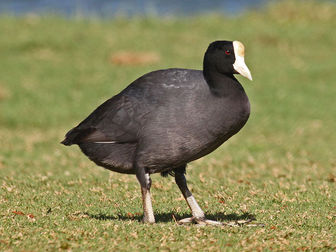 Picture of the Hawaiian coot has been licensed under a
GFDL
Original source
: Own work
Author
: DickDaniels (http://carolinabirds.org/)
Permission
: GNU Free Documentation License
The Hawaiian coot is classified as Vulnerable (VU), considered to be facing a high risk of extinction in the wild.

The Hawaiian Coot or ʻalae keʻokeʻo (Fulica alai) is a species of bird in the rail family, Rallidae, that is endemic to Hawaiʻi. Its natural habitats are freshwater lakes, freshwater marshes, coastal saline lagoons, and water storage areas. It is threatened by habitat loss and introduced predators such as the small Asian mongoose. The Makalawena Marsh on the Big Island of Hawaiʻi has been listed as a National Natural Landmark to preserve one of its last nesting areas. More
The Hawaiian Coot - Distribution and Population Status - - The Hawaiian Coot is a dark grey bird which from a distance looks black and has white undertail coverts. It is very similar to the American Coot (Fulica americana americana), but is slightly smaller in size and has a larger, more bulbous white frontal shield. More
The Hawaiian Coot (Fulica alai) is an endemic species found only in the Hawaiian Islands and can be found on all the Main Islands from Ni'ihau to Hawai'i, excluding Kaho'olawe. Occasionally birds may wander up to the Northwest Hawaiian Islands but the species has never been recorded away from the Hawaiian archipelago. American Coot (Fulica americana) can be found across mainland North America and is an occasional, but rare, visitor to Hawai'i. More
Hawaiian Coot, and a great number of other species throughout the U.S. and its territories. Unfortunately, the refuge system is often under-funded during the U.S. government's budgeting process. To learn more about how you can help gain much needed funding for U.S. National Wildlife Refuges, visit: http://www.audubon.org/campaign/refuge_report/ Join Hawaii Audubon Society. A chapter of National Audubon, the Hawaii Audubon Society works to protect and educate people about Hawaii's birds. For more information visit http://www.audubon. More
The Hawaiian Coot or ʻalae keʻokeʻo (Fulica alai) is an aquatic rail that is endemic to Hawaiʻi, where it inhabits freshwater lakes and marshes, coastal saline lagoons, and water storage areas. It is considered to be either a subspecies of the American Coot, Fulica americana alai, or a separate species, Fulica alai. Description This large rail averages 39 cm or 15 inches in length. The plumage is mostly dark slate-grey, darkest on the head. More
The Hawaiian Coot (Fulica Americana alai) or the 'Alae ke'oke'o is an endangered species and is endemic to Hawaii. The coot is a subspecies of the American coot. It is grayish black in color and has a white bill and frontal shield. The coots breed during the months of April-September. The female lays 4-10 cream colored eggs that are sprinkled with tiny brown spots, in a large floating nest made of weeds. Like the Hawaiian gallinule, the newborns can swim immediately after being hatched. More
The Hawaiian Coot is often found near beaches, golf courses, and other areas frequented by people; hence it is a familiar sight. It declined steeply during the 20th Century and now numbers between 2,000 to 4,000 individuals, with about 80% of these on Kauai, Maui, and Oahu. It is nomadic and wanders between the islands in search of suitable water bodies. Peak coot numbers follow years of high rainfall. More
Hawaiian wetland birds, the Hawaiian Coot is an Endangered Species, but it is by far the most numerous member of that sad assemblage. Because the Hawaiian Islands' now severely restricted wetland habitats are often found in proximity to beaches, golf courses, and other places frequented by residents and visitors, the Hawaiian Coot is a familiar sight in the islands, despite its status. As such, this species may be a good indicator of the health of Hawaiian Islands wetlands. More
Comments: Another endangered species, the Hawaiian Coot is similar to the American Coot. The two differ in the amount of crown on the head. Click here to go back to Introduced Birds Click here to go back to The Birds Website designed and created by Matthew Denny (2006). More
" The Hawaiian Coot lives from sea level to 500 feet elevation in both arid and semi-humid regions wherever there is some open fresh or brackish water bordered by emergent aquatic vegetation or heavy stands of grass. It is non-migratory and has no obvious seasonal movements. It still occurs on all the major islands except Lanai and Kahoolawe which lack suitable habitat. More
Hawaiian coots (Fulica alai) historically occurred on all of the main Hawaiian Islands except Lana'i and Kaho`olawe, which lacked suitable wetland habitat . They are known to have always been most numerous on Kaua'i, Maui, and O'ahu, but there are no historical population estimates. The population was low enough in 1939 to warrant establishment of a permanent hunting ban . In the 1950s it was considered to be on an extinction trajectory. Fewer than 1,000 birds were thought to remain in the late 1960s. More
The Hawaiian Coot is an endemic bird of the Hawaiian Islands and is on the Federal List of Endangered Species. According to refuge specialists, some 80 nests have been observed in the Kealia Ponds NWR during the 2007-2008 season which is up substantially from a year earlier. This bird was formerly treated as a race of the American Coot (F. americana). More
freshwwater in lowlands the Hawaiian Coot is capable of adapting to modified wetland habitat that includes reservoirs,drainage ditches to ponds on the golf course. The primary cause of decline of the native waterbird has been loss of wetland habitat. Diet Hawaiian Coots are omnivorous and feed on aquatic plants, snails, insects, crustaceans, tadpoles and small fish by diving beneath the water. It may also steal its food from other aquatic birds. More
The Hawaiian Coot (Fulica americana alai) is an endangered waterfowl—only about 1,500 of these birds are left. This fine art print of crystal clear water reflecting the Koolau mountains and blue sky makes a great gift idea for someone who wants Hawaiian-themed feng shui artwork for interior decoration. Click here to see details on Semi-Panoramic Print Options. To order, click on the tiny shopping cart icon under the image. More
The Hawaiian Coot is a beautiful bird. The coot is dark gray with a white bill and a big frontal shield. The frontal shield is usually white but can change to bright yellow to sky blue to really dark red. Male and female coots look and sound the same. The coot has oddly looking big webbed feet. The female coot lays eggs that are creamed colored. Coots are found in fresh and brackish waters, marshes and ponds. More