Denham's Bustard
Denham's Bustard, Stanley Bustard or Stanley's Bustard, Neotis denhami, is a large bird in the bustard family. It breeds in much of sub-Saharan Africa. It is a species of open ground, including agricultural land, grassland, flood-plains and burnt fynbos. It is resident, but some inland populations move to lower altitudes in winter.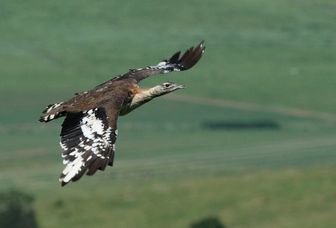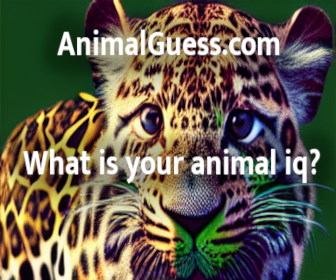 Picture of the Denham's Bustard has been licensed under a Creative Commons
Attribution-Share Alike
.
Original source
: Own work
Author
: Alan Manson
The Denham's Bustard is classified as Near Threatened (NT), is close to qualifying for or is likely to qualify for a threatened category in the near future.

Denham's Bustard, Stanley Bustard or Stanley's Bustard, Neotis denhami, is a large bird in the bustard family. It breeds in much of sub-Saharan Africa. It is a species of open ground, including agricultural land, grassland, flood-plains and burnt fynbos. It is resident, but some inland populations move to lower altitudes in winter. Denham's Bustard is 80–116 cm (32–46 in) long. The male is 9–10 kg (20-22 lbs), the female is much smaller at 3 kg (6.6 lbs). More
* Stanley Bustard, or Denham's Bustard, Neotis denhami * Heuglin's Bustard, Neotis heuglinii * Nubian Bustard, Neotis nuba * Genus: Eupodotis * White-bellied Bustard, Eupodotis senegalensis * Blue Bustard, Eupodotis caerulescens * Karoo Bustard, Eupodotis vigorsii * Rüppell's Bustard, Eupodotis rueppellii More
* Denham's bustard, Neotis denhami * great bustard, Otis tarda * great Indian bustard, Ardeotis nigriceps * Hartlaub's bustard, Lissotis hartlaubii * Heuglin's bustard, Neotis heuglinii * Houbara bustard, Chlamydotis undulata * Kori bustard, Ardeotis kori * little brown bustard, Eupodotis humilis * little bustard, Tetrax tetrax * Ludwig's bustard, More
Denham's Bustard - Neotis denhami Outarde de Denham = Outarde de Denham Gallery : © Xavier Michel Order : Otidiformes Family : Otididae Species : Denham's Bustard Reference: xami54090 Other pictures Date taken : 2008 Jun Geographic data Country : Uganda (ug) Region : Masindi District Place : Pakuba Latitude : 2° 19' 48'' More
Denham's Bustard Neotis denhami WT000a WT000b Dullstroom area, South Africa; Nov 1980 (2) home family list next species back to bustard list More
Stamps showing Denham's Bustard Neotis denhami Denham's Bustard Neotis denhami Denham's Bustard Neotis denhami Denham's Bustard Neotis denhami Denham's Bustard Neotis denhami Denham's Bustard Neotis denhami Denham's Bustard Neotis denhami Denham's Bustard Neotis denhami Denham's Bustard Neotis denhami Denham's Bustard Neotis denhami 39.007 Denham's Bustard IOC v2.4: 1233 Links will open countrypage in new window - Angola 22.03.1951 Birds - Bophuthatswana 14.09. More
Denham's Bustard Neotis denhami 2009 IUCN Red List Category (as evaluated by BirdLife International - the official Red List Authority for birds for IUCN): Near Threatened Justification This species is estimated to be undergoing a moderately rapid population decline. It therefore qualifies as Near Threatened. More
Denham's Bustard Neotis denhami = * Home Expand Log in Menu item Register Menu item Log out Menu item Change login details Menu item Why register? Expand UK & Ireland Menu item Birding sites More
Denham's Bustard (Neotis denhami) = French: Outarde de Denham German: Kafferntrappe Spanish: Avutarda Cafre Other common names: Stanley Bustard; Burchell's Bustard ("burchellii") Taxonomy: Otis Denhami Children, 1826, near Lake Chad. Genus sometimes merged with Otis. Present species may form parapatric species pair with N. heuglinii. Normally considered to include form "burchellii" of uncertain status, known only by type specimen from E Sudan. In past, present species was at times known as N. More
Denham's Bustard ( Neotis denhami) African Bird Club Checklist August 2005: Denham's Bustard ( Neotis denhami) African Bird Club Checklist March 2007: Denham's Bustard ( Neotis denhami) African Bird Club Checklist January 2008: Denham's Bustard ( Neotis denhami) Birdlife checklist version 00: Denham's Bustard ( Neotis denhami) Birdlife checklist version 01: Denham's Bustard ( Neotis denhami) Commission internationale pour les noms français des oiseaux (1993, révision 2009): More
Denham's Bustard (Neotis denhami). Source: Bird stamps of Zambia (http://www.birdtheme.org/showimages/index.php?code=325) The Denham's Bustard, Stanley Bustard or Stanley's Bustard, Neotis denhami, is a large bird in the bustard family. It breeds in much of sub-Saharan Africa. It is a species of open ground, including agricultural land, grassland, flood-plains and burnt fynbos. It is resident, but some inland populations move to lower altitudes in winter. More
★ Stanley Bustard, or Denham's Bustard, ''Neotis denhami'' ★ Heuglin's Bustard, ''Neotis heuglinii'' ★ Nubian Bustard, ''Neotis nuba'' ★ White-bellied Bustard, ''Eupodotis senegalensis'' ★ Blue Bustard, ''Eupodotis caerulescens'' ★ Karoo Bustard, ''Eupodotis vigorsii'' ★ Rüppell's Bustard, ''Eupodotis rueppellii'' ★ Little Brown Bustard, ''Eupodotis humilis'' ★ Savile's Bustard, ''Lophotis savilei'' ★ Buff-crested Bustard, ''Lophotis gindiana'' ★ Red-crested Bustard, ''Lophotis ruficrista'' ★ Black Bustard, ''Afrotis More
File Denham's Bustard Neotis denhami File Kori Bustard Ardeotis kori File Hartlaub's Bustard Eupodotis hartlaubii Document Actions * RSS feed * Send this * Print this News News Item Amur Falcon migration - new map May2010 May 04, 2010 News Item 8 NEW maps added to database Mar 03, More