Great Indian Bustard
The Great Indian Bustard or Indian Bustard is a bustard found in India and the adjoining regions of Pakistan. A large bird with a horizontal body and long bare legs giving it an ostrich like appearance, this bird is among the heaviest of the flying birds. Once common on the dry plains of the Indian Subcontinent, it was considered excellent sport by hunters. Less than a thousand survive today and the species is threatened by hunting and loss of its habitat, large expanses of dry grassland and scrub. These birds are often found associated in the same habitat as blackbuck.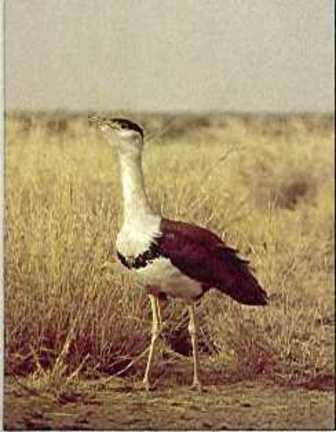 Picture of the Great Indian Bustard has been licensed under a
GFDL
Original source
: Transferred from en.wikipedia
Author
: Original uploader was LRBurdak at en.wikipediaPermission(Reusing this file)GFDL-SELF-WITH-DISCLAIMERS; Released under the GNU Free Documentation License.
Permission
: GNU Free Documentation License
The Great Indian Bustard is classified as Endangered (EN), considered to be facing a very high risk of extinction in the wild.

The Great Indian Bustard (Ardeotis nigriceps) or Indian Bustard is a bustard found in India and the adjoining regions of Pakistan. A large bird with a horizontal body and long bare legs giving it an ostrich like appearance, this bird is among the heaviest of the flying birds. Once common on the dry plains of the Indian Subcontinent, it was considered excellent sport by hunters. More
The Great Indian Bustard is omnivorous, feeding on grass seeds, berries of Zizyphus, Eruca, insects (mainly orthoptera, but also beetles, particularly Mylabris sp.), rodents and reptiles (in Rajasthan they are known to take Uromastyx hardwickii). In cultivated areas, they feed on crops such as exposed groundnut, millets and pods of legumes. More
Great Indian Bustard Conservation = From CopperWiki Jump to: navigation, search Today, fewer than 500 Great India Bustards remain in IndiaThe Great India Bustard, among the four bustard species found in India, has survived 50 million years, but today at fewer than 500 birds, their future remains uncertain. The conditions for extinction of Asia's heaviest bird are not dissimilar to that of the extinct dodo. More
of the two Great Indian Bustard sanctuaries in Gujarat; the other one is in Jamnagar. It was declared as a sanctuary in July 1992, specifically for the conservation of the Great Indian Bustard, the heaviest flying bird belonging to the avian family of Otididae. However, the sanctuary presently legally covers a protected area of about 2 square kilometres (0.77 sq mi) of area (202.86 hectares (501.3 acres) of fenced land only and is the smallest sanctuary in the country. More
with special attention on the Great Indian Bustardphoto discussion by Don Roberson creagrus@montereybay.com I've always had a fascination with bustards, those strange, gangly, and long-necked birds of the Old World grasslands. And among the bustards are three huge ones in the genus Ardeotis: the Kori Bustard A. kori of Africa, the Australian Bustard A. australis of Australasia (left), and the Great Indian Bustard A. nigriceps of the Indian subcontinent. Each stands up to 3. More
The Great Indian Bustard Eupodotis edwardsi, Journal of the Bombay Natural History Society, 21:4: 1334 , 1912. 5. Baker ECS; The game birds of India, Burma and Ceylon. Part VI, JBNHS, 21:2: 303 - 337, 1912. 6. Simcox AHA; The Great Indian Bustard Eupodotis edwardsi, Journal of the Bombay Natural History Society, 22:1: 201 , 1913. 7. Allen GO; Great Indian Bustard in Mirzapur District, U. More
The great Indian bustard (Choriotis nigriceps), now confined to central and western India, is an endangered species protected by... Other The following is a selection of items (artistic styles or groups, constructions, events, fictional characters, organizations, publications) associated with "great Indian bustard" * bustard (bird) Aspects of the topic great Indian bustard are discussed in the following additional content sources. More
for conservation of Great Indian Bustard in Rajasthan. Ramesh said that two Great Indian Bustards were sighted at Tal Chhapar Wildlife Sanctuary in Rajasthan in the first week of August this year. More
Great Indian bustard (Ardeotis nigriceps) = Species information - * Facts & Status * Description * Range & Habitat * Biology * Threats & Conservation * Find out more * Glossary & References * All * More
Presence in India : Great Indian Bustard is mostly found in the Gujrat, Madhya Pradesh, Jammu and Kashmir, Karnataka, Andhra Pradesh and West Rajasthan. It is mainly spotted in the the Desert National Park (Rajasthan) and the Lala-Parjau sanctuary in western Kutch (Gujarat). Habitat : Great Indian Bustard prefers short grass plains, desert plains and semi arid regions. Diet : Great Indian Bustard is omnivorous and feeds on beetles, grasshoppers, seeds and groundnuts. More
Great Indian Bustard (Ardeotis nigriceps) - photo © Raja Purohit Camera Nikon D100 (with Nikor 600mm. f/4 and Tc20E Teleconvertor) Indian Bustard (Ardeotis nigriceps), alternate scientific name Choriotis nigriceps, is a scarce resident in India. It is found in the short grass plains and desert plains of west Rajasthan and Gujarat. This bird is on the endangered red list of IUCN due to its small and declining population. More
there is no Great Indian Bustard seen in Karera wildlife sanctuary in Shivpuri district. The Great Bustard was identified in 1978 at Nanaj, 18 km from Solapur in Maharashtra by Mr B.S. Kulkarni. Nearly 24 bustards are now seen in Nanaj sanctuary. Maldhok is also said to be found in Shrigonda taluka in Ahmednagar district of Maharashtra. There has been some assaults recently on the habitat of the bird.and one bird was found injured and eventually died. More
Videos and images Great Indian bustard standing in desert habitat The great Indian bustard is a tall, long legged bird. The underparts and neck are white, there is a black crown on the forehead and the upperbody is brown. The wings are marked with black, brown and grey. The sexes are similar in appearance although ... More
The Great Indian Bustard (Ardeotis nigriceps ), known as Maldhok is found in India and Eastern regions of Pakistan. It lives in arid and semi–arid grasslands, open country with thorns and tall grass interspersed with cultivation. Apart from Rajasthan, they are also found inKarnataka , Maharashtra and Madhya Pradesh. Ghatigaon and Karera sanctuaries in MadhyaPradesh no longer appear to have any birds, whereas they used to have a sizeable population there in the past. More
The species found in India is known as Great Indian Bustard (Choriotis nigriceps). The position of this species has always been precarious. But emphasis on its protection was initiated soon after Indian gained independence. In 1952, the Indian Board for Wild Life, placed the bird on the fully protect list of endangered birds and all State Governments accepted the recommendation. The Red Data Book of the International Union for Conservation of Nature and Natural Resources (IUCN) has placed the species in the endangered list. More
Great Indian Bustard Sanctuary (established in 1979, also known as the Jawaharlal Nehru Bustard Sanctuary of Maharashtra) is a wildlife sanctuary for the Great Indian Bustard (Ardeotis nigriceps) at Solapur, Maharashtra, India. The land is drought-prone and semi-arid. More
Only the Great Indian Bustard (Ardeotis nigriceps) appeared having received attention as a result of these efforts and the other three Bustard species could not sufficiently benefit out of this significant meet : (a) Lesser Florican (Sypheotides indica) (b) Bengal Florican (Houbaropsis bengalensis); both endemic to India, and (c) Houbara (Clamydotis macqueeni), which migrates to some North-Western parts of India. The situation remains more or less similar to this day. More
of endangered Great Indian Bustard was sighted in a village near here this morning. The adult Indian bustard (Ardeotis Nigriceps) couple was spotted in Khara village, 150-km from here, Divisional Forest Officer Ishaq Ahmed Mughal said. It remained visible for nearly an hour, he said adding the rare bird was seen for the first time in Jodhpur district. More
The Great Indian Bustard is usually found singly or in twos or threes, more rarely in flocks, and it keeps chiefly to open dry country, especially wastes covered with low grass and scattered cultivation, or sandy ground with small bushes; it is never found in forests nor on hills, but it sometimes enters high grass or fields of millet (jowari), mustard, pulse, &c. It feeds on insects, especially grasshoppers, on small reptiles, on fruit, grain, shoots of grass, &c. More
The Great Indian Bustard Yatra The Great Indian Bustard (GIB) is a rare bird and is protected since India's independence. Despite this, its numbers have declined. Studies conducted by the BNHS in the 1980s showed that over half the GIB population in India is in the grasslands of the Thar Desert. More
Great Indian Bustard threatened by extinction Close on the heels of reports about declining tiger numbers in Rajasthan, now comes the alarming news that the Great Indian Bustard population has declined to 500 due to poaching and shrinking habitats According to the International Union for the Conservation of Nature (IUCN) numbers of the Great Indian Bustard have plummeted dangerously to around 500 birds. More
The Great Indian Bustard is a highly endangered ground dwelling bird. It has disappeared from almost 90 per cent of its habitat and its total population is estimated to be around 700. More
Great Indian Bustard in Gujarat The area is ideal for those wanting to see Great Indian Bustard in Gujarat. However, by no means is the area only for this endangered bird. An eco-tourist having interest in the whole spectrum of grassland fauna would find it a little paradise. Kutch Bustard Sanctuary provides food and shelter to an endangered bird of the Indian subcontinent-the Great Indian Bustard. More
Great Indian Bustard on verge of extinction = Posted: Sunday, Mar 20, 2005 at 0000 hrs IST Updated: Sunday, Mar 20, 2005 at 0000 hrs IST Font Size Print Feedback Email Discuss * * * * : If some measures are not taken urgently, More
Great Indian Bustard in Rajasthan The Great Indian Bustard is the state bird of Rajasthan. Its Rajasthani name is Godawan. Since this grassland bird prefers dry vegetation, which stays below its eye-level and does not hamper its flight, the Great Indian Bustard's largest remaining population is around Jaisalmer in the Thar Desert. An area of 3162 square kilometers in the Jaisalmer-Barmer districts was notified as the Desert National Park (above). More
Great Indian Bustard Ardeotis nigriceps 2009 IUCN Red List Category (as evaluated by BirdLife International - the official Red List Authority for birds for IUCN): Endangered Justification This bustard qualifies as Endangered because of its very small, declining population, a result of hunting and continuing agricultural development. Family/Sub-family Otididae Species name author (Vigors, 1831) Taxonomic source(s) Sibley and Monroe (1990, 1993) Identification 92-122 cm. More