African Finfoot
The African Finfoot is an underwater specialist with a long neck, a striking sharp beak, and bright red, lobed feet. The plumage varies by race, generally pale underneath and darker on top. The males are usually darker than the females. It resembles greatly South America's Torrent Duck, a clear example of convergent evolution.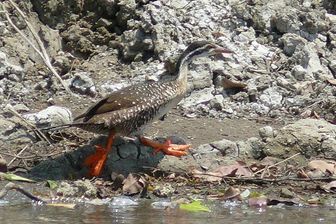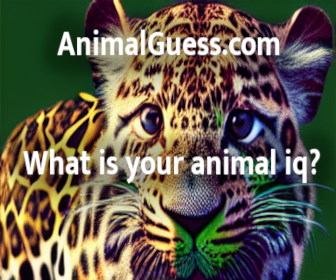 Picture of the African Finfoot has been licensed under a
GFDL
Original source
: Own work
Author
: Lodewijk Nell, FGASA Level 1 Field Guide
Permission
: GNU Free Documentation License
The African Finfoot is classified as Least Concern. Does not qualify for a more at risk category. Widespread and abundant taxa are included in this category.

The African Finfoot (Podica senegalensis) is an aquatic bird inhabiting the rivers and lakes of western, central, and southern Africa. More
The African Finfoot can be found in a range of habitats across Africa, where there are rivers, streams and lakes with good cover on the banks. This range includes forest, wooded savannah, flooded forest, and even mangrove swamps. The finfoot feeds on underwater invertebrates including both adults and larval mayflies, dragonflies, crustaceans, and on snails, fish and amphibians. Finfoots are thought to be highly opportunistic, and take some of their prey directly off the water's surface. More
The African Finfoot is an underwater specialist with a long neck, a striking sharp beak, and bright red, lobed feet. The plumage varies by race, generally pale underneath and darker on top. The males are usually darker than the females. It resembles greatly South America's Torrent Duck, a clear example of convergent evolution. The African Finfoot (Podica senegalensis) is an aquatic bird inhabiting the rivers and lakes of western, central, and southern Africa. More
The African finfoot (Podica senegalensis) is the largest species, 46–53 cm (18–21 inches) long. It occurs from Senegal to the Congo basin and from Ethiopia to the Cape of Good Hope. It has bright red feet and a slate-gray neck with an ill-defined whitish stripe down the... More
The African Finfoot inhabits quiet backwaters of streams and sluggish rivers. The nest is a platform of sticks and grasses in tangled vegetation or on a branch overhanging water. They are sexually dimorphic, with the male considerably larger than the female. Adult males are blackish around the forehead, crown, nape and behind the neck with a green gloss. Males : Lores, ear coverts and chin to the fore-throat is grey, flecked with white below the throat. More
The African Finfoot lives on insects, crabs, snails, frogs and fish which it forages for by working its way along a bank and picking food of plants and the water surface. BREEDING It nests from August to April building a bowl shaped nest from reeds, course grass and shiny leaves which it places on a sloping branch overhanging the water often in driftwood caught in branches. More
The African finfoot has a claw on the mobile first digit of each wing, which may be used when climbing. It also has stiffened rectrices and often swims with the tail spread flat on the water. This feature may increase maneuverability in water or on land. The masked finfoot has less stiffening and the sungrebe none. The legs and feet are brightly colored: orange in the African finfoot, pea green in the masked finfoot, and yellow with black stripes in the sungrebe. More
The African Finfoot is found in tropical Africa on streams in woodland. The Masked Finfoot has a scattered distribution from Eastern India down through southeast Asia to the Wallace Line. The Sungrebe is found in tropical Central and South America. Finfoots are highly secretive and many aspects of their biology are unknown to science. More
african finfoot kruger national park The African Finfoot (Latin name Podica senegalensis) is described in Roberts Birds of Southern Africa, 7th Edition. This bird has a unique Roberts number of 229 and you will find a full description of this bird on page 314 also a picture of the African Finfoot on page 305. The African Finfoot belongs to the family of birds classified as Heliornithidae. More
* African Finfoot, Podica senegalensis * Masked Finfoot, Heliopais personata * Sungrebe, Heliornis fulica * Family Rhynochetidae: Kagu * Family Eurypigidae: Sunbittern * Family Cariamidae: seriemas * Family Otidae: bustards More
vegetation and is a good place to look for African Finfoot and for exercising one's warbler identification skills. Among the species that occur are the * Icterine Warbler * Olive Tree Warbler * Garden Warbler * Whitethroat Madikwe is a good place for raptors. More
The African finfoot varies in size, both geographically and sexually (males may be 25% larger than females). Distribution The family is distributed across three continents. The African finfoot is widespread in sub-Saharan Africa, except in the arid northeast and southwest, while the sungrebe occurs widely in Central America and northern South America. The masked finfoot ranges from Bangladesh and northeast India to Southeast Asia, the Malay Peninsula, and Sumatra. More
The African Finfoot is an underwater specialist with a long neck, a striking sharp beak, and bright red, lobed feet.CALL OF THE WILD; Holidays are an excuse for self-indulgence, lazing ... by Sunday Mercury (Birmingham, England)Guided morning walks are available for novices and more accomplished twitchers, the African finfoot, olive woodpecker and white-headed lawping dotting the dense foliage.ECONOMY CLASS; Angela Waring goes green as she helps build a school ... More
African Finfoot, Gambia, Tendaba 04/12/04 © Andy Deighton Send this as a postcard African Finfoot - African Finfoot, Uganda, Lake Mburo June 2005 © Steve Arlow African Finfoot - African Finfoot, The Gambia, McCarthey Island, November 2005 © Jim Swalwell Sony DSC-H1 Send this as a postcard African Finfoot - African Finfoot, Uganda, Lake Mburo August 2006 More
* African Finfoot, Podica senegalensis * Masked Finfoot, Heliopais personatus Retrieved from "http://en.wiktionary. More