Whooping crane
Adult whooping cranes are white with a red crown and a long, dark, pointed bill. Immature whooping cranes are pale brown. While in flight, their long necks are kept straight and their long dark legs trail behind. Adult whooping cranes' black wing tips are visible during flight.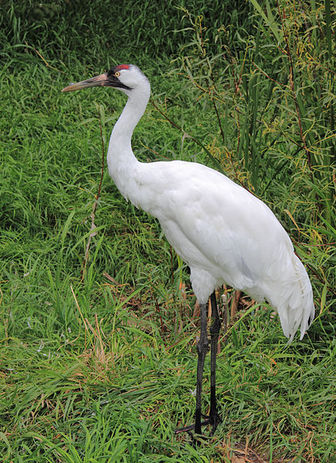 Picture of the Whooping crane has been licensed under a
GFDL
Original source
: Own work
Author
: SasataPermission(Reusing this file)http://creativecommons.org/licenses/by-sa/3.0/
Permission
: GNU Free Documentation License
The Whooping crane is classified as Endangered (EN), considered to be facing a very high risk of extinction in the wild.

The Whooping Crane (Grus americana), the tallest North American bird, is an endangered crane species named for its whooping sound and call. Along with the Sandhill Crane, it is one of only two crane species found in North America. The whooping crane's lifespan is estimated to be 22 to 24 years in the wild. There is an estimate of only 250 left in the wild. More
On my quest to learn about Whooping Cranes, I found that they attract passionate interest throughout their migratory route linking the Canadian North to the Texas Gulf. This page and the links below are about the Crane's journey. The links were done by people living in many states and provinces. They reflect a web of human concern connected through the inspiration of the great, graceful white bird who knows no human boundaries. Status: U.S. More
The whooping cranes' breeding habitat is the muskeg of the taiga; the only known remaining nesting location is Whooping Crane Summer Range in Wood Buffalo National Park in Alberta, Canada and the surrounding area. With the recent Whooping Crane Eastern Partnership Reintroduction Project, whooping cranes nested naturally for the first time in 100 years in the Necedah National Wildlife Refuge in Central Wisconsin, USA. They nest on the ground, usually on a raised area in a marsh. More
here Whooping crane observation report form logo. More
WHOOPING CRANE REINTRODUCTION Whooping crane reporting form icon. More
Whooping cranes disappeared from Wisconsin many years ago. But, with the help of biologists; the whooper's cousin, the sandhill crane; aircraft; and older, experienced cranes to teach young whooping cranes how to migrate to Florida; a population of whoopers established in Wisconsin is continuing to grow. In fact, 2006 marked the first year that whooping cranes hatched in the wild in the Midwest in over 100 years! For more information on this large, rare bird, read on. More
Nonessential Experimental Population of Whooping Cranes in the Eastern United States 03/09/2001 66 FR 14107 14119 Endangered and Threatened Wildlife and Plants; Proposal to Establish a Nonessential Experimental Population of Whooping Cranes in the Eastern United States Most Recent Special Rule Publications (Showing 3 of 3 ) Date Citation Page Title 06/26/2001 66 FR 33903 33917 Endangered and More
First Whooping Cranes at Aransas NWR refuge personnel holding baby crane The whooping crane is one of the rarest birds in North America. It is also the tallest with adults approaching five feet in height. Males are slightly larger than females. Whooping cranes mate for life and can live nearly 30 years in the wild, and 35 to 40 years in captivity. Adult whooping cranes have snow-white plumage with black wingtips. More
Whooping crane with crab in beakThe 15 surviving whooping cranes all belonged to one flock that migrated between Wood Buffalo National Park in Canada and the Aransas National Wildlife Refuge in Texas. Conservationists worked with local, federal and international governments to protect the flock and encourage breeding. Their efforts paid off slowly as the numbers reached 57 by 1970 and 214 by 2005. More
"For the Whooping crane there is no freedom but that of unbounded wilderness, no life except its own. Without meekness, without a sign of humility, it has refused to accept our idea of what the world should be like. If we succeed in preserving the wild remnant that still survives, it will be no credit to us; the glory will rest on this bird whose stubborn vigor has kept it alive in the face of increasing and seemingly hopeless odds. More
Fossilized remains of the Whooping Crane date back several million years. Evidence from the Pleistocene Epoch shows that Whooping Cranes were once scattered throughout a much wider geographic range, extending from central Canada to Mexico and from Utah to the Atlantic coast. The species range shrank rapidly in the second half of the nineteenth century. More
Whooping cranes are white with rust-colored patches on top and back of head, lack feathers on both sides of the head, yellow eyes, and long, black legs and bills. Their primary wing feathers are black but are visible only in flight. More
ensure whooping cranes, sandhill cranes and other migratory birds have the habitat they need to rest and feed during their migration to and from their nesting grounds. On this site you will find information about Whooping Cranes and much more. More
The 14th Annual Whooping Crane Festival was a whooping success. We loved having you in Port A and hope you will visit us again soon. If you need another reason to visit our spunky little town, check us out at www.portaransas.org for upcoming events. More